Sun Sets On Hofman At University School
It's the situation Rich Hofman has been waiting for his whole career.
The legendary baseball coach stepped down Wednesday as manager at University School to become the athletic director and baseball manager at a sports-based charter school opening this fall in Miami as a Class 2A program. Eddie Tisdale will move from assistant coach to manager at University School.
Hofman, who informed his players at University of his move at a meeting Wednesday, will help start Sports Leadership And Management Charter High School (SLAM), whose campus will be located two blocks from Marlins Park in a seven-story building. The school is part of the Mater Academy group of charter schools.
SLAM's curriculum will allow students in grades six through 12 to take their core courses, such as math and English, but also electives related to a sports career, such as physical therapy, sports management and sports nutrition. It's a pilot program Hofman says could go national.
The school's principal is Alex Tamargo, who played for Hofman in the Alex Rodriguez era at Westminster Christian about 20 years ago.
"It's something I've thought about my whole career," Hofman said. "Having been at a few places now, the only place I can really coach at or work at is a charter school because of its unique features of not costing anything but having a quality educational situation and having some ability to attract students from anywhere, and the other thing is I felt the only kind of situation I could work in is to work for myself, which I do in my travel program and my business. The only kind of person I could work for is someone who had played for me and understood my system to be successful."
Hofman said Tamargo, who has coached at Miami Springs, first approached him about seven years ago about an idea to open a sports-based charter school.
"He told at that time 'Coach, I have a dream that I want to start an all-sports school,' " Hofman said. "I said 'That's funny. I've had that dream for 40 years.' We talked about it, and he said 'If I ever do, I want you to be my first AD and baseball coach."
Tamargo, then a principal at middle school in Coconut Grove, eventually got his idea off the ground and told Hofman a few years ago that he thinks it's going to happen. Fast-forward a few years, and the school is a dream no more.
Hofman said Tamargo is someone who has a similar philosophy on how to build a solid program.
"He's a real soft-spoken kind of guy, but he carries a big stick," Hofman said.
Hofman said he is excited and plans to make the most of this opportunity.
"I know this is my last stop as a high school coach, and it's the only one I haven't tried so far," he said.
Hofman said he knows he leaves the University School program in good shape with a solid coach in Tisdale.
"I think Eddie is one of the best assistant coaches I've had in my career," Hofman said. "He's diligent, dependable, hard-working. I think he has a good rapport with the kids. He was the only choice at this point. He's ready for it. Any coach is going to run into pitfalls, but I'm sure he'll carry on the Hofball tradition. He's had the last two years to help establish himself."
Tisdale said he's happy to have the opportunity to be University School's manager.
"The support that University School has given me is truly a blessing, and that goes all the way starting at the top with Paul Herfurth and Rich," Tisdale said. "They supported me with all of this, and I'm grateful to them, and to coach for having confidence in me that he's able to turn the program over to me and grateful he's put his trust in me to make the transition as seamless as we can make it."
The players at University "have nothing but respect for Hofman," Tisdale said. "They all shook his hand and looked him in the eye" after the team meeting Wednesday. "I thought they handled it extremely well."
Tisdale said although he's been around the players for a few years now, "they're definitely going to see a new side of me they haven't seen before. I'm probably going to expect more from them and hold them more accountable and push them more to be successful."
Tisdale said he wishes Hofman well and "it sounds like a very good opportunity for him. It's something he's passionate about, and it seems that it's a way for him to do something he really cares about. As long as he's happy doing what he's doing, I'm his biggest fan because of what he's done for me and my career. He has my support 100 percent."
Hofman also has the support of his former players at University, including that of top pitcher Michael White, who is going into his senior season.
"You can't blame the man," he said. "It's a great opportunity for him. He knows how to build a sports program. He's done a lot for the program and for me. I wish him nothing but the best of luck. I respect him."
Players like White are what made the experience at University School a good one for Hofman, who said "there are some really good kids there and some gave me a really great effort."
Wednesday "was a difficult day," Hofman said. "The first time I did this, I was at that place for 31 years."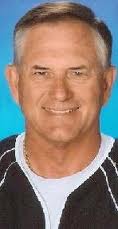 Hofman is referring to Westminster Christian, where he began his storied coaching career in 1969 by leading the team to a 2-13-1 season. There, he built an athletic department from scratch, forming baseball, football and basketball programs as the athletic director. Hofman made that subpar '69 season a distant memory by guiding the Warriors to eight state championships and two national championships (1992 by USA Today and Baseball America; 1996 by USA Today, Baseball America and Collegiate Baseball). His 1992 team finished 33-2 and his 1996 team 36-0-1. The 1996 season was the closest his teams have come to having a perfect season. Hofman's teams have won 30 or more games 10 times.
Westminster Christian won three consecutive titles from 1996-1998 before Hofman left for Westminster Academy. He picked up right where he left off at Westminster Christian and directed the Lions to two state and national runner-up titles in his first two years. The five consecutive state titles is a state record.
Westminster Academy remained among the top programs in the state until Hofman left in 2006 to coach at then-6A school Piper. Two years later, Hofman retired, but he came out of retirement in 2010 and set his sights on another challenge by taking over as coach at University School.
Along with the wins have come plenty of accolades. Hofman was named the Coach of the Decade for the 1990s by Baseball America, and his program was recognized as one of the top 10 high school programs in the nation by Baseball America in its 10-year anniversary issue. He has been named National Coach of the Year seven times and is a member of five hall of fames.
Hofman's record stands at 1,001-259-17 during his 42-year career that touches on six decades, and he ranks first all-time among Florida coaches and 13th among the National High School Federation's all-time winningest coaches in the nation.
After all that, Hofman still has an opportunity to do something special at SLAM.
"It's the chapter that's still to be written as far as the coaching part," Hofman said. "I'd like to end up on a high note. We're hoping to compete at a high level. I'm going to give it everything I've got."
3 Responses to "Sun Sets On Hofman At University School"