Archbishop McCarthy, Pace Advance To Gold Championship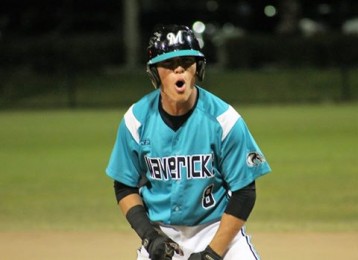 Gold Semifinal Gallery
Offense ruled the day in the two semifinals in the Gold Bracket of the HSBN March Madness Shootout on Tuesday night. Top seed Archbishop McCarthy rallied in the fifth to claim a 7-4 victory over St. Thomas Aquinas, while #6 Monsignor Pace rode a monster second inning to a 15-5 win over LaSalle.
The two clubs are now the last ones standing in the 16-team bracket, and will meet Wednesday night at Pompano Four Fields in the Gold Bracket championship game.
The #6 Spartans went to work early against the Lions, who won a pair of upsets as the #10 seed to reach the semifinals. Pace batted around and sent 11 men to the plate in a monster second inning that put them well in front. Jonathan Reyes-Diaz and Bryan Diaz had consecutive RBI doubles, followed by RBI singles from Arenas and Brandon Cruz. Andres Sanchez then slugged a grand slam over the left field fence, and Jonathan Ledesma kept it going by smacking the very first pitch he saw over the same spot in left for back-to-back home runs.
The other semifinal was tight early, with the lead changing hands several times. Trailing by a run, Archbishop McCarthy took the lead with three runs in the bottom of the fifth.
"I'm so proud of my boys, as this was a hard-fought victory and a great team win over a very good St. Thomas team," Mavericks manager Rich Bielski said. "So many guys contributed. Although we were behind we felt we could take the lead at any time. Then we just played good defense and our pitchers made some big pitches."
With the bases loaded and an 0-2 count against him, McCarthy senior shortstop Kobe Lopez connected for an infield single to get the rally moving. Alex Carballo followed and lined a shot just off the glove of the Raiders' second baseman for a two-RBI single that put McCarthy back in the lead.
Joe Perez pitched the seventh to earn the save. Meanwhile, Adan Fernandez had a pair of home runs to lead the Mavericks (16-0).
"Adan Fernandez put on a power show tonight," Bielsksi said. "He broke his nose in our game two weeks ago and he has hit four or five home runs since then. It must have knocked some sense into him."