Highlands Christian Defeats John Carroll For 3A-7 Title
Jisjar Clotida and Yurdion Martie didn't go back-to-back and belly-to-belly. But in Highlands Christian's District 3A-7 championship game against John Carroll Friday, it sure felt like it.
Clotida's three-run home run in the second inning and Martie's grand slam in the fifth propelled the Knights to a 13-1 home win Friday, earning Highlands its first district title in six years.
"I was thinking, 'Just stay to your approach' in that at-bat," said Clotida, who went 2-for-3 with four RBIs, four runs and a walk. "I was ready for the fastball on the 3-2 pitch and I got a good swing on the ball."
He sure did. Clotida cleared the Monster Screen out in right field to give Highlands Christian a 6-0 lead after two innings of play.
"Before the game, I made an adjustment," Clotida said. "I told myself to get my feet down early and try to hit inside the ball. That's when good things happen."
More good things happened for the Knights in the fifth. That's when Martie launched a towering grand slam into left for the game's final margin.
"I was looking for a hit in the gap. A fastball up," said Martie, who went 2-for-3 with five RBIs, a run and a walk. "I like it there. My power is up and inside."
Highlands Christian (9-13) and John Carroll both advance to the regional tournament, which starts at 4 p.m. Wednesday for both teams. The Knights host Sagemont, whereas John Carroll plays at Archbishop Carroll.
"We have a good team," Martie said. "Tonight, we showed what we were all about."
Jose Sosa is an integral part of that team. The Knights' leadoff hitter reached base in all four plate appearances, going 1-for-1 with an RBI, four runs and three walks.
"My main focus is get on base and let the hitters do their work, and they did," Sosa said. "We worked some great counts and great at-bats came of it. In that first inning, we set the tone."
Sosa, Clotida and Malay each scored during a three-run first inning that gave Highlands all the runs it ultimately needed. The Knights scored in four of the five innings played, making it feel like Highlands Christian played seven innings worth of baseball in five, Knights assistant coach Dan Malay said.
Highlands Christian came into the game with six straight losses against John Carroll, and were no-hit earlier in the season by Friday night's starter, Joey LeClaire.
"It's really a rags to riches season," Knights manager Bruce Charlebois said. "We spent the regular season trying to win the game of life and learning how to love our teammates more than ourselves."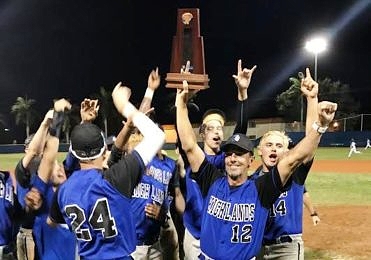 Kyle Bombardier loved his teammates in this one. The Knights' starter pitched four innings, allowing an earned run on three hits, striking out three and walking two for the win.
"I was telling the guys, since we are the visiting team, we need to strike early and score first and get some breathing room," Bombardier said. "We were tired of losing to them. We had something special going on."
John Carroll manager Dan Taylor wasn't expecting things to go that way.
"It's one of those things. It stinks when it happens at the most inopportune time," Taylor said. "We can make a lot of excuses, but the bottom line is, they were better tonight."