Highlands Christian Celebrates Addition Of Wallace Field House
Saturday brought a day of celebration that marked the end of a long and fruitful journey for the Highlands Christian community. Led by an effort started by Knights' manager Bruce Charlebois, the baseball team and all other teams and students now have an indoor training facility unlike anything the school has ever known.
Highlands recently completed an 18-month process that culminated in the unveiling of their incredible new facility, the Wallace Field House. This 5,000-square foot indoor baseball and softball facility provides an impressive new athletics home for the school and community. The field house is a highly-functioning baseball space that also includes a raw juice and smoothie bar, and dugout eating and waiting areas complete with TVs. The facility will be used by the school and also by the South Florida Stealth, after Charlebois recently took over as the Director of Baseball Operations for Stealth.
Saturday's official Grand Opening was a special day at the facility. The celebration allowed Highlands to say thank you to all the lucrative donations they received throughout the process that helped them achieve the goal and make the vision a reality, most primarily from David Wallace, whom it is named after. The event included self-guided tours of the field house, demonstrations, guest speakers, music, food and plenty of baseball talk.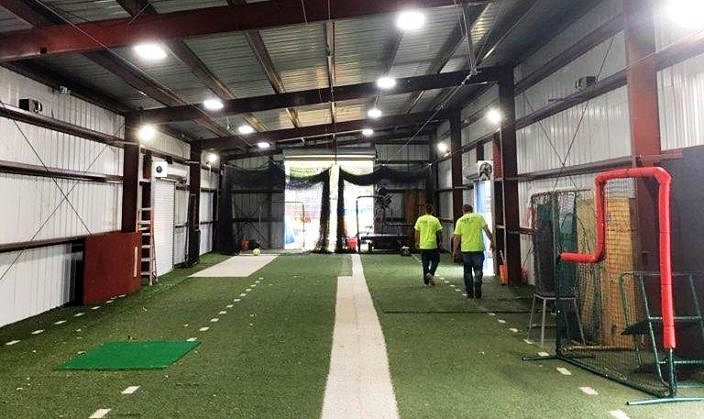 "We are overwhelmed with joy and happiness," Charlebois said. "It has come with a lot of diligence and a lot of extra hours. But to be able to see the amount of love and appreciation that our baseball family has for what we do here, and to see them reaching out and investing in our future is just really a blessing. The lives that are being changed at this facility are being recognized and we are very joyful."
The biggest advantage the facility provides comes in dealing with South Florida weather. The Knights have been training inside Wallace Field House since three weeks before Hurricane Irma hit early this fall. No longer facing any rain outs that slow the training process figures to give the team a huge advantage.
"It allows us to train when many other high schools are being rained out," Charlebois said. "We can do anything in here, from running bases to turning double plays to doing throwing programs and obviously to do all of our hitting in the tunnels. We can do agility and strength training and really any of that stuff, so it gets us a very strong advantage over other programs because of the amount of time that we will be able to do baseball, rain or shine."
The field house serves as a self-recruiter for any students that come to the Highlands Christian campus. Students see a good, healthy atmosphere and they want to come to a school with such upgraded facilities. Besides the many Highlands students that are already enjoying it, others from around the community have also begun to come in and train in it.
"This is a very attractive feature of the facilities and it means a lot for the school," Charlebois said. "A lot of the guys from the neighborhood have seen it going up, so we are getting some new guys in here just to be into a safe environment. They can come train inside and just get away from some of the things in Deerfield Beach and the neighborhoods around the high school. It allows those guys to be in a safe environment and maybe learn the game of baseball, and along the way learn some of the game of life. So it is huge for the community as well."