Congratulations Flanagan's Ray Evans On Win #500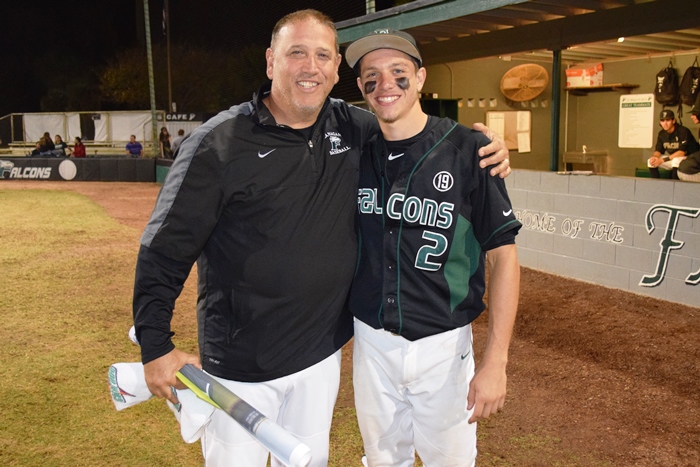 Flanagan Manager Ray Evans won his 500th game on Thursday night 12-0 over Miramar. While the game itself may have been anti-climatic, the career of Evans on the path to 500 has been anything but. There have been many district titles, regional titles, a couple state titles, and a national title.
To say Evans has become a fixture in the dugouts here in South Florida, would be a gross understatement. Evans is among the most respected managers in our community, and HSBN has been preparing for his 500th win, not with an article on the game he won for number 500, but rather a tribute from those who's lives Evans has touched along the way.
The tribute comes from fellow coaches, parents, and players. So without further intro, we congratulate you Coach Evans, and we hope you can enjoy this tribute for years to come, as you deserve it. Enjoy!
–
"Ray, you have been one of HSBN's biggest supporters through the years, from day one when we met out at a practice where I introduced the concept of HSBN to you. I have been around for, and covered dozens of, your 500 wins. You have always done things the right way. My greatest appreciation of you is that win or lose, you are always gracious in giving me your time, and thoughtful interviews. I am proud to call you a friend, and congratulate you on your 500th win." – Anthony Uttariello (HSBN Co-Founder)
–
"Ray, I would consider you a hard-nosed, tireless worker, with a fire for teaching the game the right way and winning. The fire has not diminished from the first day you started coaching. Your organizational skills and demand for excellence are your forte. You are always pushing and striving for our players and program to be better. Congratulations." – Noel Figueroa (Longtime Flanagan Assistant)
–
"Congrats Ray on win number 500!!! It was a pleasure to be along for the ride for a good deal of those 500 wins. Those memories will always be special. Most people could not imagine the amount of work you have put into those 500 wins. It is 4 hours on the field each day, and countless hours off the field. You get more out of your players than any coach around. Congrats! And you're almost halfway to Coach Hofman!) – Howard Stein (West Broward Manager and Longtime Flanagan Assistant)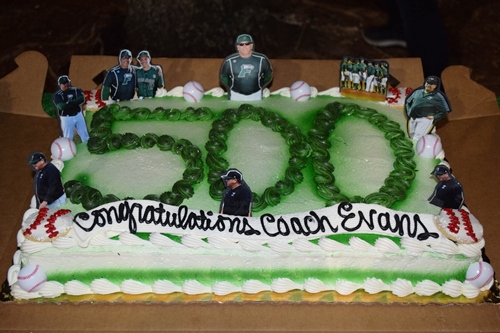 –
"Congratulations on win number 500! As Assistant Athletic Director, Designated Bus Driver, Parent, and Fan, I have been watching you coach as long as you have been at Flanagan. I have watched over 250 games and I do not believe there is a harder working and better prepared team than the Flanagan Falcons. You and your staff do a marvelous job of motivating your players for high school baseball, college baseball, and life. You are a great leader and you are not afraid to play any team anywhere." – Bryan Cook
–
'Some People want to take part in tradition, others aim to make it.' – Ray Evans (As provided by Mike Melendez, former Flanagan Player)
–
"Coach Evans is a gamer. He's the guy you want to run the show. There's going to be days that he's hard on you, for not being somewhere you're supposed to be or not doing something you were supposed to do, but that's only because he cares. You have to be a better person than player to gain his respect. When push came to shove, Coach always kept his cool and did his part to allow his players to shine. The success is a reflection of all the hard work that is put in. He wants his players to reflect and know that anything is possible, regardless of your talent level. Refuse to lose and work hard, and then maybe you could embody what it means to be a Flanagan Falcon and play for Coach Evans, and all the other great coaches that have taken part." – Mike Melendez (Former Flanagan Player)
–
"Coach Evans, Congratulations on your 500th win! There isn't a more deserving man than you for this historic feat. You have taught all of us many valuable life lessons, on and off the field, that we still carry with us today; from not making excuses, to being punctual, to taking pride in everything that we do in life. You have taught us how to win with class, how to lose with class, and most importantly, how to be State and National Champions." – Matt Figueroa (Former Flanagan Player)
–
"Ray, Congrats on your accomplishment of 500 wins. I have enjoyed competing against your teams through the years. You have always done things the right way with integrity and class. The success of Flanagan baseball speaks for itself. Your commitment to mentoring young people to become productive citizens, and provide them with the resources and facilities to chase their dreams, is an example that all coaches should strive to emulate. Enjoy the moment and reflect on the memories of a special career." (Nova Manager Pat McQuaid)
–
"Ray, I couldn't be happier for you and this great accomplishment!!! Well deserved. You are a very dear friend, and thank you for all you do." (Douglas Manager Todd Fitz-Gerald)
–
"Ray, congrats on a great milestone. Keep up the great work." (Westminster Christian Manager Emil Castellanos)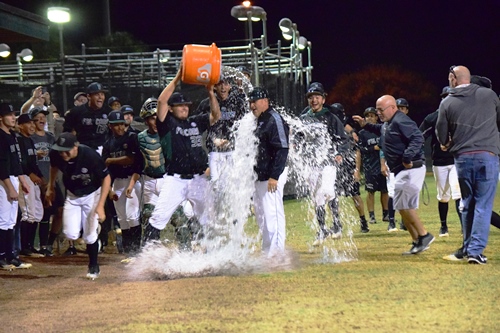 –
"Man, Ray, you are old!!! Congrats on this great accomplishment and keep it rolling!" (Cardinal Gibbons Manager Jason Hamilton)
–
"Your Flanagan baseball program is one of the best in the state every year. This is a tribute to your passion, work ethic, and dedication. Coach Evans, you are one of the best high school coaches in the nation. Congrats on win number 500." (Pembroke Pines Charter Manager Carlos Iglesias)
–
"Ray, you are one of the most intense and competitive coaches out there. I have had the opportunity to go head to head against you many times throughout the years, from my days at Hollywood Hills, to Coral Glades, to being part of the West Broward- Flanagan rivalry. Your teams have always been one of the better prepared teams out there, and that is a testament to the attention to detail you have for your players, coaches, and baseball program. 500 wins is an amazing accomplishment, Congratulations Ray." (Chaminade-Madonna Manager Jorge Miranda)
–
"Coach Evans, you are one of the coaches I've always respected and looked up to. I've appreciated the way your teams go about their business year in and year out, and are always in the hunt. Congratulations on your 500th win, and what an awesome way to achieve it, with your son on the field." (Pompano Manager Joe Giummule)
–
"Congratulations on #500, an amazing accomplishment." (Coral Springs Manager Mike Federman)
–
"Way to go, Ray! Big congrats! You, Indy, and Daytona, All 500s! Keep the ball rolling." (Fort Lauderdale Manager Terry Portice)
–
"Congratulations Coach Evans! An incredible accomplishment by a first class man and coach." (North Broward Prep Manager Brian Campbell)
–
"Congratulations from the McArthur Mustangs on your personal accomplishment over the years of dedication to your program, players, and their families at Flanigan." (McArthur Manager Oddibe McDowell)
–
"Congratulations Coach Evans! In the short time I have gotten to know you it is evident that you prepare your kids to compete in the game we love. More importantly, you teach your players how to be young men that will handle the adversity of living day to day in a challenging world, and most importantly, how to be good people, good husbands, and good fathers." (Calvary Christian Manager Alan Kunkle)
–
"Congrats Ray on your great accomplishment. You have always done it right. Wishing you all the best. Your Friend." (Monsignor Pace Manager Tom Duffin)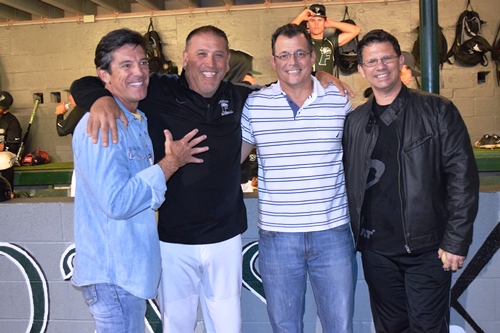 –
"Ray, you have always been a guy I have admired in what you has been able to
build and maintain at Flanagan. You are able to be in contention for a state championship every year, while competing with some very prestigious private schools for the top athletes in that area. Your teams always play with a toughness drawn from the top down. You have also been able to maintain a consistency in your staff that is extremely rare in today's high school game. Your assistants have been very loyal to you, and the kids in your program, which is a telling sign of you as a coach, and more importantly as a person. Congratulations." (Belen Jesuit Manager Jerry Albert)
–
"Ray, congratulations on reaching a huge milestone of 500 wins. As a young coach, these are the things we only hope to accomplish. One of my best moments was when we met up in regionals and played a great nine inning playoff game. Guess the veteran got me that night! Best of luck moving forward, and keep doing what you do. Thank you for doing this so many years and showing us all a great example." (Hialeah Educational Manager Willie Baez)
–
"Congratulations Ray on your 500th win and your hard work getting there." (North Miami Beach Manager Alex Rodriguez)
–
"I haven't had the opportunity to coach with or compete against you Ray, at either of my stops (Sagemont/Braddock). However, I have had a few Flanagan players on our Baseline Summer/Fall teams, and it's easy to see those kids have been coached well on and off the field." (Braddock Manager Wes Morejon)
–
"As a member of the coaching fraternity, I want to send you congratulations on an incredible achievement of 500 wins as head coach." (Coach Joey Marcos & the Miami Sunset Baseball Family)
–
"Congrats coach! It could not happen to a better man!" (Miami Senior Manager Edwin Bonilla)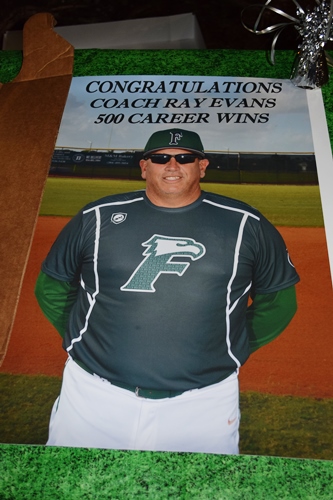 –
"Congratulations Coach Evans ,not only for the wins, but for the timeless hours you have put in as a Coach to mentor your players." (Trinity Christian Manager Miguel Cuello)
–
"Ray, Congratulations on achieving such a huge milestone. You have set the bar for the high school baseball programs in South Florida. I look forward to continuing our annual tradition of competitive baseball. Best Wishes. (Park Vista Manager Larry Greenstein)
–
"Ray, Congratulations on such a great milestone! A testament of time in today's game." (American Heritage-Delray Manager Carm Mazza)
–
"A great achievement on the 500th victory. Congrats coach, and I know your past players are happy for you too. It takes A LOT of hard work and dedication to reach that milestone! Congrats!" (Jupiter Manager Andy Mook)
–
"I don't personally know you, and have never coached against you, but i would like to send my congrats to you for all your success. Coach, congrats on this unbelievable feat. What a testimony to passion and perseverance. Many Blessings to you and have a great rest of the season." (Vero Beach Manager Bobby Rahal)
–
"Congratulations on 500 wins!" (The Olympic Heights Lions)
–
"Outstanding accomplishment! Year in and year out, we all know we are gonna get a well coached, highly competitive team if we face Flanagan!" (Palm Beach Ventral Manager Tony Gullo)
Once again, Ray, from HSBN, and the hundreds of lives you have touched through your career, congratulations on your 500th win!