After Eight Hours, St. Thomas Reaches 8A Title Game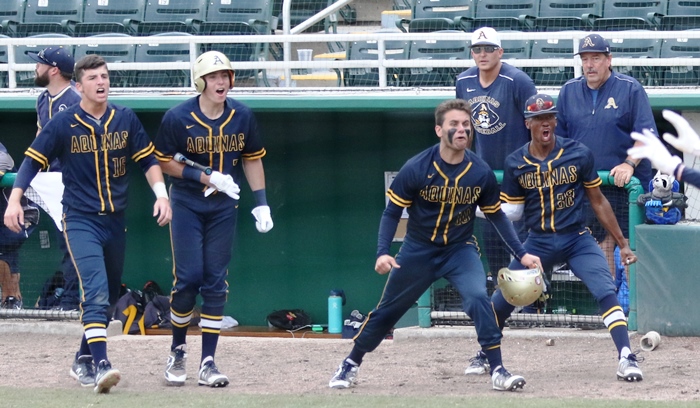 Sure, by now everyone knows that Chris Ruckdeschel hit a tie-breaking, two-run inside-the-park in the eighth inning of St. Thomas' 8A semifinal with George Jenkins, a game the Raiders would eventually win 6-3 on their way to the championship game.
But to focus on that crazy play, would be to ignore all of the things the Raiders did right to get into that position.
It has taken St. Thomas Manager Troy Cameron and his all-star staff some time, but the Raiders skipper has his team playing as fundamentally sound baseball as can be found in the state these days.
And fundamentally sound teams that play not for themselves, but for each other, are the type of teams that overcome adversity and win state titles.
It could be seen Friday afternoon when the Raiders fell behind 3-0 to a George Jenkins team that many consider to be one of the top five teams in the state.
There was no panic, there was no head hanging.
Instead, there was the Raiders defense getting out of a jam in the third by executing first and third defense to perfection.
Then there was Matt Archer singling in the top of the sixth, followed by a perfectly executed bunt base hit from Andres Antonini.
Nick Vera, who earlier hit a home run to cut the lead to 3-1, then came through again with a first pitch sacrifice fly, scoring Archer.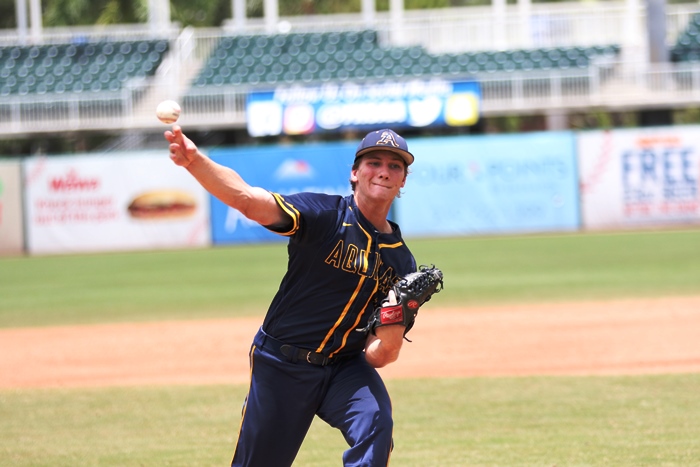 They were the type run producing at-bats that coaches dream of.
Then, in the seventh, Gabe Terry, pinch-hitter Connor O'Hara, and Archer all singled. Antonini followed with a sacrifice fly, and suddenly the game was tied, and the momentum had shifted.
After being frustrated by Jenkins starter Daniel Batcher, the Raiders bats remained patient, continuing to have quality at-bats. It was the type discipline rarely seen at this level of the state playoffs.
"Our kids never stopped believing in each other when we were down 3-0," said Cameron. "Then, we started putting better at-bats together, and our offense came alive."
Meanwhile, starting pitcher Blake Hely overcame a rough start to settle down and hold the Eagles scoreless in his final three innings of work.
"Blake Hely did not have his best stuff today, but he battled and gave us a chance to win," said Cameron. "Because that was a very good offense we were facing."
In the eighth, Cade Fergus singled to lead off the inning, After two outs, Ruckdeschel drove a ball that got over the right-fielders head, and Ruckdeschel was off to the races.
"I was thinking, 'wow, I can't believe that ball dropped'," he said. "And then as I was rounding second, I saw Troy (Cameron) waving me. I thought at that point that I'm going to do everything I can to be safe at home."
As he rounded third, the Raiders fundamentals again came into play, as Fergus, who had earlier scored on the play, was in perfect position, directing Ruckdeschel to slide outside, away from the tag, which he did, as the Raiders fan base and dugout went wild.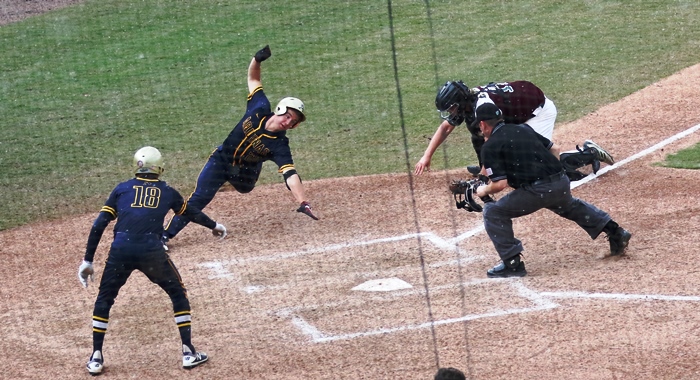 Finally, after 7.2 innings, St. Thomas had their first lead of the game.
"So many guys had a hand in this outcome," said Cameron. "But our kids just kept believing."
Although they had the lead, the Raiders would then have to play the waiting game to secure their first state final appearance since 2003. After Ruckdeschel's home run, the tarps came out, and the game went into a lightning delay, as rain pounded the field.
After several false alarms to get back on the field, and a nearly six hour delay, the game eventually resumed, and after Gabe Terry doubled in Riley Rosario, extending the lead to 6-3, closer Nate Thomas closed out the semifinal win.
St. Thomas will move on to face Sarasota in the 8A title game, on Saturday at 5PM. The game features a Sailors team looking for their ninth state title, and a Raiders team hungry to return to the top of the mountain.