Spanish River Shuts Out Coral Glades For Key District Win
It is never too early for potential district championship match-ups. The undefeated Coral Glades Jaguars hosted the Spanish River Sharks Thursday evening in what is possibly the first of multiple encounters this year.
Game one went to the Sharks with a dominating 11-0 victory. Spanish River now sits solely atop of the 8A-13 district, but Sharks manager William Harvey isn't getting comfortable yet.
"We're in the driver's seat, but we still have to go out and get two more wins," Harvey said. "This is a very good team so I expect a tougher match up the next time around."
Jaguars manager Joe Franco expects the same.
"They out-played us in every phase of the game, out-coached us, out-hustled us, and out-worked us," Franco said. "I think our kids just assumed that they were going to win. But they weren't willing to put in the effort to get the win; it just wasn't there."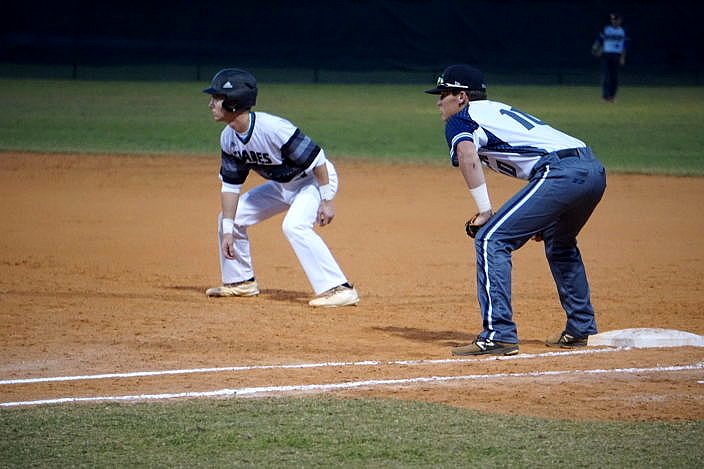 The same cannot be said about the Sharks, who tallied 11 runs on 16 hits. Sharks' senior infielder Nick Perez led the way with a 4-for-4 day at the plate. Fellow senior Jake Fishman had himself a three-hit ball game, and Sam Pirozzi collected two hits and drove in three.
"I think we've made our mark on the district, showing we're not playing around this year." said Perez.
The Sharks offense was more than enough for sophomore left-hander Noah Ahiyon, who struck out 10 batters in five scoreless innings of work.
"I knew it was a big district game and I knew I had to come up clutch," said Ahiyon. "I really give all the credit to my team who played great defense, and to my catcher, Sammy Pirozzi, he called a great game out there."
The Jaguar bats could not figure out Ahiyon until the bottom of the fifth inning, when Senior Casey Shifrel lined a single to end the no-hit bid.
The Jaguars rallied late in the game after a couple of hits by Gustavo Lino and Nick Paschal, followed by a walk to load the bases. But Sharks reliever Sam Friedrich settled down and got out of the jam without giving up a run.
The two teams will meet again on March 16, on what could be a winner-take-all game at Spanish River.