Broward Senior All-Star Game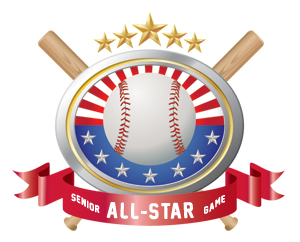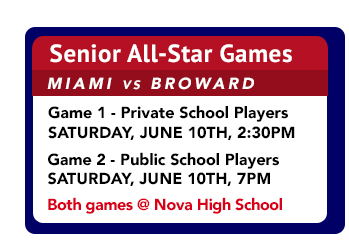 Saturday, June 10th, 2017 will be a day to remember for all players, parents, fans, and coaches here in Broward and Miami-Dade Counties. That is the day the two county's best seniors will take the field for the 7th-annual HSBN Senior All-Star Game and Awards Ceremony presented by LuCa Elite event.

This year, HSBN has put over 120 of the best seniors in Broward and Miami-Dade on the same field on the same day, as the Broward Private School team will face the Miami-Dade Private School Team at 2:30PM, and the Broward Public School team will square off with the Miami-Dade Public School squad at 7PM.

Each year since the creation of BrowardHighSchoolBaseball.com, High School Baseball Network has given seniors one last day to go out and perform in front of their family, friends, and peers. Unlike other All-Star events, HSBN has created an atmosphere and seriousness to the game that has made it among the best All-Star events in the country.

The day will be filled with excitement and anticipation, as All-American awards, including first and second team selections, Pitcher, Hitter, Coach, and Player of the Year honors will be handed out at the game.

The games this season will move to Nova. As always, plenty of surprises are in store for fans.

Managers for the game have been selected by HSBN, and coaches who win their district Coach of the Year awards will round out the staff for each team.

HSBN Broward Public School Manager - Joe Giummule - Pompano

HSBN Broward Private School Manager - Josh Snyder - University School

The Players Ballots will be sent out to each manager, and managers will be allowed to nominate four seniors from their team for the game. Once all ballots are returned, the HSBN staff will then review the nominations and select the final team. Approximately 30 players will be selected for each squad.

All-Star rosters will be announced on BHSB on Tuesday, May 2nd. All players chosen will be instructed to RSVP confirming participation in the game. Those who do not RSVP in the allotted time will be replaced with alternatives.

Once the teams are complete, the players will be treated to a five-star event, beginning with commemorative jerseys with their names and numbers on the back. One mandatory practice will be held Thursday, June 8th, at which, players will receive their jerseys, meet with their fellow all-stars and coaches, and have a photo shoot in their all-star uniform.

On game day, the festivities kick off in the early afternoon with a pregame meal for all all-star players and coaches. The meal will be followed by a traditional pregame of batting practice, stretching, warming-up, and infield-outfield. Once the first pitch ceremony and player introductions are complete, the real fun begins!

On-field games will keep the excitement high throughout the night, encouraging fan participation with raffles, trivia contests, and even on-field competitions for a few selected lucky younger fans in attendance.

The Awards Along with All-Star ballots, coaches have received ballots for All-District teams. The All-District teams are comprised of the final voting from coaches, along with HSBN representative input. All-American first and second teams will then be selected solely by the HSBN staff.

In-between each inning of the All-Star game, All-American players will be individually recognized at home plate. This will also be the time players learn whether they were a first or second-team selection. Underclassmen who receive an All-American selection will not be eligible to play in the game, but will be notified and will be invited to be a part of the awards ceremony on the field.

As all-star night draws to a conclusion, the biggest awards of the year will be presented. Hitter, Pitcher, Coach, and Player of the Year awards will be handed out.

In addition to awards received at the all-star game, the Miami Marlins have partnered with HSBN to honor All-American and All-Star players from Palm Beach, Broward, and Miami-Dade on Tuesday, June 13th. Players will be honored before the game in an on-field ceremony at Marlins Park. The All-American winners and all-stars, along with any state championship teams, will then have free tickets to stay and enjoy the game! A link will be available on BHSB for parents and fans to purchase additional tickets to the Marlins game and ceremony.

Equipment Donation HSBN will for the seventh year in a row be collecting used equipment and donating the equipment to area Chicago White Sox Scout Pepe Ortega. The equipment will then be shipped to the Dominican Republic, to help underprivileged ballplayers. If you have extra equipment laying around, HSBN urges you to bring it to the game and donate it to this worthy cause. If you have equipment and cannot make the game, please contact us via our contact page to arrange pick-up of the equipment.

Conclusion Admission at the gate will be $10. No passes will be accepted for this event.

Miami teams will be wearing red, and Broward teams will be royal blue. We are asking fans to come dressed in their team colors and help create the atmosphere for this wonderful event.

It will be a day that will not soon be forgotten, so mark the date, Saturday, June 10th, and come out and help send these seniors out in style, while enjoying one last baseball game for the 2017 season!