Well-Rounded Highlands Christian Poised To Make A Run
If you don't trust the old adage, 'there is no 'I' in 'team", spend some time watching a ballgame at Highlands Christian and become a believer.
The Knights get different types of production from different areas of their roster and each one of them is as equally important as the next. Accordingly, every player is as equally important as the next. Without one guy's contributions, the rest of the team would struggle.
Leading off the contribution and possibly the Knights' lineup this season is Brendly Martina, an infielder who possesses some of the best speed in the county. The 5'11" senior ran a blistering 6.68 60-yard dash this year in a prospect showcase. He used those jets to steal 23 bases last season, eighth most in Broward. In the field, Martina utilizes his speed by covering every inch of infield he is responsible for at shortstop.
Next, there is Swindley Lint who came to the Knights from Curacao during the off-season. At the plate, Lint possesses a prototypical two-hole hitting skill set, including a great eye, the ability to fight off tough pitches, the knack to out-wait opposing pitchers, and great base hit ability. On the oft-chance that Lint gets on base, he flaunts great awareness as a runner and enough speed to be a threat to steal at any time.
The secret to Lint's success against opposing pitchers may be due to the fact that he is a great hurler himself. With good high-70's heat and a nasty low-60's secondary 12-6 curveball, Lint uses his mix of speeds and a pitch selection strategy well beyond his years to keep opposing hitters guessing and off-balance. Charlebois lauds what Lint has shown thus far and says that, as just a junior in a brand new place, he has reminded him of a professional.
"He's a pro guy; a five tool guy," Charlebois said of Lint. "He's going to be a top guy in Broward county this year in a number of categories."
When it comes to when and where Lint will throw, it will come down to when and where Charlebois asks him to.
"I don't have to prepare him for any role," Charlebois said. "He's not a starter, he's not a reliever, he's not a closer; he's just a guy that when the team needs him to go out there and take care of business, he's going to do it without hesitation. He's just, 'give me the ball and watch what I do with it'. He trusts his stuff and he's going to be a great player."
Bringing the boom to the team is senior catcher Drexler Maccay. The 5'8″, 165 pounder makes the most of all the size he has, using his legs to drive through the zone and send balls to the warning track or beyond. Already this preseason, Maccay has left the yard, mashing a no-doubter out of Knights Field in a game against the defending state champion American Patriots. Behind the plate, Maccay possesses throwing velocity in the low-80's. Again, Maccay's above-average frame assists him when trying to throw potential base stealers out as he goes from crouch to his throw in under two seconds.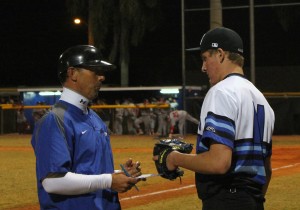 On the mound last year, ace Mitchell Carroll was lights out. Over 40.2 innings, Carroll struck out 63 while walking just 14 and giving up 17 runs (2.93 ERA). Carroll went the distance in two of his starts, one of which was a no-hitter. Last year, Carroll's fastball gained an extra six miles-per-hour. He now lights the radar gun up to the tune of 91 MPH, some of the hottest heat in the county. The 6'2″, 180 pound right hander mixes in a good moving mid-70's curve and a tricky change-up, giving him an impressive repertoire.
The Knights are well-rounded and the message is that everyone brings something special to the club. There are no individuals, and it is leading to a better team atmosphere and better team chemistry that will only strengthen as the season goes along.
As good as the Knights were last year, there is always room for improvement. Charlebois has worked hard with his team the off-season on playing more small ball and executing more hit-and-runs in order to improve upon the .625 runs per inning they scored in 2014.
"We've really worked on refining our game; from our situational defense to hitting with runners on base" Charlebois said.
After going 14-9 and reaching the quarterfinals against a tougher schedule last year, the Knights look like a team primed to make the jump to super-stardom in 2015.
"I'm really excitied," Charlebois said. ""I think we're going to be very good this year."