Alex Toral Moon Shot Carries Archbishop McCarthy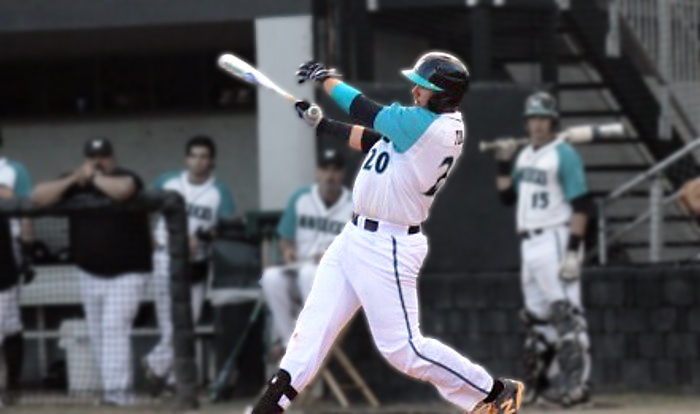 There are games in a high school baseball season when one moment makes time stand still. When a team or a player experience something that will be remembered forever for those who were in attendance.
Archbishop McCarthy, and first baseman Alex Toral experienced one of those moments Thursday night in a 7-4 win over Taravella.
Toral, a junior who is already being highly watched by Major League Baseball scouts, sent all in attendance scurrying to their cell phones to alert friends and family what they just saw.
With the score tied 4-4 in the bottom of the fifth, Toral stepped to the plate with a runner on second, and what happened next can best be described with the words of Archbishop McCarthy Manager Rick Bielski, explaining what he had just seen.
"I think that ball is at St. Mark's,' said Bielski, in referring to the moon shot that Toral hit to right field to give the Mavericks the lead. "We can pick it up when we go to church on Sunday…that ball was crushed, no doubt about it."
Toral, for his part in the play, did what most Maverick players do in a big moment, he deferred the credit to a teammate.
"I think Carballo (Alex) sort of brought my emotions up," said Toral. "He had a good at-bat there before me, hit a two-strike double to center to tie the game that really got the team going. I think I just capitalized in the moment, hyped us up a little more, and gave us the lead."
Up until the fifth, it was the Trojans that looked like they were poised to show they can be considered among the county's elite.
After scoring a run in the first, Taravella's Henry Matias and Nick Carrasco both doubled, giving the Trojans a 2-0 lead.
The Mavericks fought back in their half of the third when a Kobe Lopez double drove in freshman Yordani Carmona, cutting the lead to 2-1.
Taravella quickly answered, however, when junior Eddie Ayala blasted a home run to right.
Ubaldo Lopez followed that up with an opposite field blast of his own in the Mavericks fourth, and again we had a one-run game.
In the fifth, it looked like Taravella was going to again thwart the Mavericks comeback. Mattias hit his second double of the game, and Nik Sanders' single up the middle to make it a 4-2 Trojans lead.
That is when Archbishop, as they have done so many times before, showed their championship pedigree with the four run inning to take the lead. They would later add a seventh run, but the damage had already been done.
Even with the loss, Taravella Manager Alan Clark came away with optimism from his teams performance.
"In that fifth inning we needed to execute on the mound a little bit better," said Clark. "We played good baseball all around…we were missing a few guys in the infield and that hurt us, but overall, we can't complain. We have some things to clean up, and we will do that."
Archbishop McCarthy will travel to the West Coast Friday to face Naples, while Taravella has a quick turnaround, facing former district rival Coral Glades at home Friday night.