McCarthy Takes Round Two And District Title Over Heritage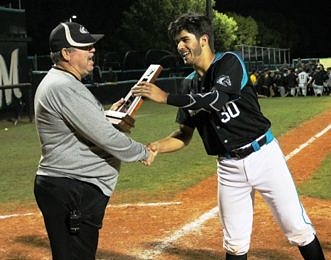 Championship Photo Gallery
Archbishop McCarthy has become the top baseball program in the state over the past decade, but as with any great sports organization, they remember and feed off the losses more than they savor the wins.
That is why Saturday night's 6A-15 championship game against rival American Heritage was so sweet for McCarthy. Last year, the Mavericks won a state title, but lost the district championship game to Heritage.
On Saturday, the Mavericks overcame deficits of 2-0, and 3-2, to defeat the Patriots 4-3 on a walk-off single by Adan Fernandez, sending the packed house into a frenzy, and exacting revenge on their bitter rival.
"I was just talking to my bat through the entire at-bat, as crazy as that sounds," said Fernandez. "I was just saying, 'you are going to do this, you are going to come through right now.'"
To start there, however, does not tell the whole story of this night. There were controversial calls, gut-wrenching pitching performances, timely hits, and stellar defensive plays, everything that a baseball fan would want when two rivals meet.
"It's just a great game every time," said Heritage Manager Bruce Aven. "It is two teams that have players that all play with and respect each other, and coaching staffs that are all friends. Us coaches all go back a long time. The difference in these games are just a big hit here or there."
Mavericks Manager Rick Bielski agreed.
"You can't ask for more than this as a baseball fan. They are a well-coached team, and the atmosphere when we play them is tremendous. It's just great baseball."
This game had twists and turns that started in the top of the third. Lead-off hitter Tristan Casas walked, and moved to second on a Mark Vientos single. After Cory Acton was hit by a pitch, Julio Cortez singled, scoring Casas and Vinetos, and giving the Patriots a 2-0 lead.
McCarthy senior Daniel Federman was able to limit the damage with a strikeout, and a line-out double play.
In their half of the third, the Mavericks threatened. JT Thompson walked with two outs, followed by a Luis Tuero single. Andrew Fernandez then lined a ball to right-center that Patriots center-fielder Enrique Bradfield made a run saving catch on.
"Enrique Bradfield," said Bielski, reflecting on the play. "That was one heck of a play. He saved at least one run there, and probably two. He had himself a great game tonight.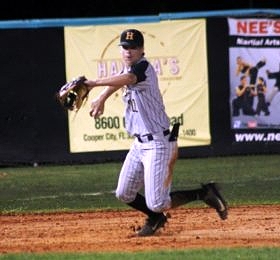 Heritage starter Bailey Mantilla cruised into the fourth inning, but ran into trouble after back-to-back singles from Alex Toral and Joe Perez. After a passed ball, Ubaldo Lopez then chopped a ball that was thrown away, scoring both Toral and Perez, and tying the game at two.
With the history between the two teams, and momentum starting to swing, the feel in the crowd was that McCarthy was back in control, but this is a different Heritage team from years past. Cory Acton showed that in the top of the fifth when he answered McCarthy's two runs by launching a solo home run leading off the inning.
The momentum swung once again in the top of the fifth when Tuero reached on an error. After a strikeout and a Tuero steal of second, Toral hit a double into the gap, again tying the game.
In the sixth Bradfield led off with a single, and again Heritage was in business. After a flyout, Bielski went to his bullpen and summoned Mark Diaz, who promptly struck out a batter and walked Casas. With runners on first and second, Diaz struck out Vientos, ending the threat.
"That was a huge strikeout," said Bielski. "Mark is a guy that fills up the strike zone, and he came through big time in that inning."
As the game wore on, tensions began to grow, and emotions were pouring over onto the field. Several close calls were met with umpire arguments from various players and coaches from both teams.
One of the biggest complaints of the night came from Adan Fernandez in the fifth. After taking a called third strike to end the inning, Fernandez appeared to catch the ire of home plate umpire Steve House, but House restrained from throwing Fernandez out of the game.
As with most baseball games, the irony rose up in the bottom of the seventh. Fernandez came to bat with runners on second and third, and after taking another called strike, Bielski called time out and had a chat with his right-fielder.
"I told him he probably deserved that call because of the previous at-bat," said Bielski. "Then I told him to just clear his mind and focuson hitting the ball hard."
From there, Fernandez fouled off pitch after pitch, before finally delivering the game-winning single.
"That was a great at-bat he had," said Aven.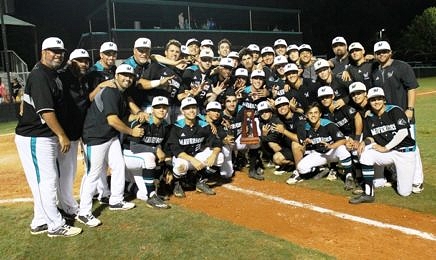 As for Fernandez, he knew he had gotten a second chance, and he delivered.
"I really did not have that great a game," said Fernandez. "In the last at-bat, I was able to foul off a few pitches, and I got my timing down. I knew he had to come with something off-speed, and I was able to put a good swing on it and hit it hard."
For McCarthy, the hit brought a district title, but also the realization that this rivalry is likely not over for the two teams this season.
"If both teams are fortunate enough to win next week, then I expect another battle here in ten days," said Bielski. "It doesn't matter how many times we beat them, or they beat us, there's only one game between us that matters at this point."
Winning pitcher Perez, who knows this rivalry from both sides, came into the top of the seventh and escaped a jam by hitting 99 MPH on the radar gun, fueld by the adrenaline of the game.
"I always feel a little something extra as a player coming from playing over there," said Perez. "But really it comes down to me having to get the job done for all my teammates."
The two teams will have to put the rivalry aside for a week, as Heritage travels to face Goleman, and McCarthy hosts Miami Springs on Tuesday in regional quarterfinal games.