Loss of Cypress Bay's Paul Liotti Shakes Us All To The Core
I want to start off by saying the business I have chosen to pursue with HSBN, has been a largely rewarding endeavor. Being a former player and coach, I wanted nothing more than to give back to the game and the county that shaped my life.
Over the years, we have grown to become everything I envisioned, a place where the high school baseball community can call home every day, a little escape from the pressures and reality of the real world. The joy has been great, but with the joy also comes responsibility, and unfortunately, part of that responsibility is trying to putting into words what thousands are feeling during a week like this.
On Friday, Cypress Bay Manager Paul Liotti passed away. The circumstances surrounding Paul's death are largely irrelevant. And yes, I broke all rules of journalism by saying Paul, because when something like this happens to a friend, all rules go out the window.
Many emotions are present for me, and I am sure for many of you. Friday's emotions started with shock. I was shocked, the Cypress Bay baseball team was shocked after it found out about their beloved coach after a Friday night practice. The dozens of coaches calling me to confirm what they had heard were shocked. We here at HSBN were just as shocked.
Usually when I am bombarded with calls, it has to do with a player transferring, or a big win or loss by their favorite team. All of those calls seemed trivial Friday night compared to the calls and texts I was receiving about Paul.
Those calls and texts continued into Saturday, when suddenly I had to start facing reality. This was not one of those high school baseball rumors, this was real life, slapping us all across the face. That is when the next stage kicked in, the wondering stage.
"He left a hole we can't possibly fill," said Lightning Pitching Coach Al Schwach. "All we can do is simply the best we can as a tribute to him. His passion and love for the game was constant, and our talks will be missed greatly."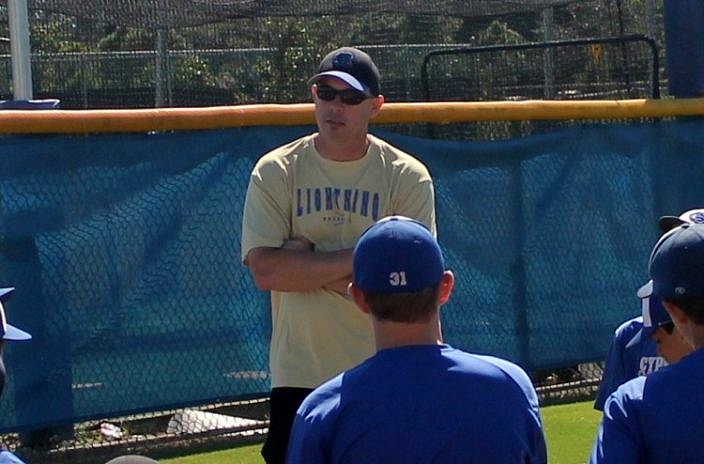 Much will be said about Paul's past and some of the hardships he has endured, whether circumstance, or self-inflicted. But to focus on that is missing the point of what Paul was to us, the high school baseball community here in Broward County.
Regardless of what Paul was going through in his personal life, or on the baseball field, there was one personality trait that defined him. He was as passionate a person as I have ever met. Passionate about his family, passionate about his Baltimore Orioles, passionate about his friends and colleagues, but most of all, passionate about his baseball and his coaching.
Paul and I went back a long way. I was a young coach, making my way at Piper when we held a fundraiser game to raise money as his daughter Kaitlyn battled cancer. Kaitlyn's cancer went into remission in 2009, and the legacy of Paul's passion was born.
In the years since, there were personal battles, none of which ever seemed to get the best of Paul. When he took the job as Manager at Cypress Bay, I had retired from coaching and moved into my HSBN stage of life. I remember his enthusiasm to succeed in a baseball program that had already dealt with their share of tragedy. Among those tragedies was the passing of former Manager Pete Colabella, who led the Lightning to their only state title in 2004.
Then came previous Manager Mike White, who emotionally powered through with his Lightning team as his wife succumbed to cancer. Next was a district rival shock, as West Broward Manager Sergio Ambros passed away suddenly on a field during a summer tournament.
With all that tragedy and loss, none, however, rocked the Lightning community like the news of Paul's passing last Friday. That sentiment extended beyond Cypress Bay.
"I have known Paul for 15 years; he has been a staple in our community," said Highlands Christian Manager Bruce Charlebois. "He was an excellent baseball guy. I have been hurting really bad in my heart since I heard the news."
By Saturday, Paul's social media Facebook page was filled with posts from family, friends, former and current players, as well as those who only knew Paul through baseball. It was at that time that I realized, no matter what is written, Paul's legacy will always live on in the people that he touched.
"I've know Paul for over 20 years," said Pompano Manager Joe Giummule. "My stomach has been in knots since hearing the tragic news on Friday."
So here we are, five days after I was originally informed of Paul's passing, and thanks to the community and family atmosphere that I strove to create here at HSBN, I can finally begin to understand. I understand that Paul touched many lives. I understand that we all have imperfections, and sometimes those imperfections manifest more in some than in others. I understand that no matter how much we try to control situations, sometimes there is just a bigger plan in place.
Most importantly, I understand that Paul Liotti will be a missed parent, family member, friend, coach and mentor, and that all we can do is pull together, for each other, as the high school baseball community that we are.
*Funeral services for Paul Liotti will be held on Saturday, February 10th from 11:00 AM to 2:30 PM at Forest Lawn North, located at 200 West Copans Road in Pompano Beach (33064).