Teacher Bests Student As Flanagan Defeats West Broward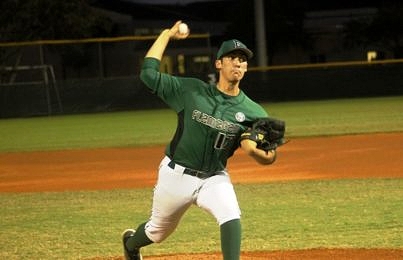 The 2018 season is off to a somewhat strange start, with baseball programs in South Florida having to deal with several horrific tragedies, and many coaching changes ruling the early part of the year.
One of those coaching changes that took place over the off-season was West Broward hiring longtime Flanagan assistant Howard Stein to become the Bobcats new manager.
On Tuesday, Stein returned to the place he called home for the past 14 years, the Flanagan baseball field. Only this time, Stein wore baby blue instead of the home green and black. While the dugout changed for Stein, the result was similar to past West Broward-Flanagan games he had experienced, a 6-3 win by the home Falcons in the first big 9A-12 clash of the season.
"It was a little strange," said Flanagan Manager Ray Evans. "He has been by my side for a long time. But tonight wasn't about us, it was about these two teams, and it was a great baseball game in which both teams played very well."
The night had several intriguing moments as both teams sent their aces to the mound. West Broward was coming off a perfect 3-0 start in the seasons first week, while Flanagan started 1-1. This game, would set the tone for what figures to be the first of a probable three or four matchups between the district rivals.
"It was huge for us," said Evans. "Anytime you come out of the gate this early in the season against a rival, one that you know will be in the mix at the end, it is important to get that win. It sets up the rest of district play by having that first big win under your belt."
On a night that featured several home runs, a rain delay, and a near comeback, it was the pregame routine of the Falcons that had one of the biggest influences on the game. Coming into pregame BP, senior Noah Martindale was not slated to be in the starting lineup.
But as baseball often plays out, the Falcons coaching staff played a hunch.
"He wasn't going to start, but then he came out in BP and was raking balls all over the yard," said Evans. "Fig (Assistant Coach Noel Figueroa) came over to me and said, 'we need to get him in the lineup tonight', and I agreed. I was playing my gut."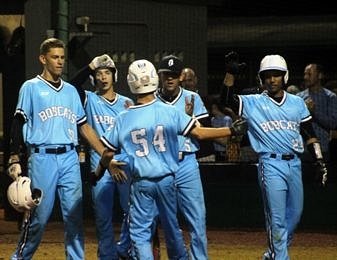 Evans' gut proved right on this night. After a 45 minute rain delay, and with the score 3-1, Martindale stepped to the plate and immediately brought the energy back to the Falcons dugout with a solo home run.
"I went up to the plate with an idea of what I wanted to do, but then when I got to two strike, I just wanted to put the ball in play," said the senior. "I was able to put a good swing on it, and it went out."
After a scoreless fifth, West Broward finally got to Flanagan starter Frankie Gonzalez. The senior had thrown five innings of one run ball, when he left a slider up to Roberto Lopez, that was driven for a two-run home run, cutting the lead to 4-3.
"The fight we showed tonight was something I am proud of," said Stein. "We got down early, and we didn't have a strong game offensively, but we showed a will to battle."
As for Gonzalez, who went 5.1, pitch location was more a factor in the home run than fatigue.
"I was locating well early on," said Gonzalez. "That pitch was just one that got away. I felt pretty good all night. Luckily my teammates were able to pick me up."
With the score suddenly 4-3, Gonzalez' teammates did, indeed, pick him up. And again, it was Martindale that was in the middle of the rally.
After Tyler Epstein led off with a single, Martindale laid down a sacrifice bunt attempt that turned into a base hit, putting runners on first and third.
Tyler Evans then laced a single to right, extending the lead, and giving the Falcons the cushion needed to hold on for the victory.
"The way we responded to that home run was what I thought was the difference in the game," said Evans.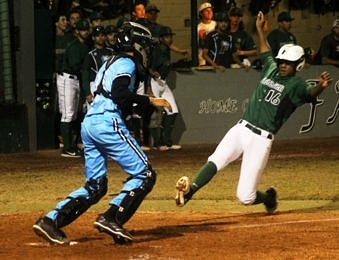 As for Martindale's bunt, it was just another example of Evans' gut paying off.
"I just want to do whatever I need to to help the team win," said Martindale. "If that means hitting a home run, great. If that means paying down a bunt, then that is what I'll do."
Ensuring no further comebacks would take place. Derek Cabrera closed the game with 1.2 of perfect relief, striking out four of the five batters he faced.
"What can you say about Derek," said Evans. "He came in and just shut them down at the end."
The win gives Flanagan a leg up in what appears to be an all season battle for the top seed in the district.
"You always want to defend your home field," said Evans. "And tonight we were able to do that."