American Heritage Wins 6A-15 Championship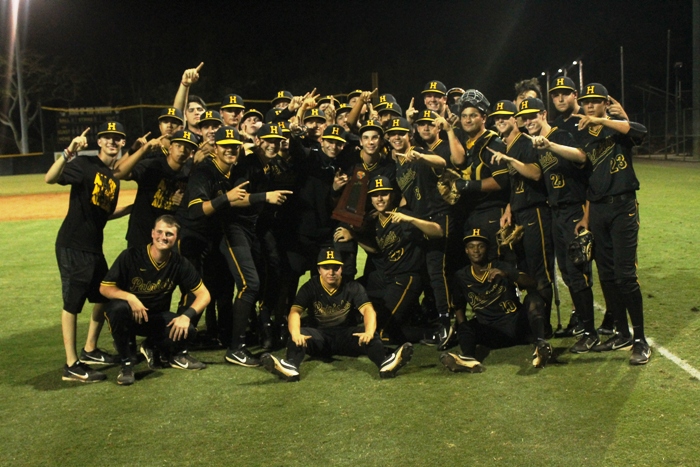 Photo Gallery
For four innings, the 6A-15 title game looked as though it was going to be one of those classic Archbishop McCarthy, American Heritage battles. The game was tied at one, a position the top-seeded Patriots did not envision themselves in after defeating the Mavericks 14-3 earlier this season.
Yet McCarthy hung tough, and even had an early 1-0 lead.
Then, in the fifth inning, the Heritage offense finally imposed its will, scoring six times, and blowing the game open en route to an 8-1 win.
The big blow in the inning was a missile of a home run off the bat of Tristan Casas. It gave the Patriots a 2-1 lead, and more importantly, allowed the team to exhale after a tense four innings.
"Early on in the game we were expanding the strike zone with our swings," said Casas. "In that inning, we just decided to get back to going after pitches in the zone, and when we did that, we started to hit the ball the way we are capable of. It was a good inning for us."
Up until the fourth it had been a frustrating night for the Heritage offense. They put runners on base in each of the first four frames, but were able to come away with only one run.
"We had chances even early in the game," said Heritage Manager Bruce Aven. "But we would either have a bad at-bat, or hit into a double play, or hit a ball hard right at someone. That's baseball, but you have to keep creating opportunities, and finally there in the fifth the bats all came together at once."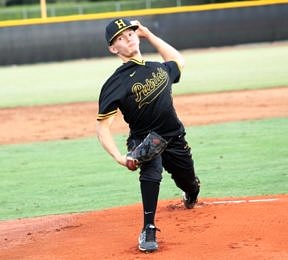 For McCarthy, a team rich in playoff tradition, it was a bit ironic that on this night they were attempted to show that they could play with the Patriots. For four innings, they were able to do that, scoring and taking an early lead in the first, and then watching Daniel and Mark Diaz hold the Patriots offense in check.
"Anytime you play a team like this that has those kind of arms, you kind of know that you have to play a low scoring game to be able to win," said Mavericks Manager Aaron Voracheck. "Unfortunately, they also have bats that can explode at any time, and that is what happened when the game got away from us a little bit there in the fifth."
After the Mavericks took the lead in the first, Heritage starter Ryan Cabarcas settled down and threw four innings of ni-hit ball. Once the Patriots scored six runs in the fifth, Cabarcas' day was done, finishing with five innings pitched, seven strikeouts, and picking up the win. All while allowing only one hit and one walk.
"I was nibbling a little bit early, and coach told me to stop trying to be so fine and just attack the zone," said Cabarcas. "Once I did that, I was able to get in a better groove and then I knew if I kept putting up zeroes that eventually our offense would break it open, and that's what happened."
Eight different Patriots batters had hits in the game, including two each from Julio Cortez and Santiago Garavito. Matthew Ruiz added two RBIs, while Enrique Bradfield and Cory Acton reached base three times, with a hit and two walks each.
Devin Futrell closed out the final two innings on the mound without allowing a hit.
The win gives Heritage a regional quarterfinal home game on Tuesday against a familiar foe, Barbara Goleman from Miami. The Gators upset the Patriots in this game last year, and Heritage is intent on history not repeating itself.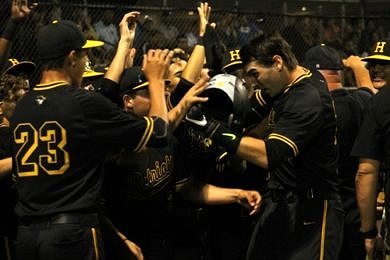 "We don't think about that too much because last year's team was a different team than this year's," said Aven. "The lesson, however, that we do preach from that game is that any team can beat you on any given day, and starting next week, you lose and your season is over. This game was nice because both teams still play next week. But that isn't the case starting Tuesday, so we have to prepared and focused for every inning and every at-bat."
Casas believes that focus will not be a problem for this year's squad.
"We had a goal when we started this season, and the district championship is nice, but that was not our goal. We have five more games to win to accomplish our goal of winning a state championship. That journey starts on Tuesday, and we will be ready."
McCarthy will go on the road for their regional quarterfinal and face 6A-16 champion Miami Springs.
"I told the guys that we just have to get back to work tomorrow, and have a good practice, followed by a good day of preparation on Saturday. We are lucky enough that the rest of the way out we will have our horse on the mound (ace Andres Paret) to start, so we will show up and be ready to make a run."