North Broward Prep Continues Roll Into Regional Semis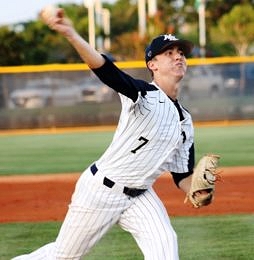 For anyone that has followed the North Broward Prep Eagles during Manager Brian Campbell's tenure, there is one characteristic that always seems to rear its head during playoff time. The Eagles will pitch well, and will be aggressive on offense.
Tuesday night was no exception as the 2018 version of the Eagles put up two runs each in the second and third innings, and then rode the arm of Junior Anthony Tomczak to a 6-0 5A regional quarterfinal win over LaBelle.
"We are just hitting our stride at the right time," said Campbell. "You always hope that the team gets better as the year goes on, and that has been the case with us this season. I am real comfortable with the way we are playing right now."
NBP, as they have in recent games, made sure to jump out to an early lead. Chase McBean led off the second with a double, and Sawyer Feller reached on an error. A wild pitch and passed ball later, the Eagles had a 2-0 lead.
"It is always great when the offense gives you a lead on the mound," said Tomczak. "That allow you to get into a rhythm and just go after hitters."
Go after the Cowboys hitters is what Tomczak did. The Eagles right-hander worked efficiently in his five innings of work, allowing only two hits, while striking out eight.
"Anthony did what he has done for us all year," said Campbell. "We have come to expect that every time he goes out there he is going to give us a quality outing, and he did that again tonight. He has been lights out for us."
Tomczak has now gone three appearances, spanning 14 innings, without giving up a run.
"I just try to go out and throw strikes and get ahead of batters," he said. "Not knowing a team so well, my plan is to just get ahead, and then work in my off-speed pitches, and I was able to do that tonight."
With Tomczak cruising, the Eagles offense added wto insurance runs in the third. Spark plug Xavier Edwards walked and stole second. Dylan Goldstein followed with a single, scoring Edwards. After groundout, Gaby Esquivel doubled, scoring Logan Clyatt.
Much like Tomczak on the mound, the offense also had to adjust to facing a pitcher they knew little about.
"Our approaches are always the same, especially lately," said Esquivel. "We just go up to the plate aggressive, and we all do whatever we have to do to get the W."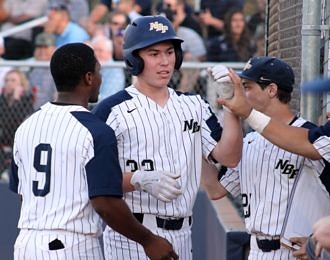 NBP tacked on two runs in the fifth, but by then the game had been decided. Parker Foss threw the final two innings to secure the shutout.
With the win in hand, the Eagles were able to focus on what comes next. While most fans figured a date with defending 5A regional champion Pompano would be on the horizon, the Eagles learned that their next opponent would be Lincoln Park, who upset the Tornadoes 3-2 on Tuesday.
That game will be played in Fort Pierce, and each team will have a week off before the regional semifinal.
"It doesn't matter who you face at this point in the year," said Campbell. "Every team left will be prepared and is capable of winning. We are comfortable with how we have been playing, and will get a good week of practice in and be ready to go."
As for the seven day layoff between games, Campbell was quick to not use that as an excuse for a possible letdown.
"I think most coaches would agree this is not the best format for the playoffs, but every team is dealing with the same thing, so we just need to stay focused at practice and be ready to go next week."