Congrats Todd Fitz-Gerald; 400 Wins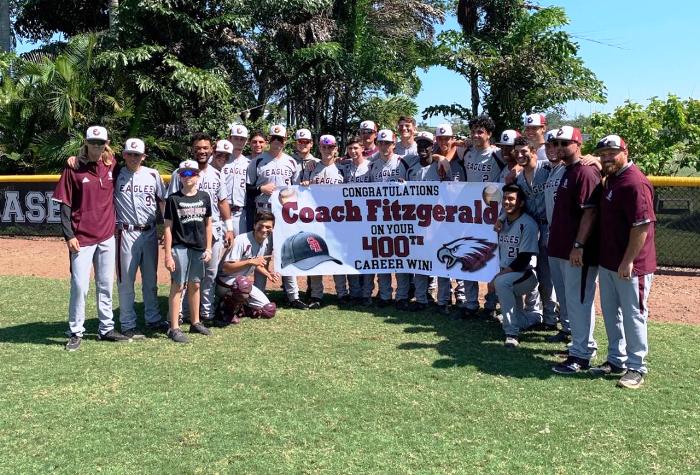 Douglas Manager Todd Fitz-Gerald is one of a very few managers who have won a state and national title at two different schools. On Friday, Fitz-Gerald, who has led both American Heritage and Douglas, picked up the 400th win of his storied career.
HSBN was able to round up plenty of people wanting to congratulate Fitz-Gerald, ranging from former players, peer coaches, and his family. Congrats Fitz, enjoy!
"Coach, you have developed an amazing family environment at Douglas, and what a special day for the family to celebrate together. Every win and loss along the way happened in order for today to occur, although I can't say that I have seen many losses. It is an accomplishment to be cheered; 400 wins is a lot of wins! Way to go Coach Fitz and the Eagles, and thank you for all your support to HSBN over the years!" – Rick Duteau, HSBN
"It's been a great adventure. So proud to have been with you through all the wins leading up to this. It's been amazing to watch you grow not only as a Coach but as a Husband and a Dad! You have been such an influence on your own children, your players and are so well respected by the Coaching Community. Proud of You! Don't stop, now go get 400 more!" – Colleen Fitz-Gerald
"I'm proud of what you've accomplished, starting programs up from nothing and turning them into winning traditions. It's a huge accomplishment and i'm excited to be apart of it, glad you made 400! Congrats Dad!" – Hunter Fitz-Gerald
"Todd, Congratulations on this well deserved Milestone Achievement. Looking forward to Win 500." – "Gramps"
"Wow, it seems like just the other day he got his 300th. It's certainly a tremendous accomplishment for one of the best baseball coaches I have ever worked with. Not only is Fitz a great coach, leader, and mentor, but he is also a great friend. I have been friends with Fitz for over 30 years and never was there a guy who put his heart and soul into every game and practice. He is a true mentor of not only young men, but old men also. I've gained more than just baseball knowledge from Coach Fitz. I've learned to be a mentor in my own right. Coach Fitz changes lives. he changed mine." – Dave Taylor
"I wish I could have been there to see #400. I would have loved to been able to congratulate you in person. You are a great teacher of the game, well respected by your peers, and just a class act. I am proud to call you my friend and so very happy for you and this great accomplishment. Congrats!" – Ray Evans, Dr. Phillips Manager
"Congrats Coach Fitz, big accomplishment for a great coach and an even better person. Thank you for all the help throughout the years." – Jesus Luzardo, Oakland A's Pitcher
"Fitz's job is to win. And he's done a lot of it. His players bring the talent, he builds the character. Congrats on 400 Fitz." – Eric Homser, San Diego Padres 1st Baseman
"Having coached with him for many years, I can honestly say it would be hard to find a more devoted and dedicated high school coach, especially towards his players. He made baseball fun for both the players and coaches and had great success in doing so. Congrats coach, you have earned it." – Mike Hosmer
"Congrats coach Fitz on #400, I remember being there for 300 and how special that was. Here's to you man, best coach out there and an even better person. Taught me life lessons that I'll take with me forever, love you Fitz congrats!" – Welk
"My first year at Heritage was his first year as a head coach and you could tell he knew right away what it took to win. There isn't anyone that outworks him, and it shows. His players respect him, and it shows considering he's won this consistenctly at two different schools playing all the top competition he does annually. He never ran from anyone. Congrats Coach Fitz!" – Steven House Jr.
"Congrats on 400 Fitz. Don't look now Rich Hofman, he's gaining on you!" – Steven House Sr.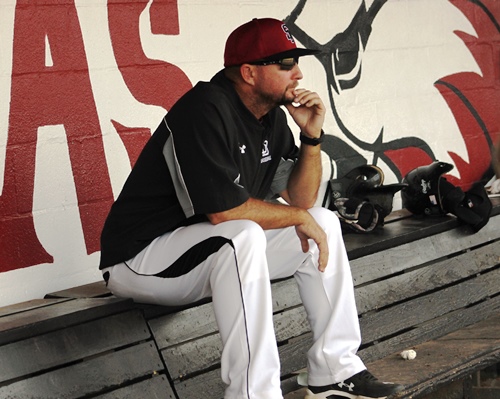 "Congrats to Fitz on this impressive accomplishment. I have had an enjoyable five years working with him. He has worked very hard in two programs and to have them both win National Championships is one of the best achievements any high school coach has ever achieved in the USA. He has had many players drafted and works hard to send almost all of his seniors to college." – Rich Hofman
"Fitz winning his 400th is just another great achievement for him and his family. With the players and coaches that have shared his love of the game, and his ability to put a winning formula in motion with a ton of sacrifices built into long days, weeks, months, years, it's no wonder why he's at 400 and counting. I'm really happy for Fitz, his wife Colleen, Hunter, and Devin." – Kelly Wright
"Congrats to Coach Fitz. Great accomplishment. A lot of hard work and a lot of great teams. Enjoy the day!" – Matt Cleveland, Hagerty Manager
"Fitz you're a great coach and an even better person. Congrats from your friend Ralph at Doral." – Ralph Suarez, Doral Manager
"Hope he'll be stuck on 400 for one more game since we play them Tuesday!" – Mark McCoy, West Boca Manager
"Congrats on 400 Fitz! Couldn't be happier and more proud of you. This is well deserved. Keep working hard. Lots of love and respect to you, the coaches, and the players! Miss you guys!" – Joey Hoey
"I want to congratulate Coach Fitz-Gerald on his 400th win. It is a testament of what kind of coach he is. He has always had his programs recognized as one of the top programs in the country. More importantly, he has dedicated his career to developing some of the best players in South Florida. Well done my friend!" – Tom Duffin, Monsignor Pace Manager
"Congrats on this monumental achievement! Not easy nowadays riding the waves of this profession – keep it rolling!" – Jerry Albert, Belen Jesuit Manager
"WOW. 400 wins is a great accomplishment. Congrats!!!" – Andy Mook, Jupiter Manager
"What a remarkable milestone in such a short time. Conragts on 400. What A special achievement with your son in the lineup." – Joe Giummule, Taravella Manager
"Reaching 400 victories is a true testament and reflection of Todd's dedication, love for the game, and the players he's proudly coached. His players have been infused with a knowledge and enhanced DETERMINATION which brings success, both on and off the field. What an incredible accomplishment!" – Brian Domenico, Power Showcase President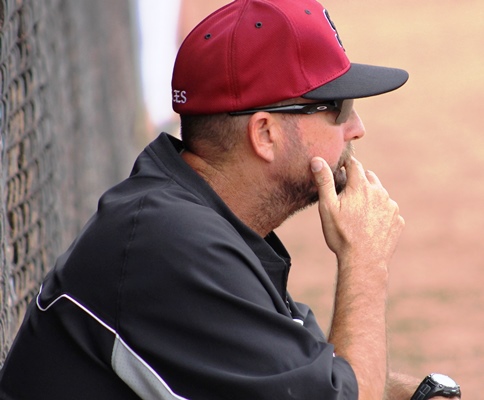 "Todd, I have had the pleasure of sharing many baseball experiences with you, from playing with you, to coaching with you. Congrats on 400! Preparation and practice are the main things that make you great, but it is you managing of people that puts you at the top! GATA!" – Tim Shields
"Fitz, congrats on your milestone, you have been a class act in victory and defeat. Not so many defeats! I am glad to have been able to have watched the chapters of your baseball coaching book be written. I know family is number 1 and your respect of baseball and its ways are evident by your coaching on and off the field. I am proud to call you my friend. Two quick things. I remember the call from you to let me know this young kid was coming to Heritage and not the Coop. You earned my respect even more that day. Let them figure out who it was (Ha). The second thing, I'm just glad you answered the phone at 2:35pm on 2/14 after my many calls. Health and happiness to you and your family. All the best!" – Charlie Cardinale
"Congrats, well deserved. Continue the success." – Mike Federman, Coral Springs Manager
"Todd has a love for his players and coaches, and a passion for the game of baseball, like no other. Many great memories traveling the highways with him." – Byron Walker
"Congrats Fitz! Well deserved. His teams are always prepared, focused and they develop players. Keep it going!" – Onel Garcia, Western Manager
"Grats coach… a lot of respect for one of the best out there." – Mike Goulette, Northeast Manager
"Congratulations Fitz. It feels like yesterday when we met where you were Eric Hosmer and Adrian Nietos' coach. At that time, you were the coach of one of the best teams South Florida has ever seen. Over the years, you have shown how great a coach you are by sustaining excellence. I applaud you Coach Fitz. As great a coach as you are, you are an even better person. Congratulations!" – Angel Herrera, Ferguson Manager
"Coach Fitz-Gerald Congrats! Thanks for all the knowledge you have given to me over the last couple of years. This could not happen to a more humble guy! Congrats!" – Edwin Bonilla, Miami Senior Manager
"I got to meet Coach Fitz when we coached together the FACA South State All-Star team. I had known Fitz, but not in a close relationship, but once we connected it became a great learning experience for me. He has been very successful as one of the best coaches not only in South Florida, but all over the USA. Has won multiple state championships and national championships as well. By being able to spend a couple of nights talking while in our hotel room during that week at the FACA ALL STAR GAME, he showed me and taught me so many new things that I still implement in our practices. From that moment on we have become brothers, and I truly have enjoyed this great relationship. When it comes to practice and team preparation, he is truly the very best in South Florida.
Congratulations Fitz and wish you the very best to your team and awesome family." – Hernan Adames, Killian Manager
"I want to congratulate Fitz on this milestone. As a younger coach who has coached with him, Fitz has taught me so much and I can really appreciate his everyday grind to win. Happy for you man." – Pete Sass, Doctors Charter Manager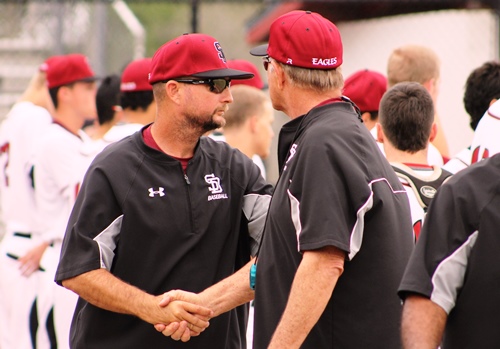 "Coach Fitzy, congrats on your 400th win! The fruits of hard work, dedication, and commitment to your players. Special milestone for a truly special person and coach. All the best!" – Jose Alou, San Francisco Giants
"Aside from being one of the best coaches in the country, Coach Fitz is a consummate professional and an even better human being. His passion for the game and love for his players is unrivaled. Congrats Fitzy, let's get 100 more!" – Cesar Aranguren, New York Mets
"Fitz laid the groundwork for me and my playing career. He has this ability to get his players to play well above there skill sets. I would run thru a brick wall for that guy. He is truly special." – Kevin Davidson
"I have had the opportunity to play for Coach Fitz since I was 10 years old. He had a huge impact on me both on and off the field. We knew that there was something special that my parents moved our family so I could attend Douglas to play for him. In my 4 years, we were lucky enough to win 90+ games together, and realize how special winning 400 games is. Congrats Coach Fitz on 400!! Thanks for being an important part of my life." – Brandon Auerbach
"Playing Todd Fitz-Gerald's teams over the past 8+ years is always a challenge. His teams are prepared year in and year out to excel at the highest level of competition. Winning 400 wins shows a commitment to the program while creating consistency winning environment" – Roland White, Western Branch Manager
"Happy 400! The wins are only a testament to the impact you have made in so many young men's lives on and off the field. Countless kids have been prepared for their next journey by their experiences and time spent with you. I'm proud to say, I was part of many, right by your side. Here's to another 400 COY!" – Von Stertzbach
"Todd coaches the same way he played. He loves to compete, he has tremendous confidence in his ability to out work and out prepare his opponents. He hates to lose, way more than he enjoys winning. His personality is contagious, and his teams reflect his toughness and grit. Coach Fitz is a winner. His resume speaks for itself." – Sean McDermott
"Coach Fitz, congratulations on your 400th victory. I'm so proud of you and your accomplishments. We all know this is a game of failure and to reach this milestone it took patience, consistency, and love for your players. It just shows what kind of mentor and coach you are. Thank you for guiding me on and off the field when I was in school. I wish you nothing but greatness in the future." – Stephen Clyne
"An amazing accomplishment for Todd. He has coached at a high level for many years. On behalf of the FACA, congratulations on win 400. We look forward to many more." – Shelton Crews
"Coach Fitz, as an ex-roommate and teammate, I am very proud of you and excited for you, your family, and your program. Congrats on winning your 400th game, and keep it Rolling!" – Your Friend, Coach Jaime Stash
"I met Todd several years ago at a National Coaches Clinic. I immediately saw his passion for the great game of baseball. He has been a clinician at the MBCA Coaches Clinic twice, speaking on a number of topics. Our membership was impressed by his knowledge of the game and his ability to pass that information on to our coaches. We hit it off immediately, both of us being baseball enthusiasts. As a friend I have seen his loyalty to his family and his players. He is a strong role model for his student athletes, helping them to be the best they can both in the classroom and on the field. It is no surprise that Todd has reached this prestigious 400 win milestone. His ability to teach the game and get the most out of his players is a credit to Todd and his staff. I know they all share in this outstanding honor. Congratulations Fitz and continued success!" – John O'Brien, Lynnfield Manager
"Congratulations to Coach Todd Fitz-Gerald who has been a friend to the Massachusetts Baseball Coaches Association. His willingness to share his insights on how to develop a championship program has been invaluable to our coaches." – Frank Carey, MCBA
"Coach Fitz-Gerald's time in South Florida High School baseball has been absolutely stellar. His commitment to excellence, core values, character, work ethic, family and so much more have been the foundation for his success. I would personally like to congratulate Coach Fitz-Gerald on his 400th win" – Kenny Creehan
"Congrats on 400 wins Fitz and welcome to the club. This officially means your old! There's nobody better. Your leadership has influenced so many players and coaches, not just in South Florida, but on a National level. Today we tip our hat to you and say thanks! You've earned all 400, and there are many more to come my friend. Good luck to you and your boys with the ring chase in '19. Roll Tide!" – Mark "Pudge" Gjormand, James Madison Manager
"For me as a younger coach, Todd sets a great example, he is an exceptional role model to learn from. His love of the game and his willingness to share his passion and knowledge with other coaches is something that became evident when I first met him. He is an outstanding leader and someone I am proud to call a friend. 400 wins is a great achievement which is a direct reflection of the amount of work he puts in. However, I think anyone who knows Todd, knows that by no means will this diminish his drive to succeed. Congratulations to Coach Fitz, his family, and his staff, on this landmark occasion." – Mike O'Brien, Lynnfield
"Congratulations on Win # 400. Great milestone for a great coach. Knowing you as a coach, overall person, and NHSBCA Worker and board member, I have gotten to know a caring and passionate baseball person. I value our friendship and wish you the very best of luck the season and all the seasons ahead. This Quote I use for my players every day and it reminds me of you for everything you give each day of the year. 'What I had I gave.–What I saved I lost Forever.' You are a guy that gives daily and saves nothing. The world needs more Todd Fitz-Gerald's in it. Congrats again." – Your Friend, Tim Saunders
"Todd is all about family. When I say family, that includes not only all of the students and players that are in his life, past and present. Words like integrity, character, sincerity, humility, unselfish, love, compassionate, I really could go on. He has the ability to bring people together; students, players, friends, and family, for a common cause. It could be for a special Thanksgiving dinner or a National Championship. People respond to him because of who he is, and what his real truth is. That truth is just to be the best husband, father, friend, coach, teacher that he can be. He is for real. Has been since the day I met him. This is a great accomplishment but I know what he is thinking…..this is about all the players, coaches and friends that really achieved this milestone. He just brought everyone together. He won't say this but I will. One of the best baseball dudes in the country. And that says a lot because I know hundreds from high school to the pros. He is one of the best. Just love the guy for who he is, and what he represents." – Joel Karakaedos