Martinez Baseball Academy – Pro Vision – Performance Training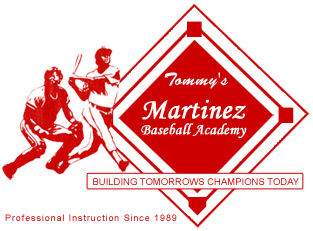 Pro Baseball Lessons
Tommy's Martinez Baseball Academy has instructed hundreds of baseball players, most of whom have gone on to play college baseball, many have gone on to play pro, and all have become stronger, more athletic, smarter and more skilled at the game.
Tommy's Motto
'Whether you believe you can or you can't, you're right!'
Do you believe you can?
The Field of Dreams
Tommy's Martinez Baseball Academy runs out of the home of Tommy Martinez, who has built a real-life field of dreams in his backyard. He has a miniature baseball field complete with lights and dugouts, he has a large batting cage area, and a large grass field to accommodate all training activities.
Because there is no charge for the facilities The Martinez Baseball Academy is able to charge the lowest prices for lessons in the tri-county area.
Getting pro quality training doesn't have to break the budget!
Lessons can be taken in a class or one on one. There are many options available and the best thing you can do is call right now and find out how Tommy's Martinez Baseball Academy can get you to the next level.
For Serious Prospects Only
Although all aged players are welcome and encouraged to train at the Martinez Baseball Academy, only players who are serious about becoming better at the game are accepted as students.
Call Now to Schedule an Appointment or to Find Out More!
Call Tommy - 954-496-5815
Call Blake - 954-496-5816