District 7A-15 Preview: Same Story, Different Year
This district should come down to the two same teams fighting for all the marbles.
Monarch had the upper hand over Northeast last year, winning all three of their meetings, including the district championship. Northeast is determined to fare better this year.
Here is a preview of what to expect from the district competitors this season.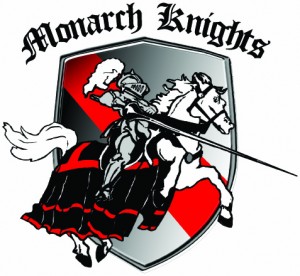 MONARCH KNIGHTS
2012 Record: 19-5
Head Coach: Joe Franco
Key Returners: Nick Alonzo (Jr. 1B/P), Gino Poliandro (Sr. IF), Andy Rohloff (Jr. OF/P), Nick Ritornato (Jr. IF), T Wine (Sr. C), Anthony Moralez (Sr. OF/P), Tyler Fonseca (Sr. UTL), Trot Brannen (St. IF/P).
Newcomers to Watch: Joey Ruhare (Fr. OF), Matt Rumpf (Fr. OF/P), Matt Bumgardner (Jr. OF), Brennan Bosworth (Jr. 1B/P), Matt Evans (So. C), Joey Gerber (So. UTL/P), Nick Taylor (So. IF), Rafael Tardi (So. OF).
Team Strengths: Pitching, defense, team speed
Team Weaknesses: Inexperience in the lineup, power hitting
Something people not around your program need to know about your team…
"Monarch baseball players are hard-working, blue-collar types of kids who love to play the game the right way and really understand the importance of being a well-rounded student-athlete. The players know how important it is to get involved in the community, which is why every year, we help distribute food to people in need at a local food share program in Coral Springs. They understand the importance of doing well in the classroom and the importance of working hard at everything they do."
Monarch enjoyed its best season in school history last year, going 19-5. The Knights won the District 7A-15 title and advanced to the regional semifinal, losing to perennial powerhouse Nova.
A senior-laden team and pitcher who won 10 games were the keys to success for the Knights. With those seniors gone, Monarch finds itself looking to its younger players this year who have been waiting in the wings for their time to shine.
"Last season, we had a lot of senior leadership," Monarch coach Joe Franco said. "This year, we graduated eight seniors, five of those were starters, and we lost a couple of other kids going to other schools. We basically have a lot of kids who were primarily backups last year coming in, and if they do what they gotta do, they can get a chance to start."
Among the seniors who graduated were pitchers Andrew Pierson and David Webb.
Pierson was the team's ace, throwing 67 innings and going 10-3 with 72 strikeouts and a 1.57 ERA. Webb went just 2-1, but he threw 31.1 innings and struck out 49 while posting a 1.34 ERA.
Continue reading…



NORTHEAST HURRICANES
2012 Record: 9-13
Head Coach: Kevin Carney
Key Returners: Ralph Morel, Carlos Perez, DJ Kelly, Mike Grosfield, Eduardo Uriarte, Vince Duarte
Newcomers to Watch: Nehymiah Neuman, Abrailis Jimenez
Team Strengths: Team speed, pitching, defense
Team Weaknesses:
Something people not around your program need to know about your team…
"We have a tremendous amount of diversity represented in our program and its something we are very proud of."
Northeast lost its best player overall from last year among some other seniors who graduated, but talk to the players and coaches here and you'll find an air of confidence about the upcoming season.
The Hurricanes, who went 9-13 last year, saw the departure of Corey Korenic, their ace and top hitter. Korenic won just two of his seven starts, but he struck out 58 in 40 innings and posted a .398 average, scoring a team-leading 17 times and driving in 21, second-most on the team.
"That's a guy you can't really replace when you've got an ace arm like that," Hurricanes manager Kevin Carney said. "What we have this year are three guys who we feel will be able to step up, and them combined we'll make up for Corey hopefully."
The team's number three from last year, Eduardo Uriarte, leads the returning pitchers. He struck out 24 in 30 innings while going 2-1 with a 3.27 ERA. He also was the team's second-best hitter with a .358 average.
"We really expect a lot out of him this year both from a defensive standpoint at short stop and offensively in the first three holes, and he's going to be able to contribute on the mound," Carney said.
Continue reading…

No information given from Boyd Anderson and Coconut Creek.