District 2A-13 Preview: A Two-Horse Race
Although the district also includes Posnack, District 2A-13 clearly is a two-horse race.
Zion Lutheran pulverized Sheridan in three meetings last year before the Sharks shocked the Lions in the regional semifinal. Lessons have been learned.
Here is a preview of what to expect from the district competitors this season.



ZION LUTHERAN LIONS
2012 Record: 15-8
Head Coach: Mike Dobre
Key Returners: John Mendez (C/IF), Nick Vazquez (IF/OF), Blayne Baker (P/OF), Alex Ernestine (P/1B), Bobby Barradas (P/OF), JR Meneses (3B/2B), Michael Rand (P/C/OF), Manny Rojas (IF/OF)
Newcomers to Watch: Elijah Rodriguez (IF/OF), Cole Conn (OF), Ben Mathiot (IF)
Team Strengths: Pitching, defense
Team Weaknesses: Depth
Our season will be a success if….
"…we have to play as a team and everyone has to play to there
abilities."
New Zion Lutheran Manager Mike Dobre said he's optimistic about his team this season.
"I'm really excited about this year," Dobre said. "We're real solid at every position and have some depth on the mound."
The Lions return several players and will be solid in all phases of the game, Dobre said.
Dobre expects 6-foot-4 lefty Alex Ernestine to be the team's ace. Last season, he went 2-2 and struck out 30 with a 2.91 ERA in 21.2 innings. Dobre said he has "come along from last year" and throws three pitches for strikes. Behind him in the rotation are Blayne Baker and Bobby Barradas.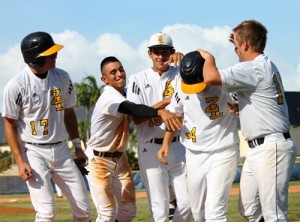 Dobre said the team hit well last year, "but we're going to do way better this year."
One area the team has to maintain as it is now is in the team chemistry aspect.
"We have to stay together as a team, everyone do their job, get bunts down, sacrifice and play as a team," Dobre said.
Zion ruled the district last year, outscoring Sheridan Hills 38-5 over three games before the Sharks came back to bite them in the regional semifinal, where they won 6-3 in what arguably was the biggest upset of the season in Broward.
"We learned never to underestimate an opponent. Any team can beat any team," said Dobre, whose father, John, is an assistant coach with him along with Alex Pepe.
Dobre said his team needs to play every game as if it were the state championship.
Zion team is loaded with juniors and seniors whom Dobre said could play at the next level.
A noticeable loss for Zion this year is that of Eric Hepple, who transferred to Coral Springs Christian.




SHERIDAN HILLS SHARKS
2012 Record: 12-14
Head Coach: Tim Talpesh
Key Returners: Thomas Davis, Jorge Hernandez, Jason Ketcherside, Marquis Rodriguez, Kyle Haskell, Eric Morla
Newcomers to Watch: Will Marsh, Seth Sarmento, Joncarlo Cintron, Jordan Hernandez, Rodrigo Alva, Dylan Leblanc, Hunter Boyle, Caleb Wilson, Jeremy Escobar
Team Strengths: Great chemistry and athleticism
Team Weaknesses: Youth and inexperience
Something people not around your program need to know about your team?
"Our team tries to represent our faith and beliefs above all else,
especially above winning. We feel that if we represent the Lord well
then we have something way greater than a team of individuals, but
instead we have the favor of the Lord on our side."
No information received from Posnack.