North Broward Uses Big First Inning To Top University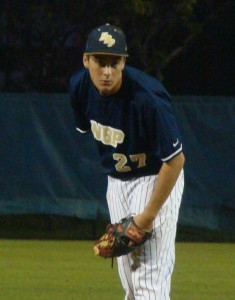 Teams can live or die by the big inning.
North Broward Prep made the most of a fast start Wednesday night, parlaying a four-run lead in the top of the first into a 5-4 win over top-seeded University School in a 4A-13 semifinal at Broward College.
The Eagles advance to play Coral Springs Charter in today's 3:30 p.m. championship.
A hit, error and walk loaded the bases in the top of the first for North Broward. Drew Rangel followed with an RBI single, and Chad Fleischman delivered a two-run single before Jake Emery's RBI single brought in Rangel.
"We wanted to establish our presence in the game early," Eagles Manager Brian Campbell said. "We knew they had a good arm going on the mound, so we just tried to be patient and pick out good pitches, and it ended up working out. We played a little small-ball, trying to put a little pressure on them, and it worked. Those things that you practice all year long you finally get to do, and the guys executed early, so it was good."
Fleischman explained the team's plan to come ahead early.
"We were prepared to get a jump on Mike White," Fleischman said. "We were ready to see him. We knew what he was coming with. We saw him earlier in the year, and we were just ready to hit. We came out with a lot of energy. Words can't describe. We came out hit and after hit. We kept going. We believed. We believed we could upset this number one team. We knew we could beat them. We had close games with them all year. Jumping on them early really pinched them from the start."
North Broward took the four-run lead into the third before University broke through with a pair of runs. Andrew Denis singled and scored on a passed ball at first base, and White singled and scored on Evan Klugerman's single.
Fleischman scored on an error to extend North Broward's lead in the fourth before University rallied for two runs in the bottom of the inning. Brendan and Evan McKenndry scored to make it a 5-4 game.
The Eagles complemented their approach at the plate with the side-arm pitching of Mike Surdis and Will Simpson, both of whom converted into side-armers this year.
"I can't give those guys enough credit to reinventing themselves and committing to something and getting pretty good at it," Campbell said. "Our team is confident with those guys on the mound. We know they're going to pitch to contact and we have to make plays behind them. They won that game for us with their pitching I think."
Campbell said the focus now will turn to preparing for Coral Springs Charter.
"They don't get any easier at this point. Every team is hard," Campbell said. "We're playing with house money. We're not happy to just to be in the district championship. We want to win it, but at this point, we haven't really thought about it."
Fleischman believes his team has a good chance to do well in today's championship. He said the team is a "band of brothers" who have the chemistry needed to succeed.
Surdis, meanwhile, said he's reaching goals he set.
"I came out here expecting the best out of myself," Surdis said. "I wanted to push myself as hard as I can. This year was one of my biggest years for baseball. Last three years weren't as much as this year. I've really grown on this team, and this team has grown on me as well. We're a bunch of brothers. They've changed me. Tonight we were the underdog and we came out on top, and I feel like I've been exonerated off Death Row."
While North Broward and Coral Springs Charter play on, University School will try to regroup. Manager Eddie Tisdale explained how the Eagles got to them.
"We come out in the first inning, Mike's got good stuff. He misses on just a few locations. We were trying to locate an inside fastball. I think it was on Nathanson. We leave it out over the plate. Good hitter, gets a base hit. We walk a guy, we make an error, we give up another hit and the next thing you know, they hang four on us. Good ball club, they're going to do that. You make errors and give them outs, they're going to make you pay. We knew going into the ballclub they're good. It's no secret. Their record is not indicative of how talented they are."