Sunday Morning Chat: Coral Springs' Frank Bumbales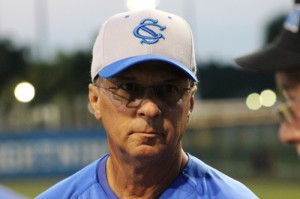 Twenty-two years ago, HSBN's Anthony Uttariello stepped on the field at Coral Springs High School as a senior. That was also the first year Manager Frank Bumbales would be at the helm for the Colts. Now, over two decades later, Bumbales is still managing at Coral Springs. This week, he sat down with Anthony to reminisce, while also looking to the future. Enjoy!
Anthony: Alright, well obviously we go way back to the beginning for you, being you coached me in your first year as manager back in 1992. It's been a long time since then. Looking back on your journey the past twenty-two years, what are some of the things that stand out to you?
Coach Bumbales: I have a lot of highlights. The first team ever was really an experience. Just dealing with the numbers we had, and dealing with guys we had. We had, you obviously, one of the top players in the county. We also had Mark Williams, who was a fourth round draft choice by the Cardinals. It was a treat. It was a treat and it was an experience. Every game having twenty to thirty pro-scouts wanting rosters and everything else that they were wanting. They wanted to see extra reps. It was all fun. That was real enjoyable. Then we had that team that went back-to-back-to-back, district championships. That was fun. Having my son on that team was a lot of fun. Watching those guys play everyday. It was enjoyable to see a team like that, that had pretty much every aspect of the game covered. We had speed, we had power, we had good defense and we had pitching. The team was pretty good and it was fun to watch them for four years.
Anthony: Every coach evolves as the years go on. Give me some of the ways your coaching style has changed from when you first started to now.
Coach Bumbales: Well when I first started I was pretty much the whole thing. I had to coach everything. I only had one assistant and sometimes he didn't show up, so I had to do everything. Defense, pitching, hitting, it was almost a one-man show as far as coaching goes. The team has always been number one. The players are always number one. I don't, at any time try to take away from the players. I'm not the show. I just try to get the best, the most out of them. So back then it was all me by myself trying to get everything out. Calling pitches, I'm setting defenses. I'm doing everything pretty much by myself.
But then as the years went on I started getting coaches coming in. I was very fortunate to be able to get my coaches full-time jobs at the school, whether it be security, or teaching jobs. Then we started getting more coaches in. We got pretty much specialized. I was able to have a pitching coach. I was able to have a hitting coach. I was able to have a JV coach with assistants.
Now it's where we've got a catching coach, a pitching coach, a defense coach, I've got extra guys just for throwing BP. It's evolved into quite a situation where it's nice to have all the help. The kids get a lot of attention and this is the way it should be. High school programs are getting kids ready for either college, professional, or just the real life, the real world. We're here, we're trying to teach these kids discipline and punctuality. So it's a lot more fun this way, I don't have to do all the work. And the guys that I've got working with me, they're all really good guys. I've got some great coaches. I've got one coach who won a state championship up in NY coaching my JV. I have another coach who has come aboard this year, my catching coach, that's got 400 wins. I've got another coach that's teaching in the school. He takes care of all the discipline and stuff in school and keeps me aware of what's going on in there. So it's all-good. The kids benefit from it and like I said, it's not just about baseball, it's about the real life. Teach them punctuality, teach them discipline, teaching them how to work together as a team.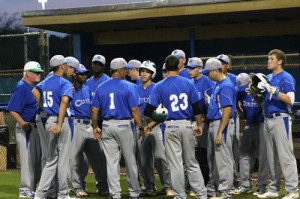 Anthony: You've had a lot of your former players go on to become coaches. Some of them even managers. How rewarding is that for you?
Coach Bumbales: It really makes me proud. Just to be able to know that I gave them the feeling that this is an enjoyable job and it's something that they would like to do in helping kids out just like I am trying to do. It's really heartwarming to know that I was able to get guys to realize that this is quite an honor to be a coach.
Anthony: Give me the one time you went home from a game and second guessed yourself and thought, man I really screwed that one up.
Coach Bumbales: [laughing] That's happened more than once! Oh…yeah, well you know, it happened just last year actually. And I'm not taking away from the guy that started the game for me, but I had a stud pitcher, he was the Pitcher of the Year in the district, and he moved on to play college ball, and I had him on the bench. I started my number two guy against Piper in the district playoffs and I had my ace on the bench. That was one big one that I got home and I said, "Why did I do that, when I had my ace on the bench?"
Anthony: When you first started, you talked about this before, you were like most young coaches try to handle all the different areas of the game yourself and over the years you learn to delegate the responsibilities to your assistants and become more of the president of the program. How important is that to success?
Coach Bumbales: That is probably THE key to success. A coach who surrounds himself with good assistants is going to get more out of a team then if you try and do everything by yourself. By yourself you don't see everything. If you've got a lot of guys that have coached and good experience in coaching and are quality coaches They're going to be able to see things that you may not see. And they're going to be able to come up with ideas and things that can help our players. I don't know everything, there is no way that I know everything in baseball, nobody knows everything. But you've got coaches that know different aspects of the game, and they might know something that you don't. And if you put it all together it makes for a better experience for the team itself and also the team's going to learn from it, and they're going to be a better team because of it.
Anthony: You retired a few years ago from teaching but you still coach, why? What brings you back here year after year?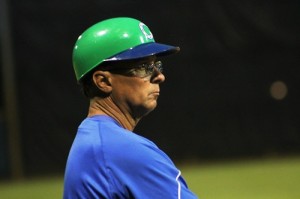 Coach Bumbales: The love of coaching. Major league coaches coach until the game passes them by, or they just don't have the energy to coach anymore. I've still got a lot of energy and I enjoy being out on the field. I enjoy working with the kids. When I was teaching you have to deal with the kids that are given to you in class. When you're coaching, you deal with the kids that you want to work with. These kids come out, and if they're going to be a problem, then you eliminate them. Besides, I don't fish, I'm not very good at golf, so this is pretty much what I like to do.
Anthony: (Laughing)…You're one of the coaches that had the opportunity to coach their son. Tell me about that experience.
Coach Bumbales: That was quite an experience. Fortunately for me he was a pitcher only. So he didn't have to get in the lineup every game. Fortunately for me he was a left-handed pitcher, which we only had a couple of. And you can always use a left-handed pitcher. He was ok, he did alright for himself. He's still pitching today, in college at Florida Memorial. Not too many guys can say that they're playing on a college baseball team. He's enjoying life, and he enjoyed it back then also. He played his part. He didn't ask for more than he was given. His role, was his role. He was a good pitcher, at the time he wasn't a top pitcher, so when his number was called, he came on out and did the job. I was really proud of him, actually he has a school record, he has two no-hitters. And he's the only person in the history of the school who has thrown two no-hitters in his career.
Anthony: What's a specific situation where a player so far exceeded your expectations that you were in awe. Talking about player who became something that even you didn't think was possible when he started.
Coach Bumbales: That's a tough one…there's a lot of guys. I can't pinpoint one guy, but there were a lot of guys throughout the years that as freshman, I wondered what their role was going to be. But as they evolved, we were able to bring their level of play up. You've got to remember this, everybody…well, almost everybody, gets better throughout the years if they work at it. If they don't work at it, they're not going to get any better. Like I said, I can't really specifically pinpoint one guy or another guy. But I've had quite a few guys as freshmen that just were average JV guys, and by the time they were juniors and seniors they evolved to starters on varsity.
Anthony: Describe the greatest play you've every seen, either by someone on your team or on another team.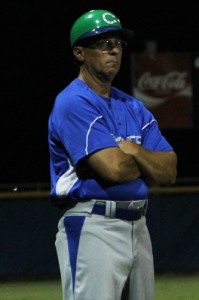 Coach Bumbales: Greatest play I've ever seen…the kid's name was Carlos Vazquez. This kid could really fly. We're playing in the championship game against Monarch in our first Pitch Classic. There was this ball, there was a runner at second base, actually first and second. We were up by one run, there was one out in the top of the seventh inning and there was a ball hit into the left-center field gap that looked like it was a for sure hit. Because of this guy's speed he was able to run the ball down, make a basket catch going toward the fence. He came from center field going toward the fence and not only did he make the catch, but in the same motion, spun and threw a one-hopper to second base and doubled up the runner. That ended the game.
Anthony: Wow! OK, moving on. What's the biggest regret of your coaching career?
Coach Bumbales: I have no regrets. I don't regret anything. It's been a very good run. I've had support from parents, administration, players, and it's all been good. I can't really give any negatives because it has all been so good. I look out here today and we've got all these guys working together. I tell them what to do and they get it done.
Anthony: What's going to come first, your retirement, or your death?
Coach Bumbales: [laughing] Ahhhh, that's a good question. That's a good question. I feel so good right now, I feel like I could keep going forever and I've got so much support right now that, this is fun. It's fun. What's going to come first is when it stops being fun, I'm going to quit. But until then, I'm just going to keep going until I, [laughing] until I can't do it anymore.
Anthony: Alright, last one. When you finally call it quits, what do you want your legacy to be? In other words, when people think about Frank Bumbales what do you hope they'll remember?
Coach Bumbales: Just the fact that I was able to get as much as I could get out of every one of my players and make them into successful adults. As of right now I think I'm doing pretty good at that, and I want people to remember me for what I've done for the kids and for the program here at Coral Springs High School.
Anthony: Alright, thank you, and good luck the rest of the season.
Coach Bumbales: Thank you.