7A-15 District Tournament Preview
Host: Nova
Schedule:
Monday April 21st
7:00 PM (5) Hollywood Hills vs. (4) Plantation
Tuesday April 22nd
4:00 PM (3) South Broward vs. (2) Nova
7:00 PM Hollywood Hills/Plantation winner vs. (1) St. Thomas Aquinas
Thursday April 24th
7:00 PM Championship: Semifinal winners
Full Stats for 7A-15 can be found on the 7A-15 Stats Page!
Overview – Any true baseball sadist is rooting for the favorites in this district. That scenario would set up the next meeting in the long storied rivalry between St. Thomas Aquinas and Nova. The two squads have battled to one-run decisions in both meetings this season, but the Raiders continued their current winning streak by taking both games. For there to be a third time it would mean they would meet in another district championship, with a regional berth clinched that could also set up a fourth meeting down the road.
For the Titans to get there they must first get past a South Broward club with two proven veteran hurlers in Kenny Rasor and Mike Cohick. The Bulldogs always give the Titans everything they can handle, and they are ready for the next chapter in their storied history together. Meanwhile, the Raiders will await the winner of Hollywood Hills and Plantation.
The road to the state tournament in Class 7A has typically come through this district, and that trend will likely continue this season.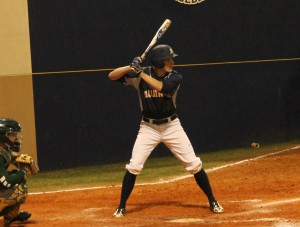 1. St. Thomas Aquinas – Raiders Manager Troy Cameron has yet to lose to their big rival in the Titans, going 6-0 to start his coaching career at his alma mater. If things follow according to the seeding, the two clubs will meet again in the district championship. There is no doubt that Cameron is rooting for the Bulldogs in the district semifinals, after two close nailbiters during the regular season.
Just recently the Raiders grabbed a big 1-0 victory in an eight-inning battle to lock up the top seed in the district. Had things gone any different in that game, the Raiders might have been the ones playing South Broward. It is not easy to beat a good team three times, or even four times, but that is what the Raiders just might face.
"It's pretty comfortable to get the position to be the home team," said Raiders catcher Teddy Meissner. "But we'd like to beat them a little better the next time. It was a little close there."
Meissner is a part of an electric offense that features a lot of pop and tons of speed. The team has gotten production up and down the order, starting from leadoff man Gary Mattis right down to nine-hole hitter Juwuan Harris. The Raiders run at will and are tough to stop, and they have an equally lethal pitching staff led by Christian Demby, Nick Marchese and Jordan Spicer, and a proven closer in Kevin Balfour.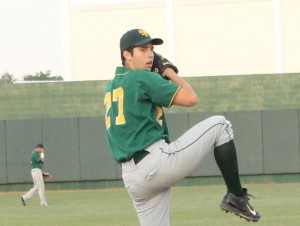 2. Nova – The Titans know that they can contend for another district title this season. Nova fell just short in two tight and exciting contests against rival St. Thomas this year, losing by one run both times for its only two district losses on the year. It is a rivalry that does not need anything at stake for it to be a big and competitive game, and when there are things at stake it raises the level of play even higher.
But the Titans know they must first take care of business against the Bulldogs if they want another chance to face the Raiders.
"We have to go beat South Broward so we can get another chance at St. Thomas. That's the reality of it now," Nova Manager Pat McQuaid said following their second meeting with the Raiders, a loss that came in extra innings in a 1-0 decision.
Nova handled South Broward during the regular season, and has gone 6-1 over the last three years against them.
Leading the Titans this year has been senior left-hander Nick Martinez, who has been as good as any pitcher in the county this season. The southpaw has toed the rubber for the majority of the team's district games and is the perfect compliment to counter against Cohick and Rasor. Martinez leads the club in innings pitched and strikeouts, and went 6-2 this year.
Pitching has been a dominant force for Nova. Louis Pugliese has been a solid right-hander to compliment Martinez, leading the team with a 0.38 ERA and an 8-0 record. Vince Coletti has been the primary reliever for the squad, with an ERA just under 1.00 while also averaging more than a strikeout per inning.
The offense has also gotten the job done this season, with nearly every starter hitting over .300 for the year. Leading the way has been senior shortstop Kyle Pangallo and senior third baseman Cole Habig, the Titans top two run producers who combined for almost 40 RBIs this year.
Nova has a long and storied history of success, and the current roster is made up of a group of guys who have played together for several years now. Their experience and drive for a championship could prove to be the extra bit of magic they need to hoist another district championship trophy when it's all said and done.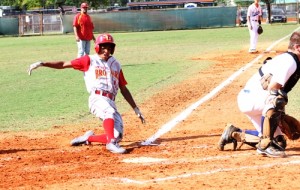 3. South Broward – Kenny Rasor and Mike Cohick give the Bulldogs every chance to win this big game. The two senior hurlers have been the core of the club, eating up most of the innings on the mound and being workhorses for their team. Now they must deliver their best game of the year as they look to upset the Titans and stamp their way into the district championship.
"We're going to go as far as Kenny and Mike go," admitted Bulldogs Manager Joe Giummule. "Their arms are very healthy and they are guys we feel confident can go deep innings."
Depth has been somewhat of an issue for South Broward this year, which has forced the starters to give them everything they have. The team has shown plenty of character and determination, and the veterans on the team have done their part to be leaders both vocally and in their performance on the field.
Although the team has a lot of senior members, the majority of them will be starting for the first time in the playoffs. They will look to lean on their two studs on the mound, as well as towards other veterans such as Sonny Tusa and James McDonnell. Another leader for the Bulldogs has been senior infielder Dalton Harbinson, who has manned the hot spot at third base while also taking on the leadership reins by being vocal and supportive teammate.
One of the big strengths for the Bulldogs is their self-awareness. The team knows what they do well and they know where they have to work harder to improve. Rather than make excuses or try to shy away from living up to their identity, it is a squad that understands who they are and how they must play in order to win. Bulldogs baseball is a gritty and scrappy style of play, fundamental baseball that earns everything through hard work and tons of determination.
"We have to be fighting up there at the plate, going deep into counts and making pitchers work and make them fight harder than we are," said Harbinson. "We have to try to get up there and control what they're throwing to us by being smart and not chasing anything. We're going to be a team that goes gap to gap, has sac bunts and sac flies. We're going to play some Lenny Koch old-school baseball here."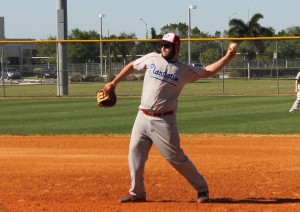 4. Plantation – It would be a nice story for the Colonels to survive their tie-breaker play-in game with the Spartans and make the district playoffs under new Manager Manny Aguilar. The two clubs split the regular-season series, with each side walking off to victory on their home field. Both sides have given each other all that they can handle, and it led to two very exciting and competitive ball games.
"It's going to be a dogfight," said Aguilar. "So far we mach up well against Hollywood Hills and hopefully we take it to them. We haven't swung the bats in our last few games but our defense has kept us in it."
The defense has helped to take the pressure off a young pitching staff that is still coming along at the varsity level. The Colonels have pitched to contact and relied on the defense to make the plays, and more often than not they have done just that.
Freshman Sam Gonzalez has slowly grown into the main role on the hill for Plantation. The right-hander led the club with three victories, while also logging the most innings, strikeouts and complete-games on the staff.
While Gonzalez has been a big piece to the rotation, the club would be nowhere if not for the leadership from its lone senior Matt Costa. The shortstop has gotten on base nearly half the time he has come to the plate this season, leading the team in runs while providing mentorship and encouragement to the young roster.
Also stepping up to lead the offense has been Jonathan Coval, who led the Colonels with a .340 bating average, 12 RBIS, five doubles, a triple and two home runs. Orlando Falls and Jeremy Bishop both also batted over .300 for the year and have evolved into big pieces of the offensive unit.
Plantation cycled through two other managers this offseason before Aguilar came aboard to provide stability and enthusiasm to the club. The Colonels won their first district game in years this season when they edged Hollywood Hills, and now they have a chance to win their first district playoff game under their new fiery manager if they can take the rubber match as well.
5. Hollywood Hills – The Spartans have put together a quality campaign this year. While certainly the club would have preferred to grab a few more victories, they played a tough schedule this year and they have managed to stay competitive in most of those games. After the team graduated a few of their core players from 2013, the group came together to play as a team and follow the design of their Manager Charlie Cardinale.
"It was good to see these young guys with that type of fight," said Cardinale. "As the season goes on, we just want to keep seeing progress. Every day is a learning process for these guys."
When Cardinale first took over a few years ago, he inherited a squad that struggled with the basic fundamentals. This year was a great testament to just how far they have come, as the team has been both accountable and consistent all year long. Guys have played with passion and fire and they have bought into the approach.
The biggest area of improvement for the club is on the mound, where the tea lowered their overall ERA by nearly two runs from a season ago. Leading the staff has been right-hander Jordan Hill, who posted a 2.97 ERA while averaging nearly a strikeout per inning. Hill has had the ball in his hand for all their biggest games, and now he is in line to toe the rubber for the biggest contest of his career.
The Spartans have swung the bat well. Shortstop Danny Pena has done his part by leading the team in runs scored, as he excelled at getting on and then getting in this season. Jordan Maldanado emerged this year to lead the club in batting, RBIs and extra-base hits. The Spartans have also gotten nice production from D'Andre Diaz, Stephan Richards and catcher Nolan Boerner.