Deerfield Beach Coming Together For A Bounce-Back Year
The Deerfield Beach baseball team has plenty of guys on its roster that can play the game at a high level. For the team to compete in the district chase, the club needs the individuals to come together as one unit. With the right mix of leadership and work ethic being set by the veteran players, this fall season has seen them unite as they must and work towards becoming the team they know they can be.
The Bucks managed just four wins a year ago, and have won just one of 20 district contests over the past two seasons. Yet the current group of players are ready to put that behind them and start to make some noise in 11-8A this season. The squad knows it is much closer to where it wants to be then it may seem on paper, and only through hard work will the team turn that corner and compete for the district crown.
"We lost nine games by one run last year, 12 by two or less. So the bats are going to have to come through," senior Kyle Miller said. "Our big thing is our offensive maturity; if we can continue to mature as an offensive baseball team the sky is the limit for this team. If we score two extra runs a game last year we would have had ten more wins, and that would be the best season this team has had here in a real long time."
Miller is one of the most tenured players on the roster, and also leads a very seasoned pitching staff this season. The senior hurler has done his best to set the right example to the younger guys on the team, trying to assume a leadership role that is desperately needed. As a four-year starter who has seen his workload increase every year, Miller has earned his spot as a core member of the rotation and batting order. Now he wants to make sure to help pave that same path for the guys who will follow after he is gone.
"When I was a freshman we had a lot of talent on the team and they had the ability to go out there and do what they needed to do," Miller said. "They showed me and molded me as a freshman, and I just want to give the same example to the freshmen now. I just don't want to leave a mark on them where they say 'Oh, that kid never did anything for me, or that senior wasn't what I wanted to be'. I want them to aspire to work as hard as I do."
With a solid fastball and a calm demeanor, Miller has worked his way into the front of the rotation while also drawing plenty of interest from college scouts. The front of the rotation features two more seniors in Cezzane Omar and Matthew Simons, who split the bulk of the innings last year while putting up impressive individual numbers. Junior right-handers Zachary Dill and Dalton Williams are also coming into their own on the mound, giving the Bucks the sort of depth that helps to take the pressure off each individual. The collection of arms all share the same smooth demeanor that works wonders in giving the entire team an extra boost of confidence.
"We've got a very deep staff and everyone knows what they are doing out there on the mound," said junior Kyle Galinet, another hurler who has transferred to the team from Highlands Christian. "Then we've got a pretty decent defense behind us and that obviously helps too. It really helps knowing you have the confidence that you can get a ground ball and definitely get an out."
Kyle Galinet and teammate Donny Vlahakis both came over from the Knights program this year, and both also figure to earn a role within the deep pitching staff. As a unit the pitchers enjoy the strength in their numbers, and the open competition between them is working to make all of them better as a whole.
Kyle Galinet appreciates how much he has been welcomed by his new teammates. The older guys are setting a great example and he has focused on watching how they work and prepare and trying to model himself after them. Everyone is working to learn from their mistakes so they can improve their game, and the veterans on the club are offering a helpful hand to make this process that much easier for everyone.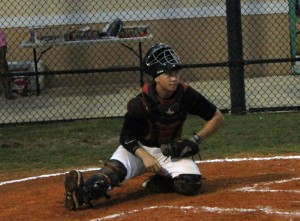 "I like being the new kid on the team," Kyle Galinet said. "It helped in making friends and getting used to being in a new school and getting used to a new routine over here after coming from Highlands. The team chemistry is great. We have some young talent and we should look good in the future."
While the team gains plenty of confidence from its pitching staff, each guy understands that the offense must improve as well. The Bucks return two-thirds of the batting order from a season ago, and they are anxious to show how far they have come with the bats this year. The hitters are a year older, a year bigger and have another year of experience under their belts. Senior outfielder Chris Thomas was the leading hitter on the club last season, and he will anchor the middle of the order along with veterans like Dalton Williams, Miller and Rafael Santos.
Each member of the offense is making strides to pull their weight in the batting order. The club realizes that they were much closer than it may have appeared last year, and they are hoping the extra work this fall will help them turn that corner in the season ahead. Guys like John Barnwell, Trent Youstin, Matthew Snyder, George Edmunds, Conor Kelly and Alfonso Sosa have all begun to find their stroke this fall, and each is battling to earn a key role in the lineup.
"We only really lost one primary starter last year, and we are replacing him with a great defensive shortstop. So as a unit we didn't really lose anybody," Miller said. "We got a couple of transfers in from Highlands Christian, guys on the mound. It's a long spring season and you need all the depth you can get on the mound, so that will definitely help us out."