Fort Lauderdale Coming Together To Defend District Title
Longtime Fort Lauderdale Manager Terry Portice cannot help but feel pride and appreciation at what his team accomplished last season. Coming together at the right time to play a great baseball game when it mattered the most, the team won the district championship last year with a thrilling 1-0 victory over Monarch. It is the program's third district title, and as a result the current club that now dons the Flying L's jersey has a chance to go out and defend this crown.
The achievement deserves its credit due, and is something that Portice reflects upon fondly. Last year's team had graduated all but two starters and entered the year with plenty of uncertainty. That August Portice challenged the guys to step up and leave their own legacy behind, and they responded exactly how any coach could hope they would. Reflecting back on that squad helps the Lauderdale skipper to have the same faith in a group this year that so closely resembles that previous collection of players.
"We only return two starters again this year, but we're much younger this year than we had been the past two years. I only have five seniors, only one four-year player," Portice said. "What I really like here is that the kids have always battled and they never have taken it for granted. They have come out and busted their hump every year for me. They understand who came before them and that they represent them as well; and that they do things that represent the program with some pride and character."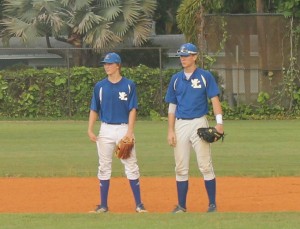 The Flying L's program is universally regarded for its class and reverence for the game of baseball. The team holds strong to the standard to maintain the same standard regardless of a win or a loss, and players are taught to hold the game to the highest regard. The team succeeds by executing the fundamentals and doing all the little details the right way.
"I really don't like the term 'small-ball'. To me that's just excellent baseball," Portice explained. "Base hit, bunt, steal third and then a sacrifice fly to score; that's baseball. The idea is to be successful, and I think that is the best way for us to be successful because we don't have a lot of guys that drive the ball for power. We've never really had big home run hitters here. I'm a firm believer that it is the little things that win games anyway, both offensively and defensively. So we need to do all those things right, all the small things. The hit-and-run, the hit behind the runner, the sacrifice; all those things we need to do well to be successful."
As a unit the club returns very little varsity experience. Senior Reese Blankenship is the team's lone four-year starter, and Portice is counting on his oldest veteran to take charge and step forward to lead the team. After serving as the primary backstop last season, Blankenship has moved back to his natural position at shortstop this season. Portice feels the team's best player should typically be the shortstop, and Blankenship admits he feels more confident playing there. Blankenship likes to be moving the whole time and be in on so many of the plays.
Equally important as his play on the field will be the leadership role he takes on in the clubhouse. So many of the guys on the roster are still learning what it means to play Flying L baseball, and the best way to learn is to have the veterans there to show them by example.
"First it starts off with attendance; you've got be here everyday with your team," Blankenship said. "The biggest thing is respect. If your team respects you then they will do what you say. You've just got to show them what to do and lead by example. You've got to do it first. Your attitude and your hustle everyday at practice is what will show in the games for us. Our teamwork in general is just always 100%."
Another area where the club has always leaned for leadership comes in the lead pitching position. Fort Lauderdale has been blessed over the past several years to pass a legacy through the pitching staff thanks to leaders such as Brad Smith and Matt Freeman, and this season the torch figures to be passed along to junior Daniel Silva. The hurler is a very vocal and passionate ball player, a bulldog who wants the baseball and who doesn't care who is facing. Portice appreciates that whenever Silva is out there on the mound he is going to give his team his very best stuff, and when he doesn't have his best stuff he will make it look like he still does.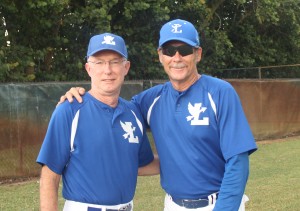 "When I get up there all I care about is pounding the zone and getting every one of them out," Silva said. "I don't care who you are and what school you play for, I am going after you. I just want to win. I think it's not more that I have confidence in myself, but more that I have confidence in my team. I know that if pound the zone and get ground balls and fly balls my team behind me is going to make all the plays. It's a team effort."
Silva saw plenty of action last season, and Portice admits that his record was no indication of how well he pitched for the team. He showed his team that he has the type of talent, composure and gusto to lead the team into battle for their biggest games. Just like the guys before him, Silva figures to get the ball for all the team's big district games. Silva learned from those before him, and he has earned the right to cement his place in that Flying L honor roll.
"It's hard losing guys like Brad Smith and Matt Freeman, because you look up to them," Silva said. "I just have to be the role model for everybody else on our pitching staff this year, and I have to go out there every game and every pitch and prove that I'm the number one on this staff."
The majority of the spots on the field behind the mound are still being figured out. Veterans like Hassan Westbrook and Ty Kublickis figure to anchor the outfield, while Trevor Jones moves over to second base to shore up the middle infield. Three different sophomores are all competing for the team's backstop position, and Portice says the job will go to whoever is going to hustle for them and do the best job. Whoever that is, they're going to live and die with him and do whatever they have to get him in the best spot to be successful.
"I have been blessed to have that type of ball player here who gives me everything they've got," Portice said. "We don't have a lot of first-team All County guys, but we've got a lot of first-team All Character guys. They come out and bust their hump for me and the program and they represent the program and the school and the community with character. I think that's hugely important in this day and age to have character young men that represent your program and not just skilled young men."
Another key to upholding the standards for this program comes in the unity and cohesion within the coaching staff. The Flying L's return their entire staff this year, which includes Dale Geisler, Bill Prescott and Tony Curry. Coach Portice appreciates that his staff does an incredible job for him and he is very proud to take the field every day with them alongside him.
The chance to defend a district title is something the Flying L's regard with great pride. The veterans know how hard they worked to earn that banner, and they know how badly they want to have that feeling again this season.
"It's nice to be in that position because we're not always in that position. I'd always rather be the hunted then go hunting," Portice said. "You've got to go back at it again. We started in August again and we work towards the same goal every year. That should be your goal is to win that district first and then move from there. We're just working on getting some things together right now and seeing who can do what. Hopefully by February we'll have part of it figured out, and by the end of April we'll have all of it figured out."