We Family First At Plantation
They want to play baseball here at Plantation now.
When Colonels Manager Manny Aguilar first took over the program less than a year ago, the team was on its fourth manager in a year and was also coming off a challenging two-win season. Baseball had changed, and it was up to the guys left standing to help change it back. Heading into the 2015 season there is an entirely new aura around the team, and there is excitement for baseball again.
"Things have changed around here," Aguilar said. "Now they are buying into the program; now they appreciate what they have going on here. Now they are listening and now they are hungry. After facing Hollywood Hills in the first round of last year's district playoffs these guys want more. They want to go to the second round. It's definitely a completely different ball game now. They're ready for season two."
Most of these guys are all returning players and guys from the school that are interested in the program after they saw what the Colonels accomplished last year. While the team only improved its win total up to five games, it was far more competitive game in and game out as the squad provided a glimpse of its chances at turning the corner towards a winning season.
"A lot of guys are coming out and trying to practice and trying to make that spring team," Aguilar said. "They see the type of family that we have going on here and the guys love that. It's part of our equation of family first. We're building that here at Plantation. Our new thing here is 'we family win'. Hopefully we start winning ball games around here. I think things are going to change."
The team graduated just a few players, but key among them was four-year starter and former shortstop captain Matt Costa. While Aguilar admits it is impossible to fill the role of a guy like Matt Costa, there is no question that the team is in excellent hands with the guys who have taken that leadership mantel this season.
"Jonathan Coval and Tyler Price are our two captains who have taken charge," Aguilar said. "Tyler takes center field and takes charge out there, and that's his baby. He sets the tone out there and leads our entire defense. Jonathan is a vocal leader when it comes to first base and in our dugout. He's also our big bat, our big lefty and we're going to rely on him big time this year to drive in a lot of RBIs and hit a lot of home runs. Definitely he's going to be sitting in the three-hole and he's going to take charge of that."
Coval is a baseball lifer who has the stature, maturity and commitment to handle the responsibility that comes with leading this young group. On the field the bulky left-hander provides a powerful bat supplanted in the middle of the lineup and a crafty southpaw on the mound. Coval joined the club as a sophomore who was eager to be a part of a team hopeful to build off an 11-11 mark the previous season. Instead the Colonels struggled to a 2-18 mark that led to several coaching overhauls prior to Aguilar coming on board.
"Manny came and he changed it all around. I think what he did is he gave us all a sense of family," Coval said. "Before it was just a bunch of kids playing baseball in the program, but now we are out as a family. We see each other in school and we're always laughing and joking around together in school. I think by doing that it brought us closer. Then in practice and game time, we are ready and we know what we have to do."
Tyler Price is the perfect compliment to the leadership hierarchy. The speedy center fielder is less vocal and commanding, yet provides subtle presence and a great example of how to get the job done. Tyler Price is a guy who is always accountable, the type of ball player who takes charge by setting the example rather with his actions rather than any words. He speaks less, and in this case that has more impact because the guys know to listen whenever he does share something with them.
"It's a different feeling, and it feels like I was just a freshman," Price admitted. "I learned from the other past seniors that you have to lead by example, and that's what I'm trying to do here. I lead by example and I just try to make sure that we all stay in line. I know if we all stay in line I think we can have a good squad here."
Graduation left a void to fill for the team in three primary positions: third base, left field and shortstop. Junior Juan Pinzon has assumed the shortstop role after spending his entire sophomore campaign at second base, and Aguilar is pleased with how he has developed and begun to become like the Matt Costa they had the past four years. Veterans such as Jeremy Bishop and Orlando Fallas have also improved to earn the prominent roles they figure to fill.
An area where the team is strongest is on the mound, where the Colonels have four reliable arms which are all growing into prominent roles. Sophomore Sam Gonzalez is ready to build off a solid freshman campaign in which he grew to become the team's ace. He was a freshman and every time he just said "Coach, I want to pitch".
Also coming out of nowhere last year was junior Jack Shanholtz, a Chicago kid who is now strictly working on the mound and proving he has the stuff to compliment Gonzalez as the team's number two guy. Sub-mariner pitcher Connor Jones is also fighting for that second spot on the hill, or else could work from the bullpen with Coval. Aguilar likes how Jones' sub-mariner style changes the hitter's perspective and creates a unique challenge for them.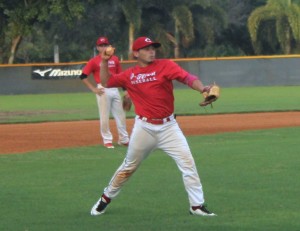 Although the players have more experience than most for such a young group, they are still very inexperienced as a whole. Key to their growth is their ability to handle failure and to build confidence in themselves. Coval has been playing baseball since he was three years old and it is all he wants to do. He watches the younger guys come out and loves how much they want to play and how much heart they have. He knows part of his job and also Tyler's job is to give them that push to drive them where they want to go.
"We've got some guys out here who have never played before," Coval explained. "So when they come out here in their first fall game and strike out or they miss a fly ball, they may come in and throw their glove in the dugout. I just tell them that you could go 7-for-10 and bat .700 or you could go 3-for-10 and you're batting .300 and that is still amazing. Baseball is a game of failure; you are going to fail. They just need to realize that those three chances that you do well, those are the chances that you need to show up. It's all about that."
The school has also begun to provide its full confidence and support in the program. Plantation has long been a football-first school, but this team is working to change that culture. They are a no-nonsense team whose main focus is on baseball, and the administration supports that. Being around the squad there is electricity in the air, an aura of excitement and belief that this group can help put the Colonels on the baseball map.
"I think this year we have a good chance to make it out of districts, or at least make it farther than we have the past few years," agreed Price. "I know a lot of other schools have lost some big guys and our big guys are just coming out, so I think this is our year."