Westminster Academy Looking To Be Regional Regulars
The Westminster Academy baseball program has enjoyed its share of big accomplishments over the years. Last season brought a return to regional play for the Lions, which was the furthest the club had come during the current regime's tenure under Manager Nick James. It was a culmination of a long body of work which had begun back when Coach James first took over and started building the foundation at the lower age levels. With that framework now well in place, the team is hungry to build off last year and raise the expectations to even higher heights.
"I thought last year was a good one," James admitted. "We were fortunate to make a regional appearance, which was the first time since I've been here. We lost a lot of that veteran senior leadership; we played well last year and that was a direct result of our leadership and our team chemistry. We are going to lean on our seniors this year to step up. We have a lot of guys who have been here for three and four years and have invested in the program and understand what we're trying to come up with. They are going to get a chance to get in there and try to get it done."
Even with its storied past, when Coach James first arrived five years ago the numbers had dipped and the cupboards were somewhat bare. Many young guys were thrust into big roles in order to fill the varsity roster, while the coaches also worked on developing the middle school and JV programs for the future. Now those young starters are seasoned veterans, and many of those middle schoolers have grown into valuable additions to the varsity roster. The team is at just the right point with what they envisioned, and they are led by guys who do it the right way.
"When you have a culture where your best players are your hardest workers you've got something special," James said.
The core members of the Lions roster are guys who have been with the varsity club for several years now. They took their lumps as young players for years, and now they find themselves as seasoned, battle-proven veterans. Those guys have watched and learned from those who passed through the program ahead of them, and now it is their turn to both apply and also impart that knowledge on the guys behind them. Senior shortstop Jake Dudas is a four-year starter, while juniors Tommy Dorfman and Thomas Messer had the chance to contribute last year after biding their time in reserve in prior seasons. This is the year that these guys could break out and lead the way for this ball club.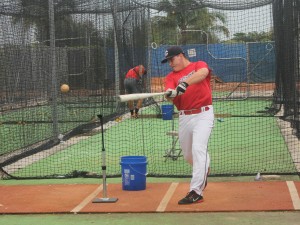 "We lost a lot of big seniors; all five seniors were starters. So Coach came up and talked to all the seniors this year and told us that he really needs us to fill those roles that we lost this year," Dudas said. "We've had a lot of guys step up and fill those roles so far and hopefully it continues into the spring. Last year was a great year and we really came together; just all around the pitching, hitting and most importantly the team chemistry. Our Coach says it was the best he'd ever seen. It's going to be tough to replicate."
Dudas recalls how last years team thrived off the perfect blend of chemistry and dedication. The players were loose and had fun in practice, but when it came down to doing their work they were also always very serious. They got after it and made it a friendly competition, which made it fun to work. Now the responsibility is for the veterans to make the younger players understand how to accomplish that perfect blend again.
"We have a lot of young kids rising up, so we're trying to get them into the team chemistry and work them in to have that mentality that you're having fun but you're also working hard," Dudas said. "A lot of these younger guys are so used to being at the top from their travel teams and all that. They are really great and talented kids, but you have to let them know that when you come up to the varsity level you're not going to start every game or be the first guy on the field. You just have to learn to maybe take a back seat, and that might not be because your talent is low. At the same time we need you to encourage everybody else and make the whole team better even if you're not out on the field."
Coach James realizes that the style of play is modeled after what type of players they have each year. Last season it was a gritty bunch and a couple of solid pitchers who kept the team in ball games. Since the club graduated the main components of any baseball team in losing its shortstop, catcher, center fielder and ace pitcher, the responsibility now falls on them to find their identity this season. The team anticipates a make up that is very similar this year, although it is still too early to tell for sure just what type of squad they have.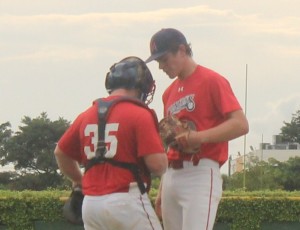 "I think that's one of the benefits of being able to play in the fall is you can figure out your team identity," James said. "Every year you get a new club. I don't think you change your pattern or your organizational style every year, but you definitely have to coach to what type of team you have. My teams sort of lend themselves to the coaching predilection, and I am a pitching and defense kind of guy, so that is usually reflected in how we approach the game."
Even despite the turnover at key positions, the team has guys in place ready to fill those roles. Trace Norkus and Frankie Corridori figure to lead the pitching staff, junior Zach Warenius takes over behind the plate, and Dudas, Messer and senior veteran Nick Gauntner will anchor the lineup. Seniors Luis Leal and Davis Fouts transferred from Coral Springs Christian Academy this year, while Sean Paul Cronin comes aboard from Highlands Christian to add depth and experience to the mix.
Coach James credits his great coaching staff in helping to mold this new roster together. One area where the team is vastly improving is in the offense, where the coaches have spent a tremendous amount of time working with players to improve in this crucial department. The players committed themselves to playing in the fall and summer and they have put in the reps it takes to improve their swings. No longer are they freshmen and sophomores who are still growing into play at this level; now the roster consists mostly of juniors who are physically stronger and further developed. They are no longer freshmen taking it on the chin as they learn the varsity demands sooner than most are asked to. These guys know what it takes to produce on the varsity diamond, and they have proven capable of doing exactly that.
"We're going to have a really good season. We have a lot of young kids coming in who are really going to help our team out both on offense and defense," said Gauntner, a four-year varsity player. "We always say chemistry wins game, and as you can see from last year we had a good team bond and good team chemistry. That's what won us games and got us to regionals. It felt really good; we had never been to regionals before and we made it to the semifinals and it was a big accomplishment. It's great coming here to play baseball. It feels good to lead my team through the success in life and baseball-wise."
Baseball is a sport that has seen its share of success and accolades at Westminster Academy. The current group has seen years of dedication rewarded in bringing the team back to the regional playoffs, something none of those guys had previously been a part of. Rather than let that fester in complacency, the guys are hungrier than ever to get back after it and try to take things even further.
Coach James deserves recognition in putting the program back to its current status. Yet most important to the entire staff is the fact that the guys who graduate through the program are moving on to play college baseball. Having worked with so many of the guys since they were in middle school has made a much stronger bond between coaches and players, and seeing them succeed in life is the reward that matters most of all.
"Every day is fantastic," James said. "I work in a school community that I am a teacher in the classroom and on the ball field. I joke with my wife everyday that I get to teach my passion in the classroom and I get to work with baseball, something I have loved since I was a kid. If you're doing what you love it never feels like a day is rough, and I am absolutely doing what I love."