Cypress Bay Eyes Regional Return With New Manager Liotti
New Cypress Bay Manager Paul Liotti has been asking for accountability from his guys in all that they do. Liotti tells his guys that Cypress Bay is like the Stanford of high school baseball, and that they need to hold themselves to a standard like that. So far the guys have responded to be accountable not only for themselves, but also for their fellow teammates. Most of the players take AP courses and honor classes, and most maintain a GPA over 4.0. On the field they are finding many guys stepping up to be leaders, and everyone seems to be buying in.
Liotti replaced longtime Lightning Manager Mike White this season, after spending the last few years on White's staff as an assistant. The veteran skipper was last at the helm of a program a few seasons back at South Plantation, and he is excited for another chance here at Cypress Bay.
"This is a great opportunity," Liotti said. "This is one of the largest high schools in the state of Florida, and actually one of the largest high school in the country. To have the opportunity to guide a program of this magnitude, there are not many of these jobs available, so it is something I am certainly excited to do."
Liotti admits that the familiarity the players have with him has helped in the coaching transition. They are comfortable with him and they are adjusting to some of the differences he brings with his coaching style. Although he has a similar mindset to that of the previous coaching staff, every coach has their own way of doing things, and Liotti also has a different mindset as the head guy rather than as an assistant coach. All in all though, it has been a smooth transition.
"I love Coach White dearly and he is a great guy. But we love Coach Liotti and we are with him all the way," veteran catcher Alex Valladares said. "We're comfortable with him from having him the last few years and we already know how it works. He's got his plan set, he knows what he wants to do and he's looking forward and we're with him. We're 100% behind him. We know he is going to do good things and we are right there behind him."
Liotti admits he has great leaders on his team. This starts with the seniors, such as Joey Rodriguez and Luis Sucre. But the team as a whole has a very mature group and many guys are stepping up to set the right example each day. One day it may be Devin Ramirez, and another it might be shortstop Raul Quintero. As a unit the guys are hungry to make a mark this season, and to build off the success the Lightning has enjoyed the past few years.
For some time the Lightning was still regarded as a newer program around the county. Yet the reality is that this team is no longer the new guys on the block, and in fact Cypress Bay is an established program with enough years built up to have as much tradition and legacy as many other schools in Broward County. The team won a state title back in 2004, and is one of only three 8A clubs in the county that has made the regional playoffs each of the past three seasons, along with Douglas and Flanagan.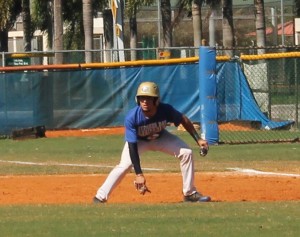 "We've had a run here now of being in regionals, and our goal is to get to that level and then go beyond," Liotti said. "I think with the tradition we have established and what we've done the last two years, we're just ready to spring board and take it to the next level of being a state contender every year. We're going to do our first alumni weekend this year, now that we've kind of established an alumni. Early on they set up the foundation with the state title in '04, and this should be one of the programs that are there every year."
Another sign of the progression of the program comes in the improvements being done to the school's baseball facility this year. Cypress Bay is adding an archway to the entrance, putting in a picnic area for fans and adding many new bleacher seats around the backstop area. The desire is to present a facility that projects more of a stadium feel to those walking in.
"This Weston community is tremendous," Liotti said. "They support us and get behind us and what we're going. After twelve years now of being a high school it was time to have a bit of a face lift. We're not new anymore and things needed to be fixed and replaced. We're hoping to have more of a stadium atmosphere around here this year. I think that aura is going to help us on the field as well."
The Lightning will have a little different look to its lineup this season. It will be a bit more of a traditional appearance than last season when the team leaned on its big bats to thrive on big innings. There is a lot of speed at the top of the lineup to compliment the power of cleanup hitters such as Valladares and Juan De La Espriella. There is nice balance within the order and the group will work to combine speed and efficiency in order to be more consistent.
This offensive mentality fits the mold for this group more, and is much more the style that Liotti likes being a part of. Rather than just to play for big innings, the team will look to scratch runs across whenever possible. Liotti is confident the guys can adjust to find that consistency in order to steadily put up and average number of runs. The Lightning cannot just rely on the big bats, as was proven when they were shutout in the regional quarterfinals after posting 26 runs in two games in the district tournament.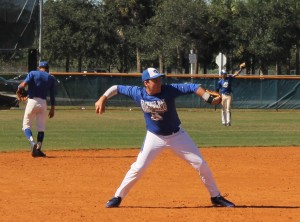 "All through our lineup from our one to our tenth guy we have guys who can all hit for high averages, who can locate the ball even if it's to drop down a bunt," Valladares said. "We have runners who can get on base and produce runs, and that is how we are going to do it this year. I'm just here to get the ball in play and whenever we have guys in scoring position to get some RBIs."
The team speed, defense and pitching are the main strengths of the club. The team returns a good core of its pitching staff, including its two primary starters in Luis Sucre and Alex Rodriguez. Veterans Juan Rosa and Nick Orlando also figure to see lots of action this season as the main guys out of the bullpen. Last year at this time the pitching was a big question mark for the club due to numerous injuries, and it emerged as one of their strongest parts. Now everyone is healthy and experienced.
Sucre admits that it helps take pressure off knowing there is always somebody else in line if a guy is struggling. Both Rodriguez and Sucre had great summer and fall seasons and they are quickly making a reputation as a tough duo to face. Behind an experienced bullpen that has proven it can contribute when needed most, the team also has several promising sophomores working their way into the mix. So while Sucre is a guy who will be counted on for big innings, he takes comfort in knowing what a team he has around him.
"It's great knowing that my teammates rely on me, and I like to focus on them," Sucre said. "I like to pitch to batters and get them behind on pitches and then let my defense work. It's great watching these guys play and having them behind me is a great boost. I know I can throw any pitch in any count and if it's a ground ball or a pop up they are going to be there."
It doesn't hurt things that the club has so much leadership and experience coming from the catcher position either. Valladares is a three-year starter who has been the club's backstop since his first day of his freshman year. He works great with the pitching staff and provides great leadership in molding the arms along.
"We have two big guys that came back from last year that we will continue working with, and we have some new guys who are throwing well and hitting their spots," Valladares said. "The catchers work with them to keep hitting their spots and keep hitters off balance. That change of plain is going to be big for us. As long as we keep developing these young kids we are going to be good there for the next few years."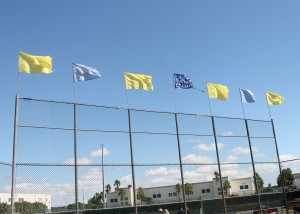 The program has never been afraid to start guys young, and Valladares is one of those guys who are fortunate that he doesn't know what it feels like not to start a varsity game. Starting shortstop Raul Quintero is another example, and the squad will start as many as three sophomores in the lineup for the second straight season. Underclassmen such as Joy Rodriguez, Anthony Figueroa, Christian Nehls and Greyson Fletcher will all likely earn larger roles this year. Liotti points out that the players are not there just to wear a uniform; everyone is going to get an opportunity to play. They have a tough schedule and it will take every man on the roster to do their part.
The Lightning hopes to be right there with the best of the best of them this season. Coach Liotti points out that he is very excited about his coaching staff, and that any success he will find at the helm will arrive thanks to his supporting cast.
"Ultimately what I have learned in all my years of coaching is that if you have good assistant coaches and talented players it makes being a head coach a lot easier," Liotti said. "It makes you look really good, but every bit of success I have ever had as a head coach has been because I surrounded myself with good baseball coaches and had really talented players that work hard. Hopefully that recipe is going to put us back in that district championship game and win us a district again."