Monarch Intent On Returning To The Regional Playoffs
When Joe Franco first took over the Monarch baseball program nine years ago, he inherited a young organization that was still finding its identity. The team had never posted a winning record and its short existence, and it was a program still very much in its infancy. But little by little over the years since the Knights Manager has been able to put his stamp on things. That stamp includes district titles and trips to the regional playoffs, but it has also meant a team GPA that is well over 3.0 on average.
"Kids know that if they come to play Monarch baseball they have expectations and standards that are set at a high level, and they've got to own up to those standards and expectations," Franco said. "If they don't then this really isn't the place for them. We stress academics and how behavior in the classroom is two of the most important things for this program, and you have got to do your stuff in the classroom in order to get on the field. That's one thing that I care about."
On the field the Knights have also come a long way since the school first opened in 2003. The team has been regulars in the regional playoffs in recent years, and has seen the majority of its graduates go on to play college baseball. Coach Franco admits these are accomplishments that make him proud, even as he refuses to remain content and still strives to bring the team to its ultimate goal of reaching the state tournament.
"It's always good to go to regionals. But it gets to a point where you want to get to the dance, but you want to go far in that dance," Franco said. "We're tired of losing in the first or second round; we want to go farther. One of our goals is to win a district championship, but our main goal is to get to the dance and give ourselves an opportunity to get to the state tournament. It will be nice to win the district championship, but we really want to get to that state tournament. That's our goal and that's our focus. I think all the guys are pulling in that one direction, and that is to get to states."
This challenge is slightly tougher this season after the team graduated roughly 98% of its innings from a year ago in the form of three pitchers that are now all throwing for collegiate baseball teams. This fall has been spent grooming a new staff of hurlers that will give Monarch the best chance of competing in the district. Franco has been pleased with what he has gotten out of his pitchers up to this point, and the staff is on track to be where they need to be once the spring season arrives.
Pitchers have emerged amongst this group. Coach Franco feels as though if a team reaches the regional playoffs and then the state tournament, it will need at least one guy who always gives his club a chance to win when he's on the mound. Right-hander Joey Hennessey is the guy who is getting that opportunity to fill that role, and so far he has done a nice job. The senior has three plus pitches and can get it up there velocity-wise.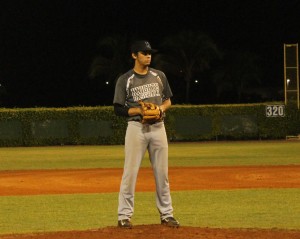 Complimenting Hennessey in the starting rotation is fellow senior Joey Gerber, a four year player and a captain on the squad.
"I have been throwing since my freshman year, but this is a big year for me to step up along with Joey Hennessey," Gerber said. "We have to be a big part to make up for those three that left. On the mound I am the most comfortable and I feel like I've been pitching forever. I love being on the mound. We have six seniors who are coming back strong. I just need to lead up the younger guys, and we need a good bullpen this year."
Junior CJ Delbosque is one of the guys coming out of the bullpen, but may also figure into the starting rotation. The right-hander is a third-year player and second-year starter. Delbosque admits he was a bit nervous on the mound when he first got out there last season, but now he has settled into the role.
"At the beginning of the year it looked a lot harder, but we have a good group of pitching out here," Delbosque said. "Hopefully I can be one of those guys that could start and lead us to a lot of wins. Last year I was a little nervous in my first year starting, but you have to be used to it all. So even pitching, I don't feel jittery or anything; it's just a normal start for me. It's going to be fun pitching."
Franco agrees that the team has a good core of leaders. Along with the two starters the club also relies on veteran catcher Jonathan Benestad, who was behind the dish for every game last year. Veteran Joey Rugare sets a nice example, and Delbosque typically is making sure guys are always doing what they need to do.
"It's going to be fun being a leader in my junior year," said Delbosque. "I was kind of under Nick Alonzo and Brennan Bosworth and Andrew Rohloff last year, and now I get to actually lead the team. So it's going to be an exciting time. After being under those other guys it will be fun to have a full leadership role. But a lot of the guys up here are seniors and juniors, so we are all used to that experience."
The team does a lot of community service, and these guys help to lead that example. The Knights feed the less fortunate and do a food distribution at a local church. The team is also participating in the HSBN Holiday Toy Drive. Franco feels that Monarch not only has baseball players, but very well-rounded student athletes who represent the program well. He could not be more proud of them.
The Knights have a goal to take advantage of this season. With enrollment at the school going up and district realignment due after this year, chances are the team will be in a newer and larger district next season, perhaps even moving up to Class 8A. At the moment it is a three-way battle for the district crown with two worthy foes in Northeast and Fort Lauderdale, who beat Monarch 1-0 to win the title last year. While a lot of teams just play for a regular season and don't have an opportunity to make it to regionals from their district, the Knights know they are in the hunt every year.
To stay in the district race the area that needs improvement is the offense. The team stranded 12 runners during the district championship, which nullified the great pitching and defense it played. They are hoping to have a better offensive approach this year, looking to move runners over and get guys in. Guys are learning that they don't always have to get a base hit to score runs. While Franco is not necessarily changes his coaching philosophy, they are going to have to move guys over in order to succeed.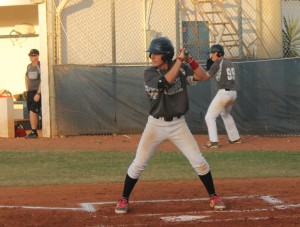 "If you score no runs you can't expect to win. You've got to score at least a run," Franco said. "I am always a defense and pitching guy first, because that is how we are going to stay competitive is through defense and pitching. But it would be nice to score a few more runs. Our focus is trying to score one run per inning. If we can score seven runs a game I like our chances."
Gerber agrees that success is mainly based upon pitching, but that the team has spent extra attention on hitting the ball harder. They are confident that the pitching will always keep them in games, but they must get more runners across the plate to reward those pitching efforts. Guys are putting in the work with the bats, and hopefully it will pay off.
"We just have to work harder and harder every day," Gerber said.
One other big change that Monarch made this year is to schedule more road games at night. Regional playoff games tend to be held under the lights, and most teams will have to travel and try to win on the road in the playoffs. So the guys are working to get comfortable in those settings, so that if they make it that far it will not seem any different to them. They can learn the routine that comes when they do not have to rush out of school for an early afternoon contest.
"Nothing to take away from our field; I love our facility, but I just wish we had lights so we could play night games," Franco said. "We only have eight home games and the rest are on the road at night, and I think it's going to pay dividends in the end."