Cooper City Retooled Under New Manager Chris Delgado
Chris Delgado felt like he was at home the minute he started as the new Manager at Cooper City High. The new Cowboys skipper was raised in the Cooper City area, his son plays nearby at the Optimist, his business is nearby and he now resides not far away in Pembroke Pines. Everything is in a big circle for him, and it is a comfortable feeling.
It has been an easy transition for Delgado, after coming over from the St. Thomas Aquinas coaching staff. Everybody has been backing him since his arrival and it has also been helpful that he knows some of the people that are in the system and also in the community around them.
Growing up in this area he knows there is plenty of baseball talent around, and he is focused on building a program that houses all that local talent right here. It is an area ripe with baseball talent, and this year's Cowboys will feature plenty of it.
"The luxury of being at this school is that there is talent in this area," Delgado said. "On top of what we have already here, we've got some good young kids coming out. From the freshmen up we have talent, and I moved some sophomores up who were on the JV team and they've been contributing right away. It pushes the upperclassmen. Everybody is trying to find their way. "
Delgado comes from a winning tradition, and the goal is to chase after a state championship. That is all the team will focus on. The Cowboys had a great team last season and they got far, and now the goal is to go even further in the playoffs. The team knows it has the talent to do it, and that there is no reason why they can't make it happen.
"We've got pitching and we've got hitting; we've really got it all. Now it's just about coming together and getting them clicking on the same cylinder," Delgado said. "It's been a bit of a transition because my coaching style is different, but they've transitioned nicely actually. It's just about moving things into the spring. It was good that I got in here as early as I did, so they get accustomed to me and I get accustomed to them. It's been good so far."
Team captain and veteran catcher Brett Marks is one of the guys that have helped to make the coaching change an easy adjustment. The senior likes the new coaching philosophy, and the added instructional time spent in practice. There is more time on the field and at practice, and Marks has been quick to learn the new signs and plays and then work on them with his teammates. Having a talented and experienced catcher like Brett Marks makes the entire team around him better.
"It's a big spot and you see the whole field around you," Marks said. "You make all the play calls. If you mess up one time it's on you. You've got to make sure you make the right calls or it gets you in the end. Being a leader is not easy. You've got young guys coming up and you've got to teach them the system, and especially now with a new coach it takes a lot to learn it. They seem to get it so far. They are learning the new signs and the new defenses we have, but they are coming along with it."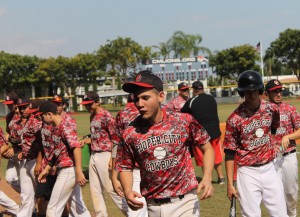 Delgado thinks it is always a good thing when the team leader is a catcher. Since the team has a veteran pitching staff, it is good to have somebody they can trust to control the game and control the whole situation from the dish. Marks does that defensively, and he also brings a big bat to the middle of the lineup.
The lineup has a lot of depth. The club returns many experienced hitters, such as Steve DiPuglia, Ricky Smith, Brandon Torres, David Pole, Cole Perler and Cole Kantor. The batting order also gets a boost from some promising young guys such as Jack Schmidt and Cameron Stadler.
The area where the team is the deepest is on the mound. Senior Joey Cutrone heads a deep and versatile staff, which includes lefties Luis Maldonado and Chris Diaz and right-handers Angel Almonte, Tyler Sabine, Tommy Miller and Jeremy Brower. Adding even more punch to this group are the newcomers, Schmidt and American Heritage transfer Ethan Shea.
"Pitching is our big thing this year," Marks said. "We've got Joey Cutrone as our big senior this year, and Tyler Sabine just came back from playing football. Our defense and our pitching are going to win games for us. Our hitting is coming along but right now our defense and pitching is what is going to win us games."
Even with the confidence of being the team's big-game hurler, Cutrone admits it is nice having the unique amount of depth that the team has.
"It's good to have some clearance. It's good to have other guys who can come out and throw strikes," Cutrone said. "We have a very good pitching staff this year, with two good lefties, good talent in the starters and god talent in the relievers. It's good to keep composure, and I am just trying to be a better leader then last year. If you keep your composure then anything will happen."
Cutrone is a guy who pitched in big games for the team last season, and he performed well in those games. As the most seasoned veteran on the staff, he understands it is his time to carry himself large and composed for the big moments ahead. Cutrone wants to set the best example, and help his teammates understand how to carry themselves in action.
"I take my role pretty seriously and I need to have big games and contribute to the team a lot," Cutrone said. "You have to come out here with a good mindset; if you come out confident then you are going to win. With pitching you can't have a bad mindset; you can't come out lazy or all the kids will just jump on your fastball. You have to come out confident and believe that anything can happen."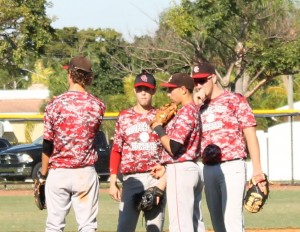 Coach Delgado understands what it means to believe, and to chase a dream. He was drafted out of high school and played five years in the minor league system with the Chicago White Sox and the Colorado Rockies. Delgado tries to bring that pro ball mentality to his team to get them ready for the next level, coaching them with the hopes that they can all go on to college or even into the pros. If they get that far, they will be ready for it.
It is also Delgado's first year, and the focus is to take it game by game and see what happens. The team is still in the honeymoon stage and everything is going good. There is a nice balance between the older and experienced players and the younger guys who are coming into their own.
"It's a good mixture," Delgado said. "We've got some sophomores who are coming out who are going to be contributing to this team as well. It's going to be a good combination of young and old, and it should come together nicely. I've got talent, so it's just about seeing what I can do with them. Right now we're just trying to get the kids better everyday we get out here."