Hallandale Charging Ahead Into A Tough District
Hallandale has never had a baseball team like this before. The Chargers have a different group this year, a squad full of guys who have been working hard and playing a lot of baseball together. This is a team that will show up and compete for seven full innings and 21 full outs.
Hallandale Manager Greg Conde admits it is a complete 360-degre turn from when he first took over the program a season ago. Last year he had some kids who couldn't throw, hit or field the ball. But now those same guys are playing baseball with confidence.
"We went from crawling to running, and it's come in a short time," Conde said. "They are buying into what we are teaching. It makes me want to come to practice and then deal with my wife when I come home late and stuff like that. They are a work in progress and they are working hard at their craft. They are going to be a force."
It is certainly an exciting time for the team. The Chargers are coming off a 9-11 campaign in 2014 and are anxiously working towards a winning season. The program also returns to district competition this season, joining a tough group in 5A-16 that includes American Heritage, Archbishop McCarthy, Cardinal Gibbons, Coconut Creek, Dillard and Pompano Beach.
"It means a lot to be playing in a district again," said sophomore Jonathan Ortiz. "Everybody at our school doesn't really take baseball serious, so we're trying to change that. Coach Conde is doing a really good job. He is a family guy and he cares about everybody. He is a very busy man, so when he invests time in us we know that he believes in us. Our confidence is above and beyond because we know we have to strive for greatness for him."
Everybody has been pulling their own weight and they pick each other up. There are no negatives and everything has gone on the right path so far. The kids coming back from last year know what Conde expects of them, and that is to have patience as a team and as a program.
"We're definitely evolving into a real baseball program. The work ethic is a lot more serious and they understand the task at hand and the district that we're in," Conde said. "They understand that we are considered a bottom-feeder, and it's pushing us and motivating us a lot to want to compete with those upper-echelon schools. We don't want people to think they can just throw their seventh or eighth guy in the rotation at us anymore. We're building a baseball team; they come and they work."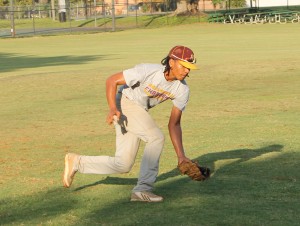 It is a good senior class that leads the way, but the core of the club is its sophomore class. Conde is confident that this group of sophomores has the potential to be a force to be reckoned with by the time they are seniors together. Key to this growth will be to follow the path being paved by these current seniors and other veterans, to learn from the example they help to set and to make it the standard.
It is a nice blend of older and younger players who lead the group. Senior Anthony Moron is a four-year starter, and seniors Sebastian Fasanelli and Archbold are also experienced veterans. Senior shortstop Oniiel Mejia is new to the club, but has quickly worked to earn his spot in the middle of the infield. Meanwhile Ortiz leads a crop of promising sophomores that includes Pablo Oden, Jonathan Grullon and Evan Lopez.
"Each guy helps lead the team in their own way," Conde said. "Amaury Archbold carries us and when we need a presence on the mound I go to him. Pablo Oden and Evan Lopez are my generals on the field, Oniiel Mejia is coming in new but the guys respect him and they listen to him. Anthony Moron is the core of my outfield, and the outfielders are the strength of the defense. Anthony is a great, versatile player, and we are working on him staying confident out there."
Believing in one another is the basis of their team motto as well. At the start of last season the guys had a tendency to stay in separate groups and create a lot of segregation throughout the roster. As the season progressed the guys began to come together and believe in one another, and it helped them to close strong to win five of their final six games of the season.
"We are all we've got and we are all we need," Conde said. "That is our motto, and once we believe in the guys next to us and the guys behind us then no one can beat us. We have to count on everybody, and that goes from the guy on the bench to the guy on the field."
The Chargers are deeper than they have ever been before. Junior newcomer Maurice Wilson beefs up an infield that also includes returning juniors Darwin Jean and Giovanni Bolanos, with Mejia at shortstop and Lopez behind the dish. The pitching staff welcomes new junior lefty Chris Lugo to a deep rotation that also includes Ortiz, Archbold, Grullon, Sanchez, Oden, Moron and junior Josh Martinez.
While the ability is evident, the players understand that it takes more than just potential to build a successful program. Practices are intense and guys push one another and challenge one another to keep raising the standards. Guys are accountable for their play and work diligently to improve every day.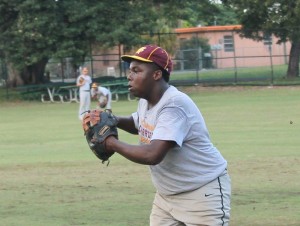 "In the beginning we struggled in fall ball, but we all came through and built that chemistry that we needed," Ortiz said. "We just need to put that puzzle together and we will be successful. We always have fun together and it is always nice to encourage everybody to play at their full potential."
Conde knows the team can compete this season. To be successful the pitchers cannot be afraid to throw strikes and let the defense makes plays, and the guys must maintain discipline at the plate. Although the team has shown plenty of power with the bats, the focus has been on being patient and not to swing at every pitch they see. Hitters work to wait for that pitch in their wheel-house rather than just going up there hacking away. The pitching and defense is coming on strong, and the offense has the potential to come along and balance everything out perfectly.
"They just need to believe in themselves and trust the coaching staff," Conde said. "If they are buying in to what we are telling them then we should have no problems. If my pitcher can believe in the seven guys behind him and the one guy in front of him and pounds the zone and lets our infield and outfield work, we should be successful. I don't expect to win every game because that is like winning the lotto and it's not going to happen anytime soon. But we should be all right."