Pembroke Pines Charter Practicing To Perfection
Carlos Iglesias had a good idea what kind of season his team was going to have last year after a practice the first week of the season. The longtime Pembroke Pines Charter Manager decided to end the team's first Friday practice early to reward the group for such a strong and productive first week. The coaches said they would be happy to stay and work with anyone that wanted to get extra work in, but that guys were all welcome to go. Much to his surprise, the entire team opted to stay and keep working.
The Jaguars went on to have the best season in program history, going 19-5 and advancing to the regional championship. Every day they came out to work and get better, and their record at the end reflected that.
"It was an outstanding season, and it went by real quick," Iglesias said. "Just like everything else when you are having fun, it can go smooth. The team performed outstanding and it was due to our work ethic throughout the whole season. It's very simple, we come out here and the players want to get better and we want to prepare them for competition."
Pines Charter does not worry about the big picture; the players just worry about getting better from game to game. They don't worry about five games from now; they worry about it one game at a time and focus on how they can get better for that next game. The guys take practice time very serious and they push each other with focus, vigor and enthusiasm. They get the most out of their time together and they go at game-speed to prepare themselves for when those things happen during live action.
"We are out here three hours busting our butts off offensively and defensively, sweating and grinding and working a lot," senior Anthony Nogueiras said. "We are just ready when the game comes and it doesn't matter who we are playing."
Nogueiras is one of 13 returning seniors to this veteran squad. The team is very experienced, very talented and very dangerous. There is a tremendous combination of speed and power, with strong leadership and a team that plays with great confidence together.
"This year there are a lot of seniors, so we are pretty confident since we have been with each other for a while now," Nogueiras said. "We were pretty proud of how far we got last year and we have a good chance this year. We always have each other's backs, from our pitchers to our middle infielders to whoever it is. We all go out and play our hardest and let the game play."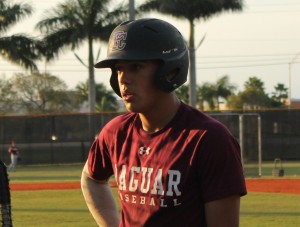 The veteran pitching staff is led by seniors Anthony Garcia, Brett Ayalon and junior Danny Rivero. The club has a lot of versatility and depth in its pitching staff, which has also been bolstered by the addition of Mater Lakes senior transfer Michael Tang.
The offense is loaded from one to nine and beyond, and all of these guys are also stout on defense. Infielder Daniel Velez-Rodriguez leads an experienced group that also includes Nogueiras, Anthony Gomez, Trent Herzog, Alex Monge-Rodriguez, Peter Dourvetakis, Matthew Rondon, Jordan Corona, Adam Isenberg, Jeremy Prieto and Emilio Falcon. The team's biggest challenge may come just in finding enough swings and playing time for everyone.
Thankfully this is a group that only cares about winning. There is trust and unity between each brother on the squad, and nothing can come between that bond they all share.
"Having all those seniors coming back is something special, because we have a group of players that are great kids and I am really looking forward to this year," Iglesias said. "It is just a pleasure to come out here everyday and it is an honor on my part to coach these great kids. We have a lot of leadership in the group, so it makes it easy on the coaching staff. Every practice they are diving for balls and they listen to the coaches and are very coachable. Our job is just to get them ready and they respond to us."
The Jaguars play a very fearless brand of baseball, putting out maximum effort on every play. The guys are not afraid to try because they are not afraid to fail.
"We like to be aggressive, and if you make a mistake it will be an aggressive mistake," said Anthony Gomez. "If you are going to miss it, miss it hard. That's the only style I know how to play. It's always good to play with confidence. I feel like we are going to be more than ready and we are pretty confident."
Iglesias notes that the team's success is all a tribute to the dedicated coaching staff he works with. This includes several guys who have been with him for all nine years he has been at the helm of the Jaguars, such as Andy Moser, Willy Hernandez and David Monge-Rivera. The staff also welcomes aboard Maxwell Romero, Mark Ellenbogen and Casey Dart this season. Iglesias notes that everything starts with the coaching staff and goes down to the players, and there is great chemistry throughout.
"Day in and day out, they are very dedicated to this program," Gomez said. "Coach gets off of work and he comes straight over here and then he hits us tens of thousands of ground balls and using the hitting machine with us. In class he is always making little notes of lineups and plays. It's great for us to have people that are dedicated to making you better and a better program."
The Jaguars have all the opportunity in the world to be a true contender. But it is not their style to look that far ahead and try to think about any potential playoff games that are still months away regardless. The goal is simple and it is to prepare and get ready for the next game, and down the road the chips will fall where they should. Iglesias wants them to play their best baseball at the very end when the stakes get higher, but everything starts from day one.