South Broward Begins Anew Under Charlie Cardinale
Senior Chris Cortello admits that everything is new this season. The Bulldogs veteran is one of few holdovers from last year's team, and the club also welcomed a new Manager this season in veteran skipper Charlie Cardinale. It is a totally different feeling at Len Koch Field this year, but the guys have been quick to get used to it. They like their new Manager and they appreciate that he is teaching them how to win the right way and have the right attitude.
Cardinale seems to be the perfect fit for this program, and he could not be happier about the circumstances that ended with him there after he left Hollywood Hills this offseason. The longtime coach is honored to be back on the same field that he once coached his American Legion Post 92 teams on, way back in the late 1980's and early 1990's. Cardinale has been friends with Coach Len Koch for a long time, as well as his son Darin, another former Bulldogs skipper. He is honored to be on a great field full of tradition, and to have the responsibility to help preserve those traditions.
The Bulldogs helped to set that foundation last year by upsetting rival Nova in the district playoffs to advance to the regional playoffs. Although nearly every guy who helped pull off that upset is now graduated from high school, in their wake they left a legacy that the current players strive to outshine.
"South Broward had a good squad, and beating Nova last year was a big thing for them," Cardinale said. "I was glad we were there and we got to watch it because it was nice to see them play hard. They graduated a lot of good players and we have got a young team that is eager. We have a few seniors and juniors who remember everything and they want to continue on."
Junior Bryan Luzon is perhaps the most experienced guy returning to the team, and the starting shortstop says he will never forget the memories that came with that big victory. A veteran team got to taste the state playoffs together, and now the youngest guy from that group is the same one who has to help his new teammates understand what that thrill is like.
"It's a great feeling," Luzon said. "Giummule always said it is really hard to beat a team three times, and Nova beat us twice in the regular season but then we beat them in the district semifinals. That was a real turning point for us. It was one of the best feelings you'll ever have to know you made it that far with your team that you worked so hard for."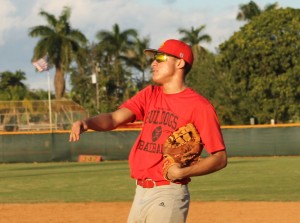 The team has one senior on its roster in pitcher Chris Cortello, who is now thrust into the lead role on the staff this season. After working primarily out of the bullpen in his career, Cortello has learned from the big guys ahead of him and he is ready to show what he has to offer. He understands it is a young team this year, and he is ready to set the tone for them all.
"Hopefully we can show these freshmen and sophomores that winning feels great and beating your rivals feels even better," Cortello said. "It's going to be hard, because I didn't understand it until it happened to me my junior year. I'm ready for it and I'm ready for the season. I'm excited to see what we do, and also to go on to college after. I'm ready to fill in the role and I hope we can win and go somewhere this year. It's going to be later in the season when we play the district teams that guys will get to see me, but I am going to do most of the pitching for us."
A lot of young guys are going to have to start on the varsity team this year. Some have already begun to show great promise, such as Jake Avila and Sal Zaremba, while Dylan Harbison is the younger brother of a former Bulldog who has been around the program for years. Returning junior Stephen Fondeur is one of the more vocal leaders, and he will take over guiding the outfield defense. Luzon will take over the lead role for the infield defense.
"Coming in my freshman year I always looked up to the people ahead of me, and I look at myself and tell myself that I'm in their shoes now," Luzon said. "It's just doing it all over again. It feels good, but it also makes you realize just how fast it all goes by. Before I know it baseball season is going to be over and I'll be graduating and going off somewhere."
Coach Cardinale can relate to how fast it moves, as he reflects back to his 25-year coaching career that started at Miami Norland before taking him to Cooper City and then to Hills. He has helped turn programs around before, and he is hoping this year will help set the groundwork for that to happen again. His job is to keep guys within themselves, because there are going to be growing pains. He can accept that just as long as they improve every game.
"We're a little ahead from where we were when we first took over at Hills four years ago. There are a few more kids here who know a little bit more about baseball, so there is a pretty good foundation," Cardinale said. "But we need to get the numbers up. Hopefully, if we have a decent season and we can talk to the people who have left for other places, we can start to get these guys right back where they used to be."
Cardinale has assembled his usual ace staff to assist him. Coach Clinton Tommie has been Cardinale's right-hand man since they began working together in 1987, and Joe Swift and Phil Chin also come over from the previous Spartans coaching staff. Rounding out the group is newcomer Joe Failla, a South Broward alum who helps to keep the passion for Bulldogs traditions alive in all that they do.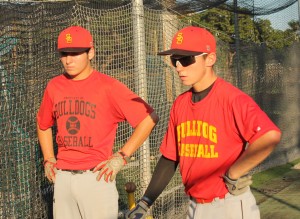 The coaches look forward to the challenge ahead, even despite their tough schedule. They understand they will be thrown into the fire to start the season, and they are hoping that by the time Spring Break rolls around and they host their tournament they'll be moving in the right direction. Then by the time they host the district tournament they will be ready for it. The players want to push for the top seed in the district and avoid having the toughest route to the championship, and Cardinale encourages them to treat every district game with importance and go take care of their business.
Cardinale feels that if they play baseball the way they are capable of then they can hang with some of these other teams. He knows he has a lot of kids who haven't realized their full potential yet. South Broward baseball is a tradition built on toughness and determination, and plenty of magic has taken place on their field before.
"We've got a lot of nice memories here and hopefully there will be a lot more good memories," Cardinale said. "The kids keep us young and it's a good way to get out here and get some of the stress and tension out after you have been in school all day with all the testing and everything they make these kids go through. The kids and parents have been very receptive and we just want to continue the tradition that Mr. Clark started back in 1945."