Western Brings Depth, Experience & Desire
Competition is a good thing. With a roster four deep at some positions, Western has let the players push one another this fall to find out who belongs where. Following the graduation of 11 players, there are some starting positions up for grabs. Deciding who those spots will go to will not be an easy decision, based on what the coaches have seen across the boards so far.
Wildcats Manager Paul Barnes admits it is a nice problem to have for a team that graduated so many guys.
"It's been good to see all the guys step up and we have a lot of guys out here," Barnes said. "We have had different guys step up in different games this fall too. We're still trying to nail down who is going to do what, and they have made it very difficult for January."
Even with a roster full of veteran experience, there are a lot of younger players that are ready for varsity competition. It is a nice mix of youthful energy and seasoned experience, and everyone is pushing one another to perform.
"Honestly, I love all these young guys," senior Anthony Gutierrez said. "They're great and they're great ball players, and I think they are buying in. They are young and they have a lot to learn, but they are buying in very quickly and they are pushing the older guys. We are going to put the best nine guys out there no matter if it is a senior or a freshman, so those young guys are putting it all out on the field and the seniors have to respond. One of these freshmen could take their spot just like that."
Gutierrez is a four-year starter who hits in the middle of the order and plays first base. He is one of the few guys who have a settled spot at this point. One area in particular that still has a lot to settle is within the pitching staff, where they squad must replace the bulk of the innings from a season ago.
"We did lose a lot from last year, but we are returning our number one pitcher in Trent Massaro," Barnes said. "We've got some sophomores who are now juniors who were a big part of our rotation last year, and they will be an even bigger part this year. We've got a couple of transfers in pitching, so pitching-wise we are deeper than we've been since I have been here."
Western has as many as eight guys who can be reliable with the ball in their hands. The coaches let the guys experiment during the fall by playing in different roles as starters, relievers and closers, but in the spring they want to have a defined role for each pitcher. With the schedule being the way it is that there are as many as three games in a week, the coaches can be less lenient with guys if they do not have their best stuff on any particular day. This puts pressure on guys to perform, but it makes the game-planning for the coaches much easier to put together.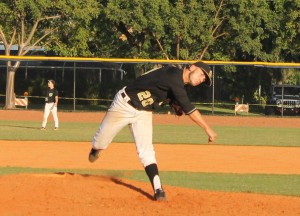 "I feel like I have more confidence in my team now," Massaro said. "When I come out of the game I know someone will come in who is equal or better than me, so I feel like we can win a lot more games this year. Our bullpen is a whole lot stronger now. I still have to perform to the best of my ability, but I know that someone that is coming in after me will do just as good. I'm trying to work on going as long and perform as great as I possibly can."
Massaro, Richard Medina, Andrew Lopez and Joseph Spano are the returning guys on the pitching staff, while incoming transfers George Helbig and Alex Bertot have also worked to give everyone a big boost to the staff. Several young guys will also mix it up, and Gutierrez is a possible candidate for the closer role.
The offense is still coming along.
"We're trying to find our way offensively right now," Barnes said. "We're feeling very excited with Brannigan Hart and David Flores coming back. They were two of our better hitters last year and they are both juniors this year, so we're hoping they will be staples in our outfield and our lineup for this year and next year. They are probably going to carry us offensively."
The younger players coming in are a group that has found success together. They won an HSBN summer tournament and also a tournament title in one the previous winter. They have played well together and they have won together. They are coming in with older guys who have not been as successful and they are eager to play at that same standard. Together guys have gelled well and the chemistry is strong.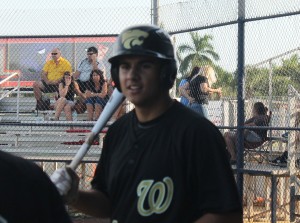 "My freshman year I played to help all the seniors because it was their last year and they wanted to win," Gutierrez said. "This is my senior year and I am speaking for six or seven other seniors when I say without exception we want to win. Unfortunately Western has had a couple of tough breaks all these years, but this year we are winning. We'll do whatever it takes to win."
The senior veteran has been one of the guys who have stepped up to set the right example. Players respect him and they know he has logged a lot of varsity innings and he knows what he is talking about.
"It's a big role and every day I come out here and I just like to get everyone motivated to be a better player," Gutierrez said. "It's a team game and you have to be selfless; you have to lay a bunt down and move a runner over. You do what you have to do, and at the end of the day you have one goal and that is to win. We all have to be willing to do whatever it takes to win."
Massaro admits he likes the team's chances in the district this season due to all the strong pitching they have. The team has lots of experience and many guys have pitched in big games before. The defense is coming along behind them, and they know if it falls into the place they could make a deep playoff push.
The friendship and strong chemistry on the team is another big aspect that could help them succeed. The guys are all friends and they hang out together all the time. They all get along well and they play with more cohesion on the field thanks to that.
"I think it's about the chemistry more than anything," Massaro said. "This fall we played a ton of games and hopefully that got us all together where we can work on the same page and play well together. We've had some times where it has been hard, but other times we have looked like a really good team that has improved. We played well in the Perfect Game tournament in Fort Myers, and if we play like that we should be really good."
The team always gets up for their big rivalry games, which are against district foes Cypress Bay and Cooper City. Coach Barnes admits they miss having West Broward and Flanagan in their district, but they are glad to have their biggest rivals still intact. Cooper City was the big rival when Barnes was still a Wildcats player, but the rivalry with the Lightning has grown bigger in recent years. Last year's results in those three meetings reminded everyone how strong that rivalry is and how it helps bring out their best. It doesn't matter how good or bad both teams are it is going to be a close game.
"It does help to have that, but last year it was the South Plantation game that killed us," Barnes said. "You have got to win your eight regular season ones and then take care of yourself in the district games. The rivalry games are fun, but we lost the one that matters the most against Cypress Bay last year."
With the district likely to be as tight as always, the team is just working to put itself in position for another playoff rematch with one of its rivals. At this point starting off the players are treating everyone like a rival, and hoping to maintain that sort of intensity all the way to the Promised Land.