Everglades Set To Turn The Corner Under Cordova
Coaches preach all the time about coming together and playing your best at the end when it matters most. They talk about how important district games are, and how to take those seriously. Players are reminded that it is not always about winning early on, as long as guys are improving and always working to keep improving.
Last season no other team embodied these concepts better than the Everglades Gators. Although the team struggled at stretches during the season, a young group slowly came together to play their best at the end and make a historic playoff run. The Gators upset West Broward in the district playoffs to advance to their first regional appearance, and even in that playoff loss the team went down playing great baseball in an epic 10-inning showdown with Miami High.
Everglades did not post a winning record last season, and even with the strong finish the team knows there is a long way to go to get where they want to be. When Oddibe McDowell stepped down to take over his alma mater at McArthur, there was concern the team would go backwards from how far it had come. But in stepped Matthew Cordova, a former assistant coach who is a local guy that cares very much about the success of Everglades Baseball. Now the sentiment is that they have grabbed the torch from last year's group and are carrying it forward this season.
"We were still 8-16 last year. There is experience there, but we have to understand that we still need to grow as a program," Cordova said. "We want to take things to the next level and we expect to be back where we were and to be competing at the top of the district. We want to be looked at as one of the premiere programs, because you don't get to the regional playoffs by being a joke. The talent is here and we have done nothing but to reload and reinforce that talent."
The opportunity to come coach this program is a blessing from the sky for Cordova. Initially he was hired only as a coach, but through a series of fortunate circumstances he has also landed a teaching position at Everglades. Now he gets to share what he knows in his classroom each day, and then also share his baseball knowledge with his team every day.
Cordova is a focused, determined and passionate guy. He is a graduate of Cooper City, and he is used to winning. In high school he played under Charlie Cardinale and was a part of a team that went to the state tournament. As a coach he credits his mentors Pete Colabella, Charlie Cardinale and Oddibe McDowell for helping him along. He amassed a massive amount of knowledge under these local coaching legends, and now he is anxious to make good for his neighborhood school.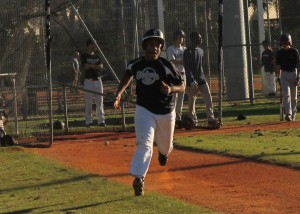 "So far Coach Cordova has been great," senior Raul Quesada said. "He has great passion for the game and the program is really growing, and it is only going to continue to grow. We are very excited for the season. We have never been this pumped before, especially after last season when we actually did something for the school. Now that we are coming in even stronger I think we have a better chance of making it even farther."
Coach Cordova ends every practice by reminding his guys what the goal is, and that is to win the district. Like most clubs, the overall desire is to win the state championship. But something that Cardinale helped teach to Cordova is that you have to win your district first in order to give yourself a chance at states. Therefore the goal is to aim to be the number one team in the district. They want to make strides and improve on their record and where they finished last year, but that first step comes in winning the district.
The guys tasted that success last year, and all the coaches were also successful high school players once. There are an army of coaches with assistants Elijiah Walker, Gabriel Sanchez, Anthony Garcilazo, Shanel Santiago, Brian Santo and Juan Cordova, and all of them are neighborhood guys with pride for the program. Everyone has one goal, and if they are not at the top of the district than they need to work harder and harder every day to get there.
The veterans admit it has been adjustment to get used to a new coaching staff, but the 11 seniors have helped set the tone to make the right adjustment and welcome the change. It has been a lot of hard work and everybody is out there on time and not slacking off. It has been baseball, baseball, baseball.
"After last year and regionals and everything, everybody has been more serious and really buckled down now that we saw what we can do," senior Dominick Desisto said. "The intensity is something we bring ourselves, and mainly the seniors have been bringing it. They want everybody to follow what we have been doing and what we are going to leave. It's just chemistry, the chemistry between short and second and just everybody on the field. Being together for so long creates a spark that everybody wants."
Dominick is one of 11 returning seniors, and like most of the guys he knows his role and he loves it. The right-hander is typically used out of the bullpen to close out games, and it is a responsibility that he loves. Meanwhile Coach Cordova has noted from the first day that Dominick is a different animal. He is a leader and he is intense and he wants the team to succeed, and they will be counting on him heavily.
"It pretty much explains itself; I am a closer. I go in, I throw and I walk off the mound and I have my save," Dominick said. "It's all I am looking for this season. With Justin Carillo and Raul Quesada, behind them I know I've got a good job to do because they are going to be winning games throughout the season."
The Gators have a strong starting corps with Carillo, Quesada, Justin Baly and Nico Doster. The pitching staff is set up pretty good, and Cordova knows most teams would kill to have proven starters and a confident closer.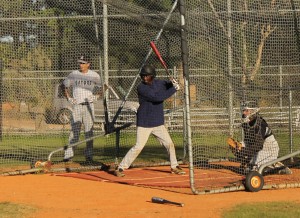 Quesada is the proven ace of the staff, the big guy who proved his mettle in big playoff environments last season. Cordova says he has never seen a guy who strikes so many people out naturally, and he knows this kid is good. Even more is the maturity, the leadership and the love for the game Quesada embodies. Being around him makes it very clear that he has something special, and more than anything else he brings out the best in all of his teammates.
"Raul has finally accepted what his value is and he has been on varsity for four years," Cordova said. "He is one of the best pitchers in the county, and he comes in there with that mentality. He has done a great job of showing leadership and making sure everybody is hustling. He is something special."
Quesada could be a guy that could carry a club all on his own, but he knows he doesn't have to think that way with all the support he has around him. He is confident in Carillo, Doster, Baly and Dominick Desisto and he feels the team is going to be very strong on the mound. He accepts his role as the big guy with the ball in his hand for the big games, and he is ready to shoulder that responsibility and face the best around.
"Right when I get on the mound I just focus on throwing strikes and getting my mental part of the game down perfect, with no flaws at all," Quesada said. "I am just having fun on the mound and I just love pitching."
The focus for the club has been to improve the offense. The guys all play very solid defense, so starting time could come down to who can hit and help the team score more runs. The guys have spent a lot of extra time improving their swings and plate discipline, and now they are ready to see just how far they have come. The offense is led by veterans like Yabel Arzano, Robert Paulino, Cecilio Santos, David Gamero, Francisco Franco, Juan Sanchez and Erik Curiel.
The future is also very bright, with a perfect storm of young kids coming in to the JV team this season. The sky is the limit for the years ahead, but right now the team is focused on this year and these skies. It's showcase time for everybody and they are trying to turn as many heads as possible and showcase everybody.
Cordova is trying to build a program here, and they don't want to lose local guys to other programs anymore. He knows the ball players that live in this area are as good as any, and he wants to elevate the community's team. He wants guys to stay in the swamp, to find this as the mecca of baseball, so they can build a program here.
"The ship is moving the right way and they are really working to get better," Cordova said. "The only thing they ask me is, 'what can we do to get better today?' Baseball is one of those things that you can always be working on something, somewhere, somehow. Guys are seeing it and gravitating to it and its moving good."