Monarch Erupts Late To Down Piper in GOTW
Friday's HSBN Broward Game of the Week featured a rare match up between two undefeated teams in Monarch and Piper. Both programs are off to their best start in recent years, and the featured contest brought a chance for both clubs to flex their might and show just how they have gotten off to such good starts to the season. Each team entered the game coming off a strong victory over a quality opponent with an eye on keeping things rolling.
After a tight, seesaw affair through the first few innings, Monarch erupted for a huge fifth inning to break things wide open and pull away with a 14-4 victory over the host Bengals. The Knights sent 14 batters to the plate in the fifth, tallying eight runs to pull well ahead and cruise for their fourth straight victory to start the 2015 season. The big frame came one inning after the club went back in front for the third lead change of the night, and the Monarch offense made sure they would hold onto the lead for good from there.
At the start of the week the Knights looked at their tough schedule with games against University School, Coral Springs and Piper. With three good, quality programs the team knew it was going to be tough on the pitching staff. Coming out of the week with a record that improved to 4-0, the Knights were more than satisfied with the results.
"It was a good game and a good win," Monarch Manager Joe Franco said. "Anytime you get to play three quality programs in the same week, it definitely tests your team. I think we passed the test with flying colors. I am real proud of the way the kids played this week. But the season is not over and we have a lot more to go."
While a victory is validating for the Knights, Piper Manager Pat Pisani did not look as Friday's contest as a measuring-stick game for his squad. For Pisani, that moment came a night prior in the Bengals' 5-4 comeback win over district rival Western on Thursday night.
"I think we're a good baseball team, and we proved that last night when we beat Western," Pisani said. "We were down 4-2 and we showed a lot of heart in coming back to win. No matter what the score was tonight it doesn't reflect the baseball team that I think I have. Monarch is a really good baseball team and Coach Franco's got a really good ball club. We were in this game for the first four innings and we just had one bad inning. In order to be a good baseball team you have to avoid those bad innings."
Over the past few seasons Monarch has not enjoyed many big innings such as it had on Friday night. The team has been solid with its pitching and defense, but the hitting had lagged behind. So this season the club has spent a lot more time working to improve their hitting, and with the players that they have offensively this season they feel they have added that piece to their little puzzle.
The top of the fifth inning provided an example of just how far the Monarch batters have come. The first eight straight batters all reached base, and as the bats got rolling they became tough to stop.
The fifth got off to a bang with the very first pitch, as Nick Taylor jumped on his first offering to club the ball high and deep to the farthest part of the field for a monstrous solo home run. The lanky right-hander started the game on the hill, but it was his work with the bat that made the biggest difference Friday night. Taylor came back around to hit later in the fifth, smacking a two-RBI single to right field. He also had an RBI double that landed just fair of the left field line to drive in James Buckley in the first inning, and he just missed hitting for the cycle by going 3-for-4 on the day.
"I didn't really pitch that well to start off the game, so it's great to contribute with the bat even though I was struggling with the pitching," Nick Taylor said. "Since last year we needed to work on our hitting, and this year our main goal is to be a better team when it comes to our hitting. During practice we focus a lot on that so we can produce in the game."
Monarch got plenty of production to show for its hard work. Joey Hennessey singled and scored on an RBI groundout from Jonathan Benestad to open the scoring in the first, going up 2-0 after Taylor's RBI double. The Knights added to that lead two innings later when Manny Rojas scored the first of his three runs on the night when he reached on an error and scored on a wild pitch. Hennessey also scored three runs, after reaching base four times in five plate appearances.
Following Taylor's longball, CJ Delbosque kept things going by rolling a single up the middle. Joey Rugare walked and Joey Gerber loaded the bags after he dropped down an excellent bunt that died on the grass a few feet from the plate to give him enough opportunity to hustle down the line and beat the throw. This effort kept the inning going, and Monarch tacked on seven more runs, the last coming in on an RBI single from Gerber.
"I think the kids have the right idea, and we are trying to get them to be more aggressive and not be so passive," Franco said. "We want them to understand their limitations and to play to their strengths. Do what you can for the team and then pass it on for the next guy. That approach has worked so far."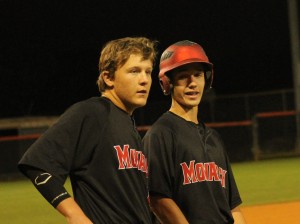 Early on, fundamental execution was the key to success for both sides. Bengals leadoff hitter Brian Clancey drew a walk in the bottom of the first, and then got a great jump to steal second base and get into scoring position. Two batters later Joe Sallustio drilled a shot to the left field corner for a standup double that easily plated Clancey to cut the Piper deficit in half.
Trailing by a pair in the third, Piper got on top thanks to more solid offensive execution. Clancey drew another walk, Eric Rath lined a single to right field to follow, and Greg Snyder also singled to right field to load the bases for Ryan Taylor. Ryan Taylor wasted no time in driving the first pitch he got into the right-center field gap for a bases-clearing double that put Piper ahead, 4-3.
Monarch responded right away in the fourth. Gerber bounced a leadoff single up the middle, advanced to second on a terrific sacrifice bunt from Ed Mercado, and later scored on a wild pitch to even things back up. Hennessey then padded that lead by plating Rojas on an RBI single.
The Knights' ability to respond to adversity and lift each other up is helping to fuel the club's strong start to the season. The players communicate well both on and off the field, they pull for each other and they lift each other up like good teammates do.
"The camaraderie is amazing this year and I couldn't ask for a better team to do it with," Benestad said. "The past year I was here we didn't do that too much, and I think that was mainly our downfall when we got to regional play. This year we have really been trying our best to bond as a team and really get together and strive to really reach our goals. We have accomplished that and we have been doing a lot of team bonding. We've been doing our thing and just enjoying baseball."
With three more big games up next week for Monarch, the team figures to have plenty of confidence to keep going forward. The Knights open district play next week, looking to make an early splash in the district standings.
Piper also has some big games in the week ahead, and Pisani encouraged his guys to move past Friday's loss and keep in mind what has worked so far for them. The Bengals are now 5-1, and they have played some solid baseball to start the season. The key now will be to shake off this tough loss and bounce back immediately.
"I think we are a good ball club and we are making good strides," Pisani said. "I just told them that they have to have a short-term memory, because on Monday we have Cooper City and that is a district game. We have to focus on Cooper City, and we have the weekend off so it is good for them to get away for a couple of days. But we want to keep our losing streak at only one, and not two."
The Bengals were unable to end a losing streak to Monarch, however. Since the Knights began playing in 2003, these two programs have rarely faced one another. Friday's meeting was only the third time these two clubs have played, and Monarch has won all three contests.