Northeast Ready To Get Rugged Under Hollingsworth
Dave Hollingsworth could not be happier about his new position as the Manager of the Northeast baseball team. The Hurricanes alumni is a local guy who grew up in Oakland Park, and for him growing up back then meant coming to Northeast baseball games and rooting for his local team. As an 11-year old boy Hollingsworth could not wait until he got to high school, because he knew one day he would have that chance too.
"Four of the best years of my life were spent here," Hollingsworth said, during Saturday practice at Davis Field on the Northeast campus. "A lot of blood, sweat and tears were left out on this beautiful field we have, and we put this field in my senior year. I came here every Saturday and Sunday the fall of my senior year to help build this field."
Hollingsworth is focused on bringing the program back into the conversation of Broward's elite programs. Guys were regularly getting drafted to the Major Leagues and guys were going to college when Hollingsworth was a player at the school, and it is his mission to bring that constant back into the fray.
"What we're trying to do is to reestablish that if you're a public-school kid that grows up in East Broward County, this is where you want to be," Hollingsworth said. "When I was a player, if you were serious about baseball this was the place to be. We are trying to be serious; right now we don't have that reputation. But we are reaching out to local middle school kids and encouraging them to be a part of that future here. That's also part of the building process because next year's class is going to be crucial to where we go. We're serious about baseball and academics here again."
The Canes won the district title two seasons ago, but struggled last year after losing several key guys to ineligibility over grade issues. Since taking over in the fall the team has worked to get those guys straight in the classroom and put school ahead of baseball. Every two weeks the kids report their grades and get monitored by the coaching staff.
Hollingsworth has surrounded himself with an experienced staff of coaches with a lot of baseball knowledge. This includes Larry Kashdin, Larry Price and Alex Nonamaker. Hollingsworth feels it is a more sophisticated staff then the guys are used to, and that is helping the players a lot. From day one the team all got together in a classroom and Hollingsworth handed out a set of rules and expectations, what they expect from them and the consequences if they break team rules.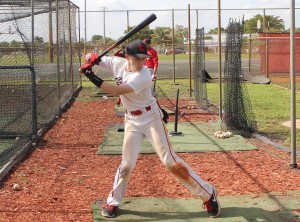 That is something the players are not used to, and unfortunately there was some attrition that led to the program losing several veteran guys. But the group that remained is buying in, and they are eager to be a part of Northeast's turnaround back into prominence.
"We can't be afraid of change and we have to get used to it," sophomore shortstop Rob Robinson said. "We're going to develop throughout the season and listen to the coaches and be coachable. We just need leadership, and I've got to cheer my teammates on be a good teammate."
Robinson is one of those guys that display the example the coaches are looking for. He is a pure athlete who also excels on the basketball court, and Hollingsworth appreciates that he is a great kid, very coachable and if you ask him to do anything he's going to do it. Robinson gets good grades and is a dominant athlete who can run, jump throw, dive, bunt and do anything on the field. He is the shortstop and the general on the field who calls the plays, and then makes the big plays.
"I like going at a fast pace," said Robinson. "I am like the Energizer Bunny and it is impossible to get me to stop. Once they get me going I get adrenalin and I can't stop going. I can match up to the team energy or even go above it, and we get loud in the dugout."
Even with a lot of new faces, the team has a strong core of upperclassmen. While Robinson embodies much of what the coaches are looking for from guys, the one who the team is leaning on the most this season is senior pitcher Isaiah Blackwell. The lanky right-hander with a heavy fastball is a four-year varsity player with deceptive stuff, and the team is going to count on him heavily in the district chase. From day one Blackwell has been behind his new skipper, embracing that it his time to step up and be a vocal leader on his team.
"If it's a very important role for me," Blackwell said. "We have a lot of young players and young guys and they need to know what to do and how to carry themselves. It's been an honor being a leader for these guys. We want to come to a goal of winning districts and hopefully take it farther, and I know I have to lead and step up to help these guys come farther to our goals."
Blackwell can still remember what it was like coming from being a freshman all the way to being a senior, and he has learned from the guys who mentored him in how to carry themselves and how to develop. He is honored to be that guy now, and to be one of the main starting pitchers for his club. It is a rewarding feeling after knowing how hard he worked to get there.
The Canes have a nice group of pitchers on their staff. Sophomore Tyler Slanker showed a lot of promise last season, and seniors Matt Underhill and Aaron Cooper have earned valuable experience on the mound already. Coming aboard to the staff if freshman Ben Lewis, who could earn plenty of time on the mound.
The team has a nice outfield group. Senior Visesh Swaroop mans center field, and senior Jon Jarboe returns to the club after missing last season. Pairing with these veterans will be freshman Isaiah Hamilton.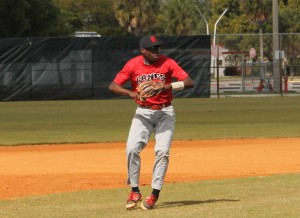 The infield is a deep and strong group, despite many new faces. Sophomore Macklin Harper teams with newcomers Zack Dunan, Brandon Grandling and Kevin Cabrera. The glue that brings it all together is freshman catcher Nico Rendina, who just may be their best hitter even though he is the youngest guy on the squad.
Rendina will quickly make his mark as one of the better catchers around. The switch-hitting youngster loves baseball and he is dedicated to his sport. He gets up every morning at five and runs to the gym, then runs home and goes to school. He is attentive in class and gets straight A's, and he is polite to his teachers. Nico shows up early to practice and leaves late, and then goes home to work out on his own. If Hollingsworth asks him to block 15 balls in the dirt in a row, then he will do it.
"Nico is the type of kid we want people to see and know he is a Northeast guy," Hollingsworth said. "He's the kind of guy we want here. If people see a freshman play as tough as he plays he is going to help us attract younger players in the program."
Hollingsworth has not forgotten his coaches when he was a player. Now that he is running a team, he cannot help but appreciate his coaching mentors as well. He credits Fort Lauderdale Manager Terry Portice for enhancing his understanding of defense, and former Pine Crest Manager Ryan Shealy for enhancing his hitting knowledge. Hollingsworth gives credit to them for helping to shape the program that he hopes to reestablish with Northeast baseball.
The approach is to play hard ball. Hollingsworth feels most teams learn fundamentals and play baseball, but very few play real hardball. The coaches are preaching to their guys how to break up a double play, and not to be afraid to crash into the fence to make a catch. They want to be the most aggressive and loudest team on the field each day out.
"If you are not diving then you are not trying hard enough," Hollingsworth said. "Our energy fuels our performance. It is not like that at every school, and some guys will say baseball is not a ra-ra sport. But I think in high school it is. So we want to play loud, and aggressive and tough. If we are not better then the other team we are going to be tougher then the other team. They are going to know when they play Northeast that they are in for a fight."
The goal is to outwork the last day. The team wants to win a district championship, but it is trying not to look that far ahead either. They want to get tougher and improve every day, and let those results lead to the accomplishments they seek down the road. The hope is that when the game comes they will remember their training and they are not going to think, but just go out and execute.
Where they are now and where they will be in late April has to be much better, and it will be. But Blackwell also reminds his guys that their opponents are going to keep working and improving too, so the task gets harder as the season gets longer.
"Every year every team gets better and the other teams also get stronger and better," Blackwell said. "Everyday Coach pushes us to be our best and to give 100% every day. We have players that were on that team that won districts two years ago, and we all have that goal to win two districts in our high school career. We are just focused on working hard and coming together and being the team that we know we can be."