Westminster And Pine Crest Fall Short In Shootout Semis
Gold Bracket Semifinals Photo Gallery
The Mater Academy Lions and Coral Gables Cavaliers have followed similar paths through the first half of their 2015 season. Each team came into the season with expectations of a state championship run, and each has hit bumps in the road and have taken some tough losses.
On Thursday night, the two paths will cross in the Gold bracket championship game of the HSBN March Madness Shootout presented by Galeo Spices. The #8 and #14 seeds, respectively, Mater Academy and Coral Gables each took care of business in the semifinals with timely hitting and strong pitching on the mound.
Mater defeated #12 Pine Crest 4-3 in the afternoon semifinal, while Coral Gables took down #7 Westminster Academy 4-1 in the nightcap.
"This has been a great tournament," said Gables Manager Phil Wisser. "We came into the tournament because we wanted to play the best of the best, and our kids have really risen to the challenge of this big event."
Mater Manager Mike DiRosa echoed those sentiments.
"When you come into a tournament like this, you do it for the competition, to prepare you for the playoffs, but you never know what to expect from the results," said DiRosa. "Just to be one of the last two teams standing in a field loaded, that is something to be proud of. But we don't stop working here, we keep working to improve, and play better Thursday than we have all tournament."
How the Lions have played in the tournament has been nearly flawless. They opened the event with a resounding 12-0 win over defending state champion American, then took out West Broward, who had upset top-seeded Archbishop McCarthy.
On Tuesday, the Lions turned to Kevin Fuentes to get them through to the title game, and the senior ace did not disappoint. Fuentes threw a complete game, giving up only four hits.
"We've really been coming together lately," said Fuentes. "We had a couple of real tough district losses, and it brought us back to reality a bit, but we knew we were a better team than we had been showing. In this tournament, we are showing everyone what we are capable of."
Joining Fuentes in the role of hero was Danny Reyes, who gave the Lions their first lead of the game in the third inning with a towering two-run home run.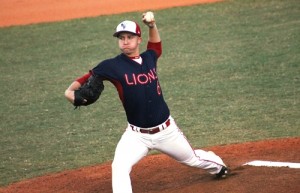 "We love to play the game," said Reyes. "We knew we were in for a battle today against one of the best teams in Broward, and we were able to get one more run than they did. It's a great win, and it's been a great tournament to play in, but we still have to stay focused.".
Pine Crest, for their part, played equally well, even taking an early 2-0 lead in the second. Unfortunately for the Panthers, the lead did not hold up, and they were unable to get to Fuentes after they fell behind 4-3.
"This was a well played game by two very good teams," said Pine Crest Manager Wayne Stofsky. "It was a tournament loaded with strong teams, and I am proud with how these guys stood toe to toe with who we played. During the course of the week, we beat what many believe is the best team in Miami (Braddock), and we defeated one of the best in Palm Beach (Benjamin). Now, we get to face one of the top programs in the state on Thursday night (Archbishop McCarthy), you can't ask for much more than that."
Like Pine Crest, Westminster Academy also came into the March Madness Shootout looking for a different atmosphere than a regular season game. The Lions took out Miami Brito and Cypress Bay before falling to Coral Gables Tuesday night.
"This tournament has been great for us," said Manager Nick James. "It's one of the only tournaments that is set up to give you a true playoff feel, with the one game elimination format. The kids get a chance to not only see the intensity needed for the playoffs, but also get to play at some different parks, much like going on the road in regionals. We played pretty well this week, and we just have a few things to clean up as we move forward, and we will get those things corrected."
The Cavaliers, meanwhile, were many fans' choice to get to states in 8A this season, but after falling to some big teams early, they found themselves waiting on selection Monday to see if they even made the Gold bracket. Their strength of schedule pushed them into the Gold bracket as a #14 seed, and from there, the talented Gables squad took over.
The Cavs took out #3 Flanagan, and #6 Belen, in addition to Westminster, on their way to the title game.
"Just loook at the fact that we have a #14 and a #8 team playing in the championship game, and that tells you just how competitive this tournament was," said Wisser.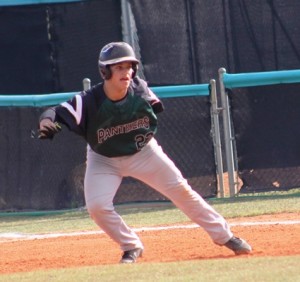 Gables turned to Ryan Maya to throw the semifinal game. Maya, who had been in relief all season for the Cavaliers, turned in a strong performance in his first start of the season, going 5.1 innings, and giving up only one run, while striking out five.
"That was an incredible performance from a guy that hasn't even started a game this year up until today," said Wisser. "For him to turn in that type of effort in a semifinal game of a tournament after not starting all year, that was special."
Wisser will now face his good friend DiRosa in the championship game Thursday night at St. Thomas University. He will have the advantage of having his ace, Andrew Cabezas, on the mound, a fact not lost on Maya.
"We are in good shape," said winning pitcher Maya. "We have our ace to throw a championship game, so we are feeling pretty good, but we are still going to have to play a strong game, because we are facing a great Mater team. It should be fun."