Hennessey Leads Monarch To Shutout Over Atlantic
Thursday night in the 7A regional quarterfinal playoff at Deerfield Beach High, Monarch's Joey Hennessey proved what hard work and dedication can lead to. The right-hander delivered perhaps his finest performance on the mound with a complete-game, 4-0 shutout over Atlantic. Hennessey struck out five while scattering five hits and a walk through seven scoreless frames.
The Knights (21-3) earn a moment to celebrate the victory and enjoy the chance to advance to the regional semifinals, where they will host Royal Palm Beach in Tuesday's regional semifinal. The Wildcats blanked Fort Lauderdale on the other side of the bracket to win and advance to a meeting at Deerfield Beach High on Tuesday night at 7 P.M.
When Hennessey first converted from a middle infielder this fall he admitted that the transition did not go as well as on Thursday night. But he also likes having the ball in his hands and being a main part of the game. Through a lot of hard work and practice, he evolved into a force that set the tone in the biggest game of the season.
"I like to pitch and I felt good," Hennessey said. "I was just trying to throw strikes and get the ball over the plate and put balls in play. I was just trying to get quick outs. When I first started my location was a little it off and I was walking people left and right. But I have really good pitching coaches who helped me get the ball over the zone and keeping me throwing strikes."
Monarch Manager Joe Franco always tells his guys that there is nothing like wearing your high school jersey and representing your school during the varsity season. Franco noted it is especially memorable when a guy goes out and is a bulldog, wanting the ball and making plays for himself and helping himself out with the bat while pitching so effectively. The coaches spent a lot of time working with Hennessey, but the main thing he had all on his own was that he wanted the ball in the biggest moments.
"For Joey Hennessey to come out and pitch the way he did against a good Atlantic opponent in the first round of the regionals and really just dial in was just a spectacular performance," Franco said. "We're just real proud of the kid. You are talking about one of the biggest stages in high school baseball."
While enough cannot be said about the singular performance of the Knights' ace on the hill, it does not overshadow the incredible overall performance of the club as a whole. Monarch won its first regional playoff game since 2012, and it accomplished that feat in exactly the same fashion as it has succeeded all season, which is to play excellent team baseball. Players support one another and lift one another up at every step, and selflessness is evident in all corners. The guys play for each other, and the only thing that matters is getting the victory.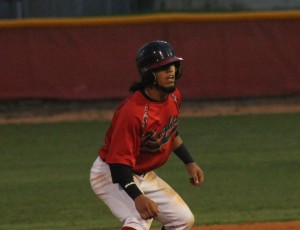 "I think one of the best things about this team is that they actually all care about each other," Franco said. "They really have a family atmosphere. They hang out after school, they hang out on the weekends and they really came together as a team off the field and on the field this year. We're just real proud of how they're representing Monarch high School."
The affect this has had on the field was evident in the biggest moments on Thursday night. Monarch broke open a scoreless affair in the bottom of the fourth thanks to numerous contributions on offense. CJ Delbosque got things started with a leadoff walk, and was replaced with pinch-runner Carson Ostrum. Joey Rugare lined a single to left field, and Eddie Marcado advanced both runners into scoring position with a sacrifice bunt. Against a drawn-in defense, catcher Jonathan Benestad still managed to rip a single through the tight space on the left side for an RBI single.
The hit also brought the lineup back around to the top for second baseman Manny Rojas. Rojas has been a strong presence in the leadoff slot this year, and finished the night with a 3-for-4 showing. But in his first two at bats he admitted he was early on the ball, and with a scoring chance to help his team at hand he focused in when he came to the plate in the fourth. The senior stayed back and lined a 2-2 offering to left field for an RBI single that doubled the slim lead.
"I was just seeing the ball real big," Rojas said. "He threw me a slider and I just sat on it and lined it up. I was just trying to do a job. I'm a team player and I like to play for the team. Individual stats don't mean anything unless we win. We came out with a warrior mentality and we just wanted to win."
Along with James Buckley, Rojas was a transfer student who joined the squad this year. He was readily welcomed and quickly learned what a special group he is a part of this season.
"I've never been on a team that has been as solid from one to nine," Rojas said. "It's awesome. Ever since the beginning of the season I had a great feeling transferring here. It gets me very speechless. This team, every single one of them are warriors. I can't say enough about it. Everybody plays with their hearts."
That effort was evident on so many plays throughout the night. Delbosque had a nice leaping catch and tag on an off-line throw to first base, and on another occasion Hennessey helped earn a big out for himself by hustling to first base on a grounder to the right side that pulled Delbosque away from first in order to get a glove on it. Players dove out for the ball all over, and the team played nearly flawless on defense.
Offensively they added to the lead with a run in the fifth and sixth to create some breathing room. Rugare drew a bases-loaded walk to drive in Nick Taylor, who had started off the fifth with a single before Joey Gerber and Delbosque worked walks to load the bags. Rojas got his third single of the night in the sixth, a flair to shallow right that the diving fielder could not keep in the glove. He later came around to score on a wild pitch to close the scoring on the night.