Herzog Lifts Pines Charter To Extra-Innings Victory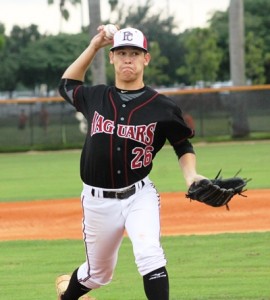 6A Regional Quarterfinals Gallery
Trent Herzog was the hero for the Pembroke Pines Charter Jaguars on Thursday, driving in the winning run in the bottom of the ninth inning to give the Jaguars a 4-3, come-from-behind win over Port St. Lucie.
With two outs in the ninth, Herzog smacked a single to left field, scoring Anthony Gomez to lift the Jaguars, who advance to a regional semifinal Tuesday against Jensen Beach. Gomez singled to right field and then stole second to set the stage for Herzog's heroics.
"We have a lot of confidence in Trent with the game on the line," Pines Charter Manager Carlos Iglesias said. "Trent came through a big hit to takes into the next round. He also did an outstanding job behind the plate."
After falling behind 3-1, Pines Charter rallied for two runs in the bottom of the fifth. Matthew Rondon, who went 2-for-3, scored on Gomez's groundball and then Gomez scored with the bases load when Herzog was hit by a pitch to reach base.
Anthony Nogueiras went 3-for-3 for the Jaguars, who carry confidence.
"We believe in ourselves, and we pick each other up," Iglesias said. "Next round is about taking one pitch at a time and get the team prepared for the next game."