9A District 12 Preview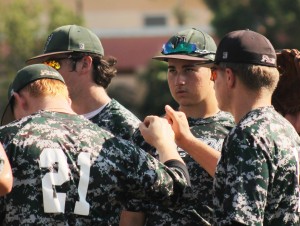 State realignment helped to bring the six teams in District 9A-12 back together like they used to be. Cypress Bay and Western return among the other four teams that they have always traditionally played against in Everglades, Flanagan and West Broward. It is a welcome change that has helped stir excitement in the district.
"We used to have a nice rivalry with Cypress Bay and Western has always been tough, so to get those teams back in the race makes it much tougher," Flanagan Manager Ray Evans said. "It will be nice to play them again, and it will be interesting to see if we can do what we have to do this year."
The Falcons have won six straight district championships and last year the club swept the table in district play. But the other five clubs are determined to bring a better battle in the season ahead. Only the top four teams will make the district tournament, which brings even more pressure to each district contest.
"It's good to be back to the same district we had a few years ago," said Western Manager Paul Barnes. "We haven't gotten to play Flanagan in the last couple of years but we still were able to play West Broward and stay a bit familiar with them. But it will be good to get them back again. The last few times we played Everglades was tight and they kept us out of districts the last year we were together. This should be one of the tougher districts around and we're looking forward to it."
Teams sometimes do not have that 'do-or-die mentally' for every district game when every team makes it. With this set up and as tight and competitive as the district should be, these teams can't afford to not have their ace ready to go for the big district games. So preparation and work is going to be a big part into who is going to come out on top this year.

Cypress Bay – Team Page
2015 Record: 13-12
Manager: Paul Liotti
Coaching Staff: Ozzie Durand, Kendrick Gomez, Luis Hernandez, Hely Rodriguez, Josh Koop
Key Returners: Raul Quintero, Jonathan Pino, Jose Natera, Alex Abella, Alex Rodriguez, Greyson Fletcher, Brian Manno, Nick Orlando, Anthony Figueroa, Miguel Alba, Christian Nehls, Hector Lozada, Nick Lopes, Devin Ramirez, Luis Diaz, Jake Davis, Richard Prothero, Jake Schultz, Al Ortiz, Carlos Salaverria, Jack Tariche, Ben Rushing, Tyler Isbitts, Ben Pelman
Newcomers: Mike Moreno, Jorge Julio Jr., Gabe Gonzalez
Team strengths: Pitching
Every coach dreams of having problems like the ones that Lightning manager Paul Liotti has. The team is loaded with experienced, veteran players who have been in the system together for years. There is an abundance of talent, enthusiasm and excitement as they head into the new season together.
The team has also enjoyed the opportunity to begin playing on a fresh and newly refurbished baseball field, thanks to a long process of improvements that have been done recently. When Liotti took over as manager last season he envisioned having a facility that stood out as its own special stadium much like fellow programs at Flanagan, Archbishop McCarthy and Nova have. Thanks to a lot of hard work and dedication from the Lightning baseball family, Ron Bergeron Field has grown into just that.
"It's awesome, because since I came here as a freshman I have seen the progression with the team and the field. Now it is really coming full circle," said senior Devin Ramirez. "We have the halo behind the catcher and the dugouts are really nice, plus we are going to put some astroturf in them. The lights are going to be coming in for the batting cages and it is a really nice ball park."
[KEEP READING]

Everglades – Team Page
2015 Record: 9-12
Manager: Jorge Julio
Coaching Staff: Anthony Garcilazo
Key Returners: Justin Carillo, Javari Alvin, Jerry Alcantara, Phillip Cade, Diego Orchena, Eduardo Rodriguez, Bryan Ferreira, Julio Conde, Adrian Buritica
Newcomers: Manny Rodriguez, David Rodriguez, Preston Patino, Alexander Gonzalez, Kenen Estevez
Team strengths: Pitching
A very recent coaching change has the Gators program under the guise of new leadership in former Big League hurler Jorge Julio. Losing a head guy that knew a lot about the game shortly before the start of the season is tough, but the addition of a guy with Julio's experience, pedigree and charismatic personality will help to ease the adjustment to that change.
As a former MLB hurler, Julio could have the most to offer to an improved pitching staff. The club has worked to develop their staff in recent years and now boasts some decent depth there. Senior Justin Carillo anchors the starting rotation as a proven ace who burst onto the scene with a strong junior campaign in 2015. Being under the tutelage of a guy who pitched at the highest level of the game should help Carillo to reach his fullest potential.
The key to make things work as everyone adapts to a new system on the fly will come in the team chemistry. The players have a nice bond together, and it is just about making that work for the new pieces that have been added.
"I came here this year from Somerset and I knew most of the kids here, so walking in here was just like walking into another family," said Manny Rodriguez. "I just took to the new kids immediately and all the kids are supportive and will help you out with anything. We are all in it together."

Flanagan – Team Page
2015 Record: 21-6
Manager: Ray Evans
Coaching Staff: Johnston Hobbs, Howard Stein, Noel Figueroa, Luis Penate, Collin Martindale, Zach Westcott
Key Returners: Dylan O'Connell, Eric Morera, Jeremy Cook, Arrison Perez, Eric Rivera, Peter Moforis, Ricky Presno, Edward Schissler, Andy Epstein, Mark Vientos, Jorge Gonzalez, Alex Hernandez, Tyler Evans, Roberto Pena
Newcomers: Justin Connell, Nick McDonald, Ralph Morla, Ihosvany Castenada, Cheyn Bartles
Team strengths: Pitching, Experience
The Flanagan Falcons are not misleading themselves about the biggest hurdle in their way. For the past three seasons the program has fallen in the regional championship, and the past two years the squad that defeated them went on to win the state championship that the Falcons had worked so hard to claim. While Flanagan knows their are other jumps that must be made along the track, the team has its sights set on making it back to the regional championship and finally putting the ghosts to rest.
"We want to get by that game that we haven't been able to get by for the last three years, and with this group it could be a very interesting year," Falcons Manager Ray Evans said. "Two years in a row the team that beat us went on to win the title, so having that and knowing that, while improving our team, they know where we should be this year. Anything other than getting where we know we should be is going to be disappointing. We are expecting to get in that game again and we are expecting to win and move on to the state semifinal. But a lot of things can happen along the way; you can have injuries or guys not playing up to their ability."
[KEEP READING]

West Broward – Team Page
2015 Record: 15-11
Manager: Greg Bennis
Key Returners: Steven Revilla, Isaac Quinones, Michael Giordano, Ryan Schoonover, Matt Perez, Michael Perez, Bryan Wilcox, Tyler Zayas, Angel Amadeo, Julian Burgess, Glenn Carlton, Anthony Delapietra
Newcomers: Blake Brito, Corey Clement, Ardry Lopez, Zach Revilla, Alexey Gonzalez, Richard Larin, Reid Simmons, Andrew Villa, Leonardo Torres, Andrew Controne, Hunter Craig, Sean Dieppa, Nick Nystrom, Anthony Molina, Ryan Langford, Garrison Hadley
Team strengths: Offense
Manager Greg Bennis is an experienced baseball guy who has spent his entire life devoted to the game. Getting his chance at the head of the program, his focus is on getting the players to have good memories and enjoy playing baseball together again. After just recently stepping in as the new manager this year, he has found a team that is ready for the season to begin so they can start the next chapter of Bobcats Baseball with him. Although he is coming late, the players are not. They have been working hard since the fall and they were ready for him when he arrived.
"I think the guys are enjoying being back out on the field and being back to normal," Bennis said. "There has been a lot of adversity the past couple of months and I know they are just excited to be back on the field. I saw that just in tryouts. I sat back and let them do what they wanted to do while I evaluated for a couple of days. It is good to be back out there and get the group together, to make our cuts and get down to the 45 guys who we are going to go to battle with."
Bennis embodies the same passion and drive that is the recognized trademark of West Broward baseball. Dating back to when the program first started in 2008 it has earned a reputation for the passion and raw emotion that fuels them to push every moment to its fullest. Former manager Sergio Ambros embodied that same mantra in himself and through the program as a member of the coaching staff who was here from the very beginning right up to his unfortunate passing this past summer. Now the players continue on behind a new leader who shares those same traits.
"I see the same passion for him too," said senior veteran Julian Burgess. "He's really into the team and showing that he cares about us a lot like our previous coach used to."

Western – Team Page
2015 Record: 13-9
Manager: Paul Barnes
Coaching Staff: Al Schwach, John Brown, David Flores, Steve Triana, Skip Lindeman
Key Returners: Brannigan Hart, Christian Coleman, David Flores, Drew Cleveland, Anthony Munoz, Marco Gonzalez, Hunter Torre, Ryan Smith, Jean Franco, Blayne Zaleski, Erik Lassman, Logan Santos, Matthew Patricio, Austin Winsor, Zach Urso, Jason Wallach, Anthony Leary, AJ Rojas, Weylin Cleri, Anthony Reyes, Wyatt Zukowsky, Zac Ference
Newcomers: Daniel Acosta, Billy Cantor, Joshua Cook, Dylan Longstreth, Michael Martinez, David Rivera, Maverick Story, Jonathan Wies, Zack Saryeldin, Jalen Perez, Jason Wallach
Team strengths: Pitching
Western manager Paul Barnes has the deepest roster he has ever had in his tenure with the program. Their depth will be a big advantage for them this year. Over the past few season the program has come out on the wrong end of a lot of close situations in close games. Now the team is hoping the sting of those experiences has taught them how to turn it over in their favor this year.
"This is a year we have been looking forward to," manager Paul Barnes said. "This group of kids have played together and won together, and they have won a couple of tournaments in the summer and winter. So they have been together for a while and they play together well. They feed off of each other and they are definitely the most confident group we have had."
Regardless of the final result, it is not going to be for a lack of effort. The guys love being out on the field together and the effort shows in practice. The coaches split sessions up a lot but often guys are either coming in early or staying late. They keep the coaches busy and therefore they keep the players busy. The guys know that some of the teams they will face this year are typically nationally ranked and they are working hard to show what they can do against them, as well as everyone else. This process just helps to bring them even closer together united in this goal.
"I think our senior class and also these few juniors are the closest group we have had the past couple of years," said senior outfielder Brannigan Hart. "We all hang out together outside of school and we have good chemistry and communication as far as on the field. It could lead to a lot of success for us."