PB Central, Coral Springs Set To Meet In Silver Bracket Final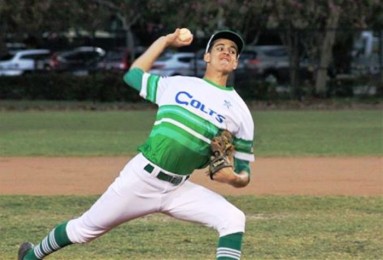 Coral Springs won its third game in a row as it rallied from a one-run deficit to defeat Georgetown Prep 6-2 on Tuesday in a Silver Bracket semifinal of the HSBN March Madness Shootout. The Colts move on to face Palm Beach Central in Wednesday's championship at 4 p.m. at Pompano Four Fields, Field A. The Broncos advanced by defeating Miami Brito 9-0.
Springs (10-5) rode the arm of junior righty Max Lazar, who pitched a complete game, striking out nine and giving up seven hits.
"Max threw well and got ahead early," Coral Springs manager Mike Federman said. "He commanded the zone well tonight and got ahead of a lot of hitters. He limited a lot of base runners. He had second and third and one out and was able to get out of that. He didn't pitch in too much trouble."
The Colts rallied for two runs in the bottom of the third on Tyler Hall's two-out, two run single and got another in the fourth to erase a 1-0 deficit. They tacked on three in sixth for a 6-1 advantage.
Federman said it was a complete team effort to beat Georgetown Prep, which came down from North Bethesda, Maryland.
"It wasn't just one guy," Federman said. "Everyone did something to contribute to the win."
Nick Volpe went 2-for-3 with two runs, and Logan Turcott had a hit and drove in two runs.
It's been a good experience so far for Coral Springs in the tournament. The Colts opened Saturday with a 9-7 win over Suncoast and then beat Pine Crest 3-0 on Monday.
"They've been playing well, and this is a fun group of kids," Federman said. "We've been trying to keep the atmosphere loose. They like playing in tournaments. This is our third one this year."
But Springs knows it's all business and will take a full effort from the whole team when it comes to today's championship against a Palm Beach County powerhouse, Palm Beach Central.
"Tomorrow is going to be a battle and our fourth game in five days, so pitching is going to be at a premium and really thin. Palm Beach Central is well coached. [Manager Scott] Benedict does a god job. It's going to be a battle. We're light on pitching, but we're heavy with the heart. Our kids don't quit. I think our kids have the heart and tenacity to stick in there for seven innings regardless of the situation."
After an up-and-down season so far, Palm Beach Central is hitting its stride and showcasing its talent on a big stage in the tournament.
The Broncos (10-6-1) opened the season 5-6-1 but have won their past five in a row. Tuesday's game was the third in a row in which Central scored nine runs.
"We've gotten three outstanding pitching performances [in the tournament]," Benedict said. "Cameron Lauer was just excellent [Tuesday]. He's got good stuff. He got ahead of the hitters and he was able to command all three of his pitches. He's got a great arm, and when when he pitches ahead in the count, he's a tough customer."
Lauer pitched six innings, allowing two hits while striking out five and walking one to earn the win. Kyle Giragos pitched the seventh, striking out two. Behind them, the defense did its job to help keep the Panthers (9-5) scoreless. It was the second time in three games the Broncos allowed no runs.
"I like the fact that we're playing good defense," Benedict said. "We'd love to play errorless ball. We had one error today, and that's huge, especially in a tournament like this. And then we've been handling the bat and been able to execute in different types of situations, whether it's a bunt or hit-and-run or moving a guy over. We've been successful in the first three games and hopefully can carry it over or improve on it tomorrow."
Benedict also spoke highly of Tuesday's top hitter, sophomore short stop Brendan Power, who went 4-for-4 with two singles, a double and a triple, three runs and two RBIs. "I'm hopeful he can stay hot in the championship," Benedict said.
The Broncos have been hot on offense overall, banging out 15 hits Tuesday.
"If we can stay away from strikeouts and fly balls, hopefully it gives us a chance to win tomorrow in the championship," Benedict said. "AJ Gallicchio has been swinging the bat real well and coming up with some big hits. He's the leadoff hitter and has been doing a good job of igniting the offense."
Gallicchio was 2-for-4, two runs. Other key hitters for Central included Brooks Aristy (run), Daulton Gunn (RBI) and Jonathan Fortunato (run, RBI), each of whom had two hits.
Leo Garcia had both hits for Brito.