Cyr's Clutch Hitting Guides Atlantic To Win Over Piper
Covered in sweat from the combination of catcher's gear and normal South Florida weather, Atlantic senior Duane Cyr felt tired as the bottom of the third inning began on Wednesday night. Factor in the Eagles being down three runs and scoreless against dominating Piper Bengals senior Joe Sallustio and it would have been easy for Cyr to toss his helmet to the side and let things end in a loss.
Destined to make sure his final high school season continued for another night, Cyr's bat came alive, driving in two runs in the inning and four runs on the night as the Eagles came back to score ten unanswered in a statement win over the Bengals.
"We click best when it comes to playoffs and we all want to keep going with the season," Cyr said after his three-hit game. "These last two games, I'm just trying to get hits to bring the team back up. Everything I do is for the team and I want the rest of the guys to feel what it's like get wins in big situations against tough teams. I want the whole team to ride along with me and the rest of the seniors."
Cyr's third-inning triple gave Atlantic its first lead of the game. Prior to the triple, Alex Cordes and Luis Beltran each singled, with the former scoring on an RBI single from designated hitter Cameron Husing. Immediately after getting on the board, the Eagles added a second run with Max Charmin's RBI single that scored Beltran. Once Cyr came to the plate with both Husing and Charmin on, the rest simply turned out to be history.
After going scoreless in the fourth inning, Atlantic broke things open with a three-run fifth that featured a two run double from junior Michael Pace and courtesy runner Rishi Challa scoring on a wild pitch. After adding four in the sixth, Scott shut down the Bengals in the seventh and struck out the side.
The Eagles will now play Coral Glades, who they beat three times in the regular season, in the next round.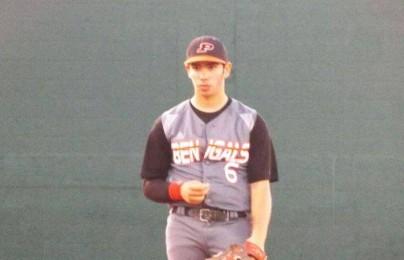 "We fell behind 3-0 and it looked grim. We were out of sorts and I didn't know what was going to happen," Eagles manager Steve Wilson admitted. "But for us to score four runs and have Duane Cyr take control with everyone else doing what they could was a big part in why we won. We talk a lot about how we have the ability to fight hard and once we went up 4-3, our goal was to win every inning and we did just that. When we get behind we just continue to fight, and not all the time you're going to win but we will fight to the end."
What stood out most on Wednesday night was the amount of people that came through when the team needed them best. From reliever Johnson Scott's four shutout innings to scoring ten unanswered after seemingly being lost to start the game, it really felt like everyone wearing the Eagles' green and white contributed to the team's win.
"This means a lot and I've been in this situation three of my four years on varsity and it feels really good knowing that we have a chance four years in a row to get this stuff done," Cyr said. "We have a lot of people coming through this year that are progressing and it makes me really teary-eyed. Once we keep going, more tears are going to come out and my buddy Shelby Fraizer, he came through tonight. When we know what we're doing, we end up doing good."
Jake Eder started for the Eagles and pitched better than the statline of three innings and six hits show, but the normally shutdown ace really struggled in the second inning. The big blow that came in the Bengals' two-out burst was a two-run single by right fielder Gregory Snyder on a two-strike pitch. Unfortunately for the Bengals, that was the last real highlight of the night.
"I told them that they have nothing to be ashamed of. They should be holding their heads high knowing that they did Piper baseball proud," Bengals manager Pat Pisani said. "We won sixteen games this year, accomplished all the goals we had in place — one of our goals was making it to regionals, which we did — and though we fell short of winning a district championship, our guys worked extremely hard and I couldn't ask more from them."
The tough part for Pisani's Bengals, which he went on to acknowledge, is that he'll be losing fourteen of sixteen players to graduation. Barring any significant changes, the only returning players for the 2017 season will be sophomore Jorge Vega, who had an RBI single, and junior TJ Samler.
"Most of the guys that led this team this year obviously were seniors and one of those guys was Joe Sallustio, who was in his second year with us after transferring from Archbishop-McCarthy," Pisani explained. "Every time I asked Joe to go on the mound, he came through big for us and fought well for us like I always expected him to do. We're going to miss Eric Rath, our shortstop and probably our best hitter, a lot since he was a really quiet leader. When you have that many kids who are leaving the program since they were all freshmen, it's hard but I'm glad they were able to achieve their goals. They earned it. I told them on day one of the season that nothing is handed to you, that you have to earn it. I'm proud of all of them."