South Broward Manager Charlie Cardinale Earns 400th Victory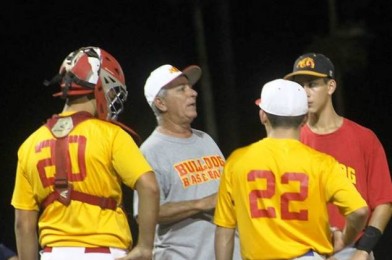 The South Broward Bulldogs traveled to Pompano Beach Wednesday to take on their 7A-15 foes the Ely Tigers. The Bulldogs' Miguel Gonzalez held the Tigers to one hit over five innings and the offense scored early and often en route to a 13-0 district victory, the 400th in the 30-year career of Manager Charlie Cardinale.
The Bulldogs (12-9, 8-2) were led by Gonzalez, who struck out 11 batters in a complete game effort. Kevin Laguardia led the offense going 2-for-3 with a walk, three runs and three RBIs. Lauguardia was unstoppable on the base paths as well, picking up three stolen bases on three attempts. Steven Fondeur scored and knocked in two for the Bulldogs.
"The kids gave me a nice little baseball they all signed," said Cardinale. "To be honest with you I didn't even think about it . I guess the players remembered me saying at the beginning of the year that if we get to 12 wins I can finally get to 400. After the game they had me in silly string. It was kind of neat. I am just glad there was no ice bath."
The Tigers (0-9, 0-7) struggled at the plate all night, thanks in large part to the performance of Miguel Gonzalez. However defensive miscues plagued them as well, as the Bulldogs' knack for taking advantage of opponents mistakes. Andrew Payne picked up the only hit off of Gonzalez, finishing the night 1-for-2.
Salvatore Zaremba, Antonio Schembari, Bryan Luzon, Manny Lebon and David Brown all joined Laguardua and Fonduer in the RBI column en route to the 13-0 victory. The win gives them their eighth district win of the season, but perhaps that accomplishment is overshadowed by the one achieved by Manager Charlie Cardinale.
Cardinale started at Miami Norland, then moved on to Cooper City and Hollywood Hills before landing at South Broward two years ago.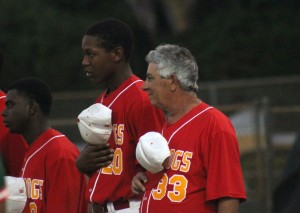 "When South Broward gave me an opportunity to come over here, we weren't really thinking about records," said Cardinale. "We were just trying to get these kids to start playing a little bit better. We have a good group of young kids; we are only going to lose three seniors. It's looking good as far as them all getting better and stronger and we are going to improve on that."
When asked about some of his fondest memories on the road to 400 the skipper had an answer ready.
"Probably in 2002 when we beat Nova in the regional championship to move on to states," said Cardinale. "That was probably one of the most memorable. That one really sticks out, it was a real good group of kids. I've been real lucky. Over the years I have had a lot of good players and good coaches working with me on a regular basis so I have been blessed in that way. I've been able to have a lot of good people around me, a lot of good memories."
Despite the accomplishment, Cardinale has remained incredibly humble. He continues to heap praise on his players and coaches who got him there, and he was thankful when they showed their appreciation after the game. Aside from missing occasional time with his family, Cardinale was hard-pressed to find a negative in his 30-year journey.
"It's nice," Cardinale reflected. "You get to the field, its nice out, the field is smelling good. I don't know what it is; it just keeps you going. Knock on wood, I hope I've got a few more in me."