West Broward Upsets Cypress Bay In 9A-12 Semifinals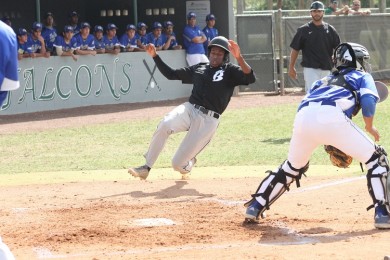 Photo Gallery
West Broward came into their 9A-12 semifinal with Cypress Bay facing the task of defeating the Lightning for the first time in 2016. The two regular season meetings both went to Cypress Bay, putting the pressure on the Lightning to beat a district rival three times in one year.
The Bobcats assured that would not be the case as they struck early, and then regained the lead late en route to a 7-4 semifinal victory.
"At this point no team deserves it more than any other team," said West Broward Manager Gregg Bennis. "Every team plays with the same intensity and same effort level. So it's really just about who is going to get out there and execute. It makes for fun competitive games and I'm glad our guys get to experience it."
The Bobcats brought that intensity right from the start, scoring two runs in the opening inning and setting the tone for the game. Steven Revilla hit a one-out double, moved to third on a passed ball, and Julian Burgess walked. Burgess stole second, and a two-out single off the bat of Blake Brito gave West Broward a 2-0 lead.
The Bobcats added a run in the third, but Cypress Bay was not willing to go down without a fight. In their half of the third, Cypress Bay cut the lead to 3-2. A pair of walks by Anthony Figueroa and Devin Ramirez, and a double from Christian Nehls made the score 3-2.
In the fourth, the Lightning took their only lead of the game, scoring two runs, and heading to the fifth with a 4-3 lead.
Despite giving up a run in the fourth, it was reliever Anthony Molina that shut down the Lightning attack for four innings. Molina held the Cypress Bay offense at bay until the Bobcats could score four runs in the sixth to take the 7-4 lead.
"Anthony threw the ball well," said Bennis. "He really feeds off of the energy of his teammates and gets into a different zone. It's fun to watch as a coach."
As for that four-run sixth, the offense woke up just in time to send the Bobcats into the district championship game.
Revilla, Burgess, Nicholas Nystrom, and Zach Revilla all had singles. Brito also added a double.
"The four-run sixth was just a credit to our teams resilience," said Bennis. "These guys have been through a lot together and they do a good job of picking each other up when things get uncomfortable."
With the win, West Broward moves on to face Western, an upset winner of their own over top-seeded Flanagan, in the district championship game.