Calvary Christian Wins Program's First State Title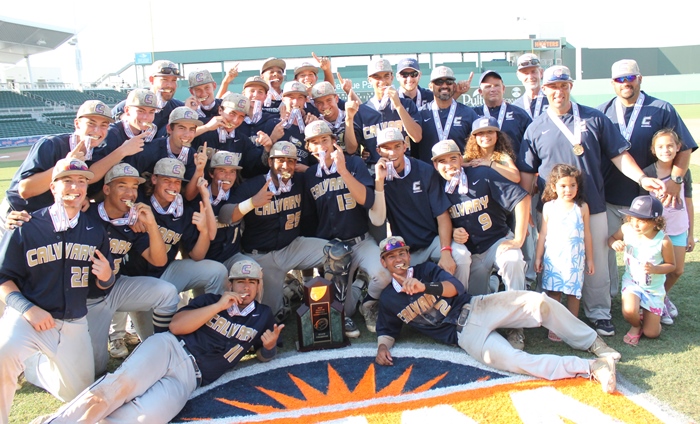 Photo Gallery
An inexplicable, storybook ending capped a historic season for the Calvary Christian Eagles Saturday afternoon as they defeated Bishop Verot 12-1 to win the Class 4A state championship at jetBlue Park in Fort Myers. It is the first state title in school history.
The dream season comes a year after the Eagles reached the regional championship for the first time, while also setting numerous team records. Yet most of those seniors graduated and the team welcomed a new manager as well this year in Alan Kunkel. Yet despite a lot of new pieces coming together, everything fell into place and the team made it happen.
"I think it all works out because we all know we play for something bigger than us," junior Victor Pimental said. "We are family and we all started in the weight room. We bonded in there and it is all based on chemistry with us. We came in as teammates and we're leaving as brothers."
The players gave tribute to the coaching staff that helped guide them and prepare them, and the coaches credited the leadership and maturity of the older players.
"From the beginning of the year we all stayed together and there was no jealousy. We all came out here and worked hard to go win something," senior catcher Max Guzman said. "We all had a goal from the beginning of the year to go win a ring and let's work for it. We never gave up, we worked hard everyday and we didn't have any days off. We were always working for it."
The Eagles exploded right out of the gate to take control. George De La Fe blooped a one-out single over first base and Guzman launched a shot to the warning track for a double that put both runners into scoring position. Victor Pimental wasted no time in lining the first pitch through the left side to plate De La Fe and courtesy-runner Peter Carciopollo. A pair of passed balls advanced Pimental to third base, and Tommy Orr lined an RBI single into right field for a 3-0 lead.
Calvary was just getting started, as it batted around the order to grab a 5-0 lead. Luis Ezra smacked an RBI double to right field and then came in as well thanks to an RBI single up the middle from Brett Lawson.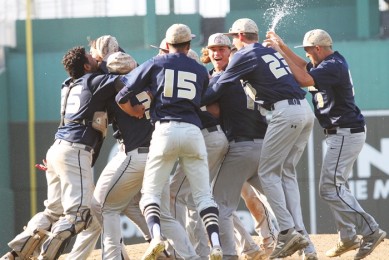 The defense wasted little time getting into the action too. Bishop Verot leadoff hitter Gunnar Byrd worked a walk but the Calvary defense converted a smooth 4-6-3 double play to erase the runners and maintain the momentum.
With their foot on the pedal the Eagles kept adding on to their lead. De La Fe lined a hard liner back off relief pitcher Devyn White, who then had to be removed from the game due to injury. De La Fe immediately stole second on reliever Drew Dwyer, and scored when Pimental ripped a double past the third baseman. An sacrifice bunt from Orr pushed Pimental to third and a passed ball allowed him to come home.
Calvary increased the lead to 8-0 with a run in the third. Christian Scott walked, stole second and advanced to third on a 4-3 ground out from Rozenblum. A passed ball then brought him home.
Calvary starter Noah Yager went the distance for the complete-game victory. The right-hander struck out two while allowing four hits and two walks. He admitted that having a big lead before he ever threw a pitch helped calm him down and take the pressure off.
"I was able to come right at them instead of being crafty and trying to paint the corners," Yager said. "Justs let them hit it, and if they hit if off you no big deal. They are going to get themselves out if you make the good pitches and that's what I was able to do."
De La Fe helped put the finishing touches to end the game early with a two-RBI double as part of a four-run fifth inning that made it 12-0. De La Fe finished 4-for-4 with three runs on the day.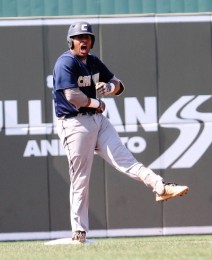 "I really wasn't thinking anything, I just wanted to get on base for my team," De La Fe said.
Although the team was making its first state tournament appearance this year, Kunkel has now been to the state championship three times as a coach. Very few teams manage to win it all their first time at states, yet Calvary accomplished exactly that feat.
"I think with me being here before, it's an opportunity to downplay the emotion of it and just focus on the game rather than the magnitude of what this game means," Kunkel said. "I don't think even over the last two weeks that the kids have gotten caught up in the motion of it. It's really credit to the seniors and juniors that have taken the tremendous opportunity to lead in a big way."
The Calvary community is a tight and supportive one, and the reward of this championship is one that is embraced by many. Kunkel spoke about how the Calvary community does so much for the team and for the community of Fort Lauderdale and it makes bringing home a state title to them even more special.
"I think this gives the school the confidence that we're pretty successful athletically," Kunkel said. "South Florida is tough to navigate through and get out of Dade and Broward County, period. I think it's just a testament to the school community, the kids and the supporting staff we have. We have a great athletic director who wants to win and wants to compete and the kids have bought in. It was nice to look up into the stands and have the tremendous support that we had today."