Douglas Exorcises Decades Of Demons With State Title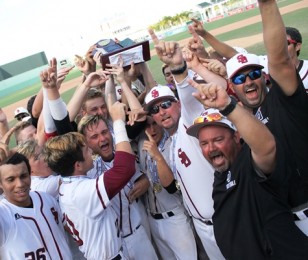 Photo Gallery
When Marjory Stoneman Douglas came into existence back in 1990, the school split a group of upcoming baseball players at Coral Springs and Taravella, breaking up teams by school boundaries to include a new school in town. In the 26 years since, the Douglas Eagles have become one of the top baseball programs in the nation.
Despite their success of racking up district titles, the Eagles continually fell short of reaching their goal of winning a regional and state championship. On Saturday afternoon, Douglas finally put aside demons of many seasons past and won its first state title, 3-0 over Columbus.
"This program has been close for a long time," said Douglas Manager Todd Fitz-Gerald. "We've been close the past few years, and it feels good to get over the hump and get that monkey off our back. I just let the guys know, this is something they can't ever take away from you. It doesn't matter if you won it ten years ago or now, it's something that you'll have for the rest of your life and you'll always be a champion."
That monkey is one that 23 previous Eagles graduating baseball player classes could not shake. A school that has seen tens of dozens of college baseball players come through their field, and several professional players, including Mike Caruso and current Chicago Cubs star first baseman Anthony Rizzo, broke through with impeccable defense, precision mound work from seniors Brandon Kaminer and Brady Norris and timely hitting.
With Kaminer winning the semifinal game on Friday over state-ranked West Orange, it was Norris that took the bump for the Eagles in the championship game. After finishing off West Orange in the semis, Norris followed that performance with a complete-game shutout in the title game, becoming one of the few pitchers in state history to close out the semifinals, and then throw a complete game in the championship game.
"It was special," said Norris. "I really didn't think I would be able to go the whole way today. They have a good team and I thought they would get to me at some point, but they never were able to."
Fitz-Gerald had a different point of view on his starter.
"Brady has been great for us all year," said Fitz-Gerald. "What makes him so tough is he has command of all his pitches. I think he has walked maybe four guys all year. I had complete confidence he would get the job done."
Norris was matched for most of the day by Columbus starter Dominick Diaz. The Explorers' starter had also closed out their semifinal win, making the match-up with Norris even more intriguing.
In the fifth inning, Columbus managed to get runners on second and third with one out, and the top of their lineup coming up. Norris worked out of the jam by inducing a ground ball back to the mound and a flyout to right field.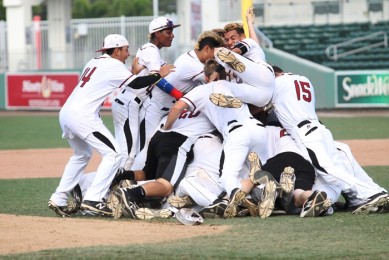 Then, in the bottom of the sixth, the Douglas offense did what it has done so many times before, broke open a tight game.
Chad McDaniel led off with a single. John McKenna followed with a single, moving designated runner Joseph Bullion to third. After a flyout, McKenna stole second, setting up Kyle Shay for a moment that will live in Eagles lore for decades to come. Shay hit a two-strike base hit through the left side of the infield, scoring Bullion.
The decision to start Shay, a senior, was one that Fitz-Gerald went with his gut on. The Eagles' skipper said he just felt like Shay would do something special for them Saturday, and that proved to be the case.
"All year I was a spot starter and did what I had to do," Shay said. "i pitched some, played my outfield roles and worked hard at practice everyday. Finally, in the state championship, I got my chance to play. I just did what I had to do."
Ivan Nunez then followed with a double, scoring McKenna and Shay. From there, Norris closed out the game, and the Eagles had their first state title.
One of the amazing things about this particular Eagles run was that they lost their ace and highly-touted MLB prospect, Jesus Luzardo, a few weeks into the season. Most teams would have folded with such a devastating blow, but not this group of guys.
"This is a special group," said Fitz-Gerald. "They have been together with me since I started here at Douglas, and they didn't let Jesus' injury be an excuse. If anything, they rallied around it."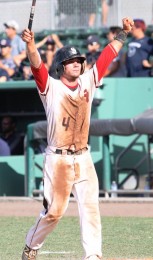 As for Luzardo, he embraced his role as team leader, even though he wasn't on the field.
"When I first got hurt, we were all kind of down," said Luzardo. "But I knew we were still good enough to win, and I turned my attention to just being the guy in the dugout that got guys up. Not even being related by blood could have made this team any closer than we are."
The Eagles run has garnered national attention, and now the Eagles are facing the prospects of possibly being national champs. For former players, however, the focus was on this day.
"Unbelievable moment for the @SDEagleBaseball team…bringing home the 1st state title in the school's history…way to go boys! #EaglePride," wrote Rizzo on his Twitter page on Saturday evening.
Fitz-Gerald became the first coach in Broward history to win state titles at two different schools. He previously won one at American Heritage in 2008, with current Kansas City Royals star Eric Hosmer leading the way.
The Eagles also became only the fifth public school in Broward history to win a state title, joining Flanagan, Fort Lauderdale, Cypress Bay and Nova.
Now the focus will shift to where the program can go in the future.
"This opens the door," said Fitz-Gerald. "We have some great young players coming up, and this group has set a standard that teams that come next can follow."