Douglas Holds Off West Orange To Reach State Final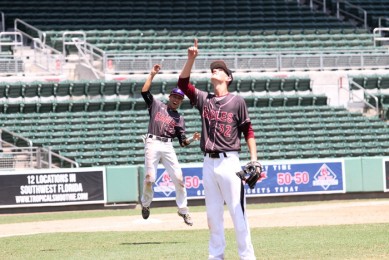 Photo Gallery
The Douglas baseball program waited a long time to get to this moment. Playing in the state Final Four for the first time in school history, the Eagles showed every bit of what they are made of and why they made it that far by turning in a solid overall team performance.
With just enough pitching, hitting and defense Douglas earned a 3-2 win over West Orange in a Class 9A state semifinal that pitted two of the nation's top-ranked teams, at jetBlue Park in Fort Myers on Friday morning.
The Eagles (26-2) will face defending 8A champion Columbus in Saturday's state championship, after the Explorers edged Alonso 2-1 in the other 9A semifinal on Friday.
"It was just a great game all around," Douglas manager Todd Fitz-Gerald said. "We had a very good plan going in and we stuck to our plan and what we wanted to do and it worked out for us. We pride ourselves on playing great defense, and obviously that showed today."
In a pivotal point in the contest, that defense rose up. Holding a one-run advantage in the fifth inning, the Eagles found themselves threatened with runners on the corners and two outs. Warriors leadoff hitter Kole Enright connected on a high chopper to third base, where 5'7″ Ivan Nunez leaped into the air to glove the ball and come down to make a perfect throw to first for the third out of the inning.
With plays like that coming, it made things much easier for Douglas left-handed starter Brandon Kaminer. The junior was smooth through nearly six innings of work in which he fearlessly attacked against a Warriors lineup as tough as any he faced all season.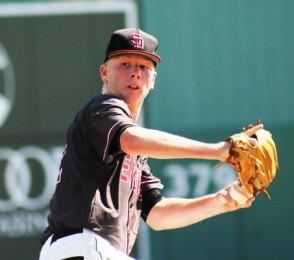 "Brandon's done a great job for us this year," Fitz-Gerald said. "He was on JV last year and then Jesus Luzardo went down a couple of weeks into the season and this guy just took the ball and ran with it. He's a gamer and he's got it where it counts. He's got a big heart and he wants nothing more than for this team to be successful."
Although the Warriors grabbed an unearned run off the southpaw in the bottom of the first, Kaminer remained his normal composed self. He posted four scoreless innings from there, scattering four hits and three walks while striking out four.
"When I was younger growing up my composure was mediocre, and just going throughout the years watching MLB players, high school and college players and learning from them, I know what to do," Kaminer said. "I've just got to keep my mind set throughout the game and just keep throwing strikes. No matter what happens, I can't blame it on my team, even if they make an error. I can't blame it on myself; I just have to stay set on the game."
Senior shortstop Colton Welker also stayed within himself to deliver a big day. After Luis Acevedo beat out an infield single in the top of the first, Welker followed with a single into the left-center field gap to put both guys into scoring position. A passed ball than allowed Acevedo to race home and give Douglas a 1-0 lead.
Welker led off the top of the fourth his next time up and this time he lined a double into the left field corner. A sacrifice bunt from Chad McDaniel pushed Welker to third and a John McKenna single to center brought him in.
"They work so hard together and the chemistry is so good on our team and in our practices," Fitz-Gerald said. "Our guys are so close and they do everything together. They've been together for a long time and the experience that we have is unquestionable."
Welker again reached base his third plate appearance, this time on an error. Joseph Bullion came on to run and he came around to record the deciding run after McKenna came through again, this time with a shot deep to the right-center field gap for an RBI double and the most important run Douglas has scored all season.
With a nice contingent of loyal Douglas fans on hand cheering the team on, jetBlue Park shook with the roar of excitement from all those excited fans. It was joy they had all waited a long time to feel, and their cheering was music to the player's ears.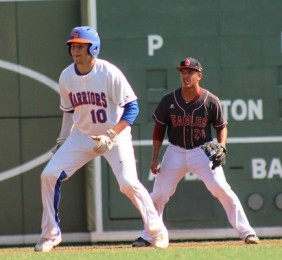 "It felt like home field, honestly," McKenna said. "Just going out there and seeing familiar faces was a good thing to just be relaxed. The crowd gets into it, it rattles them and it rattles us. But it fires us up. It just gives us that extra drive, not only to do it for us but to do it for our community and bring home the 'W'."
With the momentum and the lead in their favor, the Eagles turned to right-hander Brady Norris to come in and shut the door to record the final crucial outs. Norris come on with two outs in the sixth and picked up the last four outs, needing just seven pitches to get the job done.
"Brady has been the back-end guy for this bullpen all season long," Fitz-Gerald said. "He's got a devastating changeup and is just a strike-thrower. He doesn't walk any guys, and in that situation you've got to have a guy that throws strikes. So our chances were pretty good there."