Douglas Wakes Up The Baseball Gods In 2-1 Regional Semi Win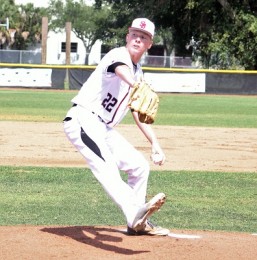 Photo Gallery
To win a state championship, teams have to get some help from the Baseball Gods along the way. On Tuesday afternoon, the powers that be in baseball shined down on the Douglas Eagles. Mesmerized most of the day by West Broward starting pitcher Bryan Wilcox, the Eagles used the most bizarre of bounces to tie the game in the sixth, and eventually won 2-1 on a ninth-inning balk call.
"You just never know in this game," said Douglas manager Todd Fitz-Gerald. "I have to admit, the Baseball Gods were with us today. They haven't been with us much, but today, somehow, they were. That team played a great game against us, and their pitcher, actually both pitcher's, were outstanding. It was a great baseball game."
West Broward scored a run in the first inning when Steven Revilla singled, was balked to second, and scored on a Julian Burgess base hit. That run was the only one that the Bobcats scored off Eagles starter Brandon Kaminer.
Despite the lack of runs, West Broward appeared poised to win the game. Wilcox was cruising through Douglas hitters into the sixth inning. That was when the Baseball Gods intervened in the Bobcats celebration plans.
Joseph Buillon, who was pinch-running with two outs, stole second. Eagles catcher John McKenna, who has been one of the most clutch hitters in Broward County this season, then chopped what appeared to be a foul ball to the right side of first base. The ball, however, hit a hole in the dirt, and shot back, touching the base, much to the bewilderment of the first baseman. When the ball hit the bag and skipped away towards the back of the infield behind first base, Buillon came around to score the tying run.
"It's a play I have never seen in all my years," said Fitz-Gerald.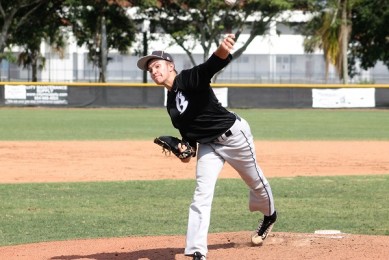 With the score tied at one, Kaminer thew two more scoreless innings in the seventh and eighth, while the Bobcats went to reliever Anthony Molina in the seventh. Molina threw two scoreless innings, and Eagles reliever Brady Norris through a scoreless ninth, setting up another round of fireworks.
With one out, Josh Miaskowski hit a slicing ball down the left-field line, that went for a triple when a diving attempt by the left-fielder came up short.
"I knew he threw hard, so I went up there just thinking about staying back, and hitting something hard the other way," said Miaskowski.
What happened next was a fitting end to a bizarre game. A balk was called, sending West Broward players and coaches into a frenzy, and sending Douglas to the regional finals for the third straight year.
"Nobody wants to see a game like that end on a balk call," said Fitz-Gerald. "We'll take it, because we move on. We were thinking of squeezing right there, and who knows what would have happened. But West Broward deserves a ton of credit, and it's tough to have a game end like that."
West Broward players have persevered through some things that most teams never have to deal with in a lifetime. Last summer, the Bobcats were hit with tragedy when they lost their beloved Manager Sergio Ambros. Then, the Bobcats went through hiring and firing a manager, and came into this spring without a leader, until Greg Bennis was called on to manage the team.
"I feel bad for my 10 seniors that had their high school careers end on a marginal-at-best balk call," said Bennis. "How you make that call in the ninth inning of a regional semifinal where both teams battled all day, I don't know. But, I am proud of these kids."
Bennis then went into further detail on all the Bobcats have been through.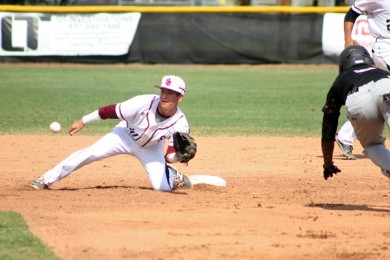 "We have had a lot happen, and yes, there have been some issues, but these kids have laid it all on the line and have made it through," said Bennis. "Take Anthony (Molina). He could have had a different attitude towards the role I gave him out of the bullpen as a high-profile player, but he didn't complain at all. I think he matured tremendously this year. What all these kids went through in one year's time, I have nothing but respect for all of them."
While West Broward is left pondering what could have been, Douglas moves on to another regional final, the one hurdle it has been unable to cross in all its years of success.
"We've been close the past few years, and we have been very successful," said Fitz-Gerald. "But it is time for us to take that next step. I am confident that this group is ready to do that."
Douglas will travel Tuesday to face the winner of Jupiter and Park Vista, a game that was suspended Tuesday night in the third inning, with the score tied 3-3.