Surprise, Surprise: Archbishop McCarthy Headed Back To States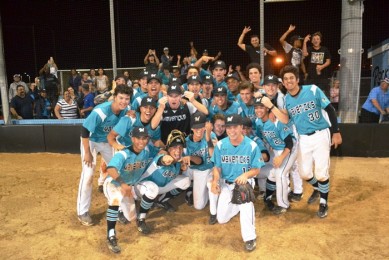 Archbishop McCarthy found themselves in a precarious situation on Tuesday night. The Mavericks came into their 6A regional final against Rockledge saddled with the task of facing possibly two aces, one attending Miami, and the other attending Florida State next season. So what did the Mavericks do? They countered with a freshman, of course.
Facing the only team to defeat them in the playoffs in the last seven years, McCarthy returned to the scene of that 2014 crime, and slapped eight runs on the pair of Rockledge aces en route to an 8-1 win.
"Our district and region are absolutely loaded with great teams in American Heritage, Goleman and Rockledge," said Mavericks Manager Rich Bielski. "You have to run the gauntlet to get to where we are. And this year, like last year, we had to do it all on the road. We are making new memories, continuing to grow as a team and can't wait to get to jetBlue Park."
Lefty Yordani Carmona followed his postseason script by getting into a couple jams early, and then working out of them. Carmona fell behind in the first when Raiders Trevor Paine and starting pitcher Andrew Parrish led off with back to back singles. Carmona then induced a double play ball off the bat of Kevin Clanton, with Paine scoring what would be Rockledge's only run of the night.
The Mavericks overcame the first inning run by Rockledge quickly in the top of the second inning. After Ubaldo Lopez drew a full count walk and stole second, Adan Fernandez laced his first double of the game to the left-field corner scoring Lopez. Fernandez then came around to score on a run-scoring single by Jake Holland.
From there, Carmona settled into a groove, going six innings and scattering three hits over his last five innings in the longest outing by a Maverick starter this year. Carmona's 81st and last pitch of the night was a flyout to centerfield off the bat of Mason Studstill leaving the bases loaded in the sixth, and thwarting the only other threat Rockledge had all night.
"Our defense tonight was spectacular and the lineup kept the pressure up every inning," said Carmona. "I was able to get ahead in counts and find my rhythm after that first inning."
In the fifth, McCarthy blew open a tight game when AJ Hendricks led off with a triple to the right center gap off Parrish. Kobe Lopez singled Hendricks home to make it 3-1. After an Alex Carballo infield single and a perfectly executed double steal, Joe Perez lined a single to center scoring Lopez and Carballo extending the lead to 5-1.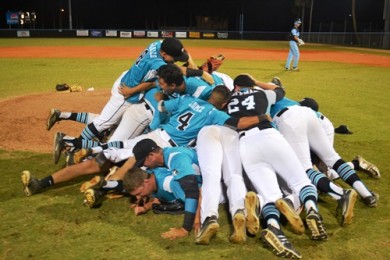 The next inning, the Mavericks put the game away with an RBI groundout by Hendricks, and an infield hit beat out by Kobe Lopez, that scored courtesy runner Michael Machi. By the end of the frame, McCarthy held an 8-1 lead.
In all, eight of nine Maverick starters had hits on the night.
Johnny Leone came in to pitch a scoreless 7th to secure the victory.
Fernandez was the offensive hero for the Mavericks, tying a Mavericks playoff record for hits in one game with four, two of which were doubles. Fernandez also scored twice and drove in three runs. Defensively, Fernandez was equally as good, making a sensational diving catch in the right field corner in the 5th inning to rob Studstill of a potential extra base hit.
"I was focused on staying on top of the ball and it worked for me tonight," said Fernandez of his offensive performance.
Between Fernandez and Carmona, the Mavericks were able to withstand the two-headed monster of the Raiders' Parrish and Studstill.
"Yordani and Adan were sensational tonight and sparked our entire team to take control of the game," said Bielski.
Archbishop McCarthy moved to 27-2 and will play North Marion (22-8), who defeated Tampa Jesuit 3-2, in the FHSAA 6A semifinal next Wednesday at jetBlue Park in Fort Myers. The Mavericks will be playing for their sixth state title in the past seven years.
*Special Correspondent Carlos Guzman contributed to this article.