Lopez Leads CS Charter To District Win Over Gibbons
Coral Springs Charter and Cardinal Gibbons came into their 5A-14 match-up Tuesday afternoon with the thoughts of turning their seasons around. Both squads have gotten off to slow starts and were looking for a big district win in a district where wins are hard to come by.
The Panthers' TJ Lopez took things into his own hands when he took the mound, throwing a complete-game, two-hit shutout and leading Charter to a 1-0 victory.
"He did an outstanding job," said Panthers manager Tom Magrann. "He located his fastball inside and outside, and threw to the umpire's strike zone all game. I am very proud of him today."
Gibbons received an equally strong performance from their starter, Keanu Buerosse. The Chiefs sophomore went six innings, striking out five, and allowing only one hit after the first inning.
"Keanu, he was good today," said Gibbons Manager Jason Hamilton. "He just keeps us in the game. We just need guys to throw strikes, and he's a strike-thrower. He has control of three pitches and he battles. He's done that his first five starts; he just didn't get any help today."
While the end result was positive, the game did not start out looking like it would be Buerosse's day. In the top of the first, Robert Robinson led off with a single, followed by a bunt single from Lopez. When the infield throw went wild of first, Robinson and Lopez ended up on second and third, respectively. Mike Perugini then drove in Robinson, with the Panthers third consecutive hit to start the game.
The inning could have been much worse for the Chiefs, but a strike out and a base-running blunder by the Panthers killed the rally, and left the game 1-0.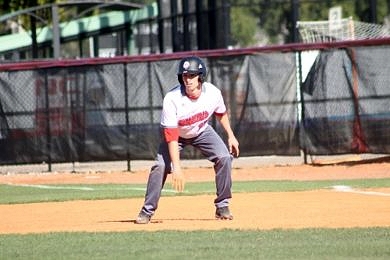 "I was very concerned," said Magrann, when talking about only getting one run in the first. "It's been happening most of the year; we've been struggling. We worked three hours at practice on Baseball 101 fundamentals, but it just isn't sinking in. It's not something we are giving up on; they just have to start buying in to what we are teaching them."
It appeared the Panthers got the message the rest of the game. After the first, while the offense did not come around, the defense made several key plays to hold the 1-0 lead, including Lopez snagging a shot back to the mound in the sixth, stranding Joe Cerquozzi at second in one of the Chiefs' only threats of the game.
"We haven't gotten anything going offensively all year long," said Hamilton. "A typical Cardinal Gibbons baseball team is we get those bunts down. It's not even a physical thing; it's a mental thing at this point."
For the Panthers, the win is reminiscent of how they approached Spring Break last year, with a couple wins before going deep into the HSBN March Madness Shootout tournament. The win also moves Charter within one game of third place in the competitive district.
"The good news is we have been in most of our district games," said Magrann. "It's been one play here, one play there that has been the difference. If we can start making those plays go our way, we could be looking at a different outcome in the second half of the season."
That outcome starts later this week when the Panthers go face district leader Pine Crest.
"This game gives us confidence that we can go win those tight games we have been in," said Lopez. "We have not gotten the results we wanted so far, but we still expect to win these district games."